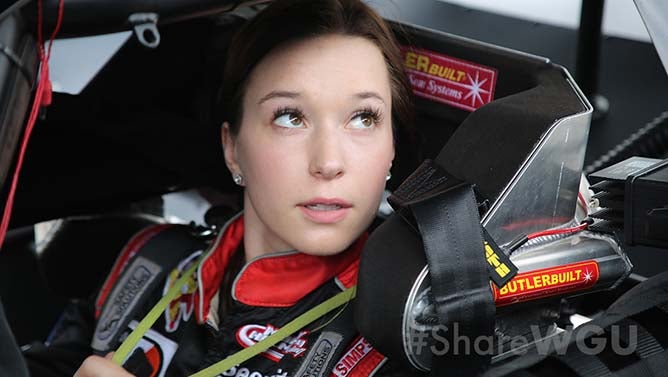 Imagine falling in love with the sights, sounds and smells of auto racing at age 11. Imagine being told you can't become a racecar driver because you're a woman. Imagine loving the sport so much that you move from Seattle to Mooresville, N.C. – Race City, U.S.A. – to pursue your passion.
Molly Helmuth doesn't have to imagine it because she's lived it. "I just knew this is what I wanted to do," says the 5'1", 105-lb. dynamo who currently races on the CARS Super Late Model Tour. 
As a successful driver on the West Coast, Molly paved the way for other female drivers to get behind the wheel. Now she's transitioned to the East Coast to further her career. Although she occasionally misses the cosmopolitan cafes and teriyaki joints of the Northwest, she loves the Southern hospitality she's experienced in the Carolinas. 
Last year Molly had multiple top-ten finishes and came in fifth in the CARS Tour point standings. Not only that, she was voted Most Popular Driver on the Super Late Model Tour, and National Short Track Most Popular Driver. She credits her fan support and community volunteerism for that, along with putting her marketing degree from Western Governors University to good use.
"Racing and my marketing degree go hand in hand," Molly says. "I knew I needed sponsors, and the demands of the racing lifestyle made traditional schools impossible, so I earned my marketing degree from an accredited online university and use it every day."
She's gotten so good at it that she's even started her own marketing company, 9D Creative, that provides logos, videos, websites, social media takeovers, print materials and more to a growing roster of clients. "I've always been an entrepreneur," she recounts. "I had multiple lemonade stands when I was seven, and would pick flowers to sell in my neighborhood. Both of my parents are business owners, and I have tremendous respect for them."
When she started out, other drivers on her circuit didn't have logos, shirts, hats or hero cards. She knows now that when fans sport Molly Helmuth merchandise, they're helping her grow her brand.
So, as a successful driver, entrepreneur and business owner, what advice would Molly give to others?
"Let the haters motivate you."
Early on, Molly received lots of backlash from older male drivers who didn't like competing against someone who could be their daughter or granddaughter. They thought someone of her gender and stature should not be driving 140mph in a 2,800-lb. stock car. She just used it as fuel for her hard work and dedication.
"Go outside your comfort zone."
During the three-hour breaks between qualifying and the actual race, Molly would go into the stands to interact with fans, something she wasn't comfortable doing at first. Her mentor, Ron Sutton, once told her, "Get over being shy, or go sit in the stands." Now she's glad she did, as her growing popularity stems from those personal interactions. 
"Improve your mind and your body."
One of the biggest misperceptions about auto racing is that it's not physically demanding. The drivers know better. "Being a racecar driver is like being an Olympic athlete," says Molly. "You can lose 10 lbs. a race in sweat, your heart rate is accelerated, and you have to stay mentally and physically sharp to make split-second decisions that can result in a checkered flag or a crash." Molly works out constantly at home and on the road in order to stay at the top of her game. 
"Don't give up."
Molly has learned that in life, you'll have more rough spots than podium finishes, more negatives than positives. "If it's something you love, something that consumes your life, just keep going," she offers. "You just have to persevere and not quit."
That drive pushes her every day to set professional goals for herself, and to break down any barriers in her path. That's what winners do, and Molly Helmuth won't stop until she's at the top of the podium.