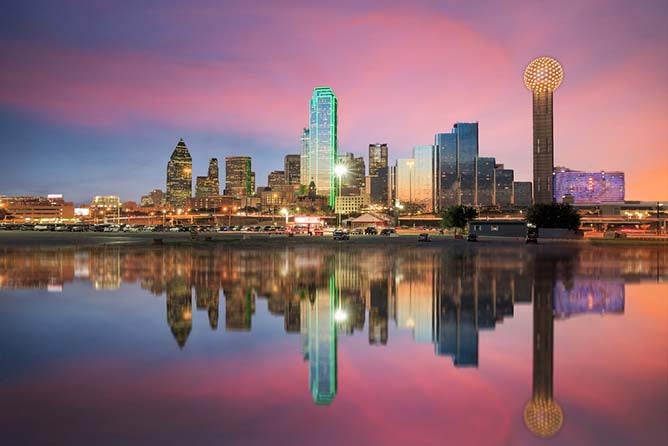 If you're considering nursing as a career, you're likely looking for a well-paying job in an area with excellent job prospects and a high standard of living. Many places across the country might fit that bill, but Dallas, Texas, provides that and more.
With its low cost of living, competitive national sports teams, and exciting nightlife, Dallas attracts thousands of new residents each year. The Dallas Morning News reports that in 2017, Dallas-Fort Worth averaged 246 new residents each day and added 59,000 domestic movers—the largest number for any city in the United States that year. The report also says that from 2010 to 2018, Dallas gained over 1 million people. With this influx of new residents, it's no surprise that jobs in Dallas are booming.
Businesses are moving there, too; the president of the US India Chamber of Commerce in Dallas-Fort Worth told The Dallas Morning News that "the region's diverse business community, low cost of living, educated workforce and central geographic location make it a top choice for businesses looking to relocate in the United States." According to US News and World Report, Dallas boasts an unemployment rate that's lower (3.5 percent) than the 3.7 percent national average reported by the National Conference of State Legislatures.
Nursing jobs in Dallas.
The booming employment market in Dallas is great news for those in the healthcare industry. According to The Dallas Morning News, six of Texas' top-growing jobs are in the healthcare and nursing industries, with the nurse practitioner role projected to grow 25 percent and the home health aide role by 29 percent by 2023. According to Career Builder, Dallas-Fort Worth is also among the top 10 cities where the RN workforce is expected to grow the most by 2020.
The Texas Association of Counties lists over 50 hospitals in Dallas County. And that's not counting the doctor's offices, outpatient clinics, and ambulatory care facilities linked to major medical centers. Nurses in all specialties are in high demand as the population of the city and its surrounding counties continues to grow. If you're looking to build a nursing career in Dallas, here are a few roles to consider.
Home health nurse.
If you don't want to be tied down to one working location, home health nursing could be right for you. In many cases, home health nurses set their own schedule. They travel to patients' homes and administer medications, tend to wounds, and advocate for treatment changes.
Nurse staffing agencies can often connect you with home health jobs. "However, prior to starting in home health, you will want to sharpen your assessment skills first, as nurses working in the home health setting must be skilled at assessments and act quickly to keep a patient safe and on track with their treatment plan. A year or two of inpatient, urgent care, or long-term care settings will help attaining these assessment skills. According to Zippia, employment of home health aides is expected to grow in Texas with over 88,700 roles in 2024. PayScale reports that home health aides make an average annual salary of around $26,000.
Clinical research coordinator.
Interested in enrolling and monitoring patients participating in clinical trials? If so, consider a clinical research coordinator position. Clinical research coordinators assist with enrolling candidates into trials and obtaining informed consent, carry out the protocol which might mean administering trial drugs, and help organize study materials and collect data for the results. Generally, this type of job has nights, weekends, and major holidays off, which can be a bonus if you are looking for a job with a M-F, daytime schedule. 
Most employers prefer bachelor's-prepared nurses for this role, and they require candidates to have at least a few years' experience. Clinical research coordinators make an average annual salary of nearly $62,000, according to salary.com.
Perioperative nurse.
Given the large number of hospitals in the area, operating room nurses are in high demand in Dallas. Depending on the facility, perioperative nurses either work exclusively with a specific demographic or have a variety of patients in every age group. They ensure that surgery runs smoothly, securing the proper equipment and surgical tools, collaborating with the surgical team to address unforeseen problems, and advocating for the patient.
Perioperative  nurses work in acute care facilities as well as standalone ambulatory surgery centers, clinics, and private practice.  Perioperative nurses may work different shifts, including on-call. Working in the operating room can be a rewarding experience that will help you develop a unique skill set. And it pays well, too—PayScale reports that operating room nurses make an average annual salary of around $70,000.
Medical-surgical nurse.
Medical-surgical nursing jobs provide a strong foundation for any type of nursing career. According to the Academy of Medical-Surgical Nurses, these professionals administer medications, admit and discharge patients, and educate patients. They work in a hospital setting and juggle multiple patients with different medical problems at once.
If you're interested in medical-surgical nursing, prepare to learn a variety of skills, such as changing wound dressings, educating patients, and assessing injuries or illnesses. To succeed as a medical-surgical nurse, you need to think quickly, manage your time effectively, and collaborate with other members of the healthcare team for maximum patient benefit. A degree from an accredited nursing program can help you secure this job, which pays around $71,000 a year, on average, according to Glassdoor.
Forging your nursing path in Dallas.
Having your RN license can be enough to find work in Dallas. But many facilities are moving toward a bachelor's-prepared nursing workforce. A bachelor's degree program will give you the hands-on clinical experience you need to succeed in any number of nursing positions.
Living and working in Dallas may be right for you if you're looking to progress your career and have a great quality of life. With nearly unlimited opportunities, healthcare jobs in Dallas are worth exploring.