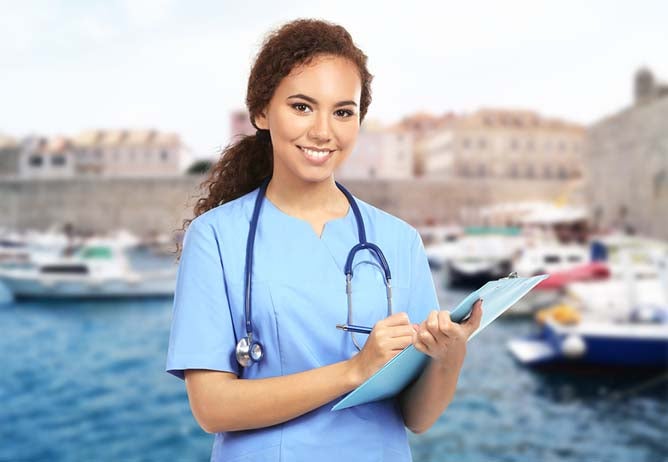 With a nursing job that involves travel, there's no telling where your career might take you. If you crave adventure and don't want to be stuck in one location, a nursing job in a distant locale might be right for you. These jobs open up the world, exposing you to new places, people, and ways of life. And there's no shortage of these kinds of nursing positions. Performing humanitarian work in foreign countries, seeing the world aboard a cruise ship— nursing jobs that involve travel can take you anywhere.
Begin your adventure with nursing jobs in far-flung locations.
A job with travel offers several benefits, and the journey begins when you earn a nursing degree and gain some experiential training. From there, you'll likely have the option to choose between a short-term or long-term assignment—whichever might satisfy your wanderlust. Depending on the job, your skill set, and your educational background, you could also have the chance to choose where you travel, whether domestically or internationally. And if you really enjoy a certain job or locale, there's always the chance that you could negotiate your temporary assignment into a full-time nursing role.
But one of the best things about nursing jobs might be the pay. On average, nurses who travel to work in various locations make almost $1,700 per week, according to TravelNursing.org—no small chunk of change. Depending on your specialty and your assignment's location, you could make even more.
Here are a few unique roles that enable you to provide excellent patient care while seeing the world.
Camp nurse.
Love the outdoors? Then consider a career as a camp nurse. Camp nurses ensure that campers are healthy enough to enjoy the great outdoors at sites across the United States. You'll keep an eye out for campers during their wilderness adventures, handle emergencies, and administer routine medications.
According to PayScale, camp nurses earn nearly $60,000, annually. And with more than 14 million campers at 14,000 camps in the United States every year, according to the American Camp Association, there's no shortage of work. The great news? When you have time off, you can take a hike—literally.
Cruise ship nurse.
Ocean-loving nurses who've developed their sea legs are in high demand as cruise ship nurses. Shipboard nurses travel the seven seas, acting as first responders and maintaining daily walk-in clinics for passengers. They also triage emergency phone calls and help transfer patients to land-based healthcare facilities.
Cruise ship nurses also make excellent money, and earn between $4,200 and $4,900 per month to start, according to Cruise Ship Jobs. And the benefits are great, too—not only will you be able to travel the world, but you'll also enjoy the on-board entertainment.
Humanitarian nurse.
If you're interested in traveling the world while helping people in need, consider humanitarian nursing. Many organizations provide aid all over the world, such as Doctors Without Borders—yes, they hire nurses—and International Medical Corps. Humanitarian nurses can truly make a difference in people's lives. Some immunize children in remote villages; others provide emergency medical services after natural disasters.
Humanitarian nursing salaries vary depending on the organization. These nurses are also often rewarded with perks and benefits such as room and board, professional development opportunities, and student loan forgiveness, depending on the organization.
Resort nurse.
Want to work at posh hotels in tropical locations where the beach is only a few steps away? Resort nursing could be the right choice for you. Resort tourism is on the rise, and there are many opportunities to help patients in the lap of luxury. More than 30 million people visited the hundreds of resorts that dot the islands of the Caribbean in 2017, for example, and many of them require some level of medical care.
Working as a resort nurse exposes you to unique and varied locations, peoples, and cultures. You'll act as a primary point of medical contact for the tourists who've come to soak up the sun as well as the people who serve them. Resort nurses make about $59,000 a year on average, ZipRecruiter says.
Traveling for nursing jobs in other locations is a great way to explore the world and make great money. These jobs can help you take your career to the next level and give you a view of the world many people never get to see.