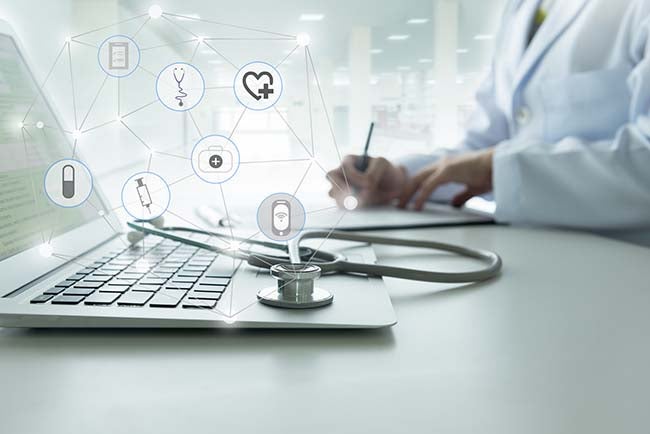 There are countless healthcare careers beyond bedside nursing available to those who want to make a difference in the field.
Nurses find a lot of personal fulfillment by providing bedside care. Hospitals, physician's offices, and medical facilities couldn't function without the dedicated nurses who care for patients.

But if the idea of long shifts is a total turn-off, several nursing careers can fulfill your desire to help people while still putting your valuable nursing knowledge, skills, and experience to good use. Alternative jobs for registered nurses, says Nurse Journal, open several avenues to pursue specialized interests. Here are a few.
1. Nursing Informaticist
Computer-based charting systems are ubiquitous, and though they make nurses' lives much easier in a lot of ways, there are certainly frustrations inherent in all-digital charting. Nursing informaticists bridge the gap between the technology and the direct work of caring for patients, making systems more understandable and usable for clinicians. They analyze and interpret data, collaborate with staff, provide training, and make using computer-based charting easier and more efficient for doctors and nurses on the front lines.
2. Case Manager
Sometimes when nurses are at a patient's bedside, they wonder what's going to happen after the patient is discharged. Who's going to take care of them? Who will help them get the help they need to fully heal? Who will help them navigate the tangled web of health insurance so that they can focus on healing? A nurse case manager, that's who. By working collaboratively with nurses,  physicians and social workers, nurse case managers use persistence, system knowledge, and compassion to help their clients connect the dots for the best care possible—even after the patient leaves the hospital.
3. Educator/Instructor
Nursing school is where nurses first learn the basics: how to give a bed bath, what the five rights of medication administration are, how to anticipate patient needs. Nursing professors are the ones who first introduce the philosophy and ethics that set our profession apart. Now looking back, it's clear that these were special people who were able to take their years of experience and break it down for even the most overwhelmed nursing student to understand. If you want to help train the next wave of nurses—perhaps the very same nurses who will be taking care of you in your time of need—a career in nursing education could be the ticket.
4. Patient Safety Officer
If you're a stickler for hand hygiene, preventing bloodstream infections associated with central line placement, or protecting patients from falls, you could fill an important role at a healthcare facility as a patient safety educator or officer. Patient safety experts analyze data from the facility's records to see where there could be improvements then implement a plan to improve patient outcomes. This role usually requires creative problem-solving skills and a thorough understanding of the regulations and requirements of multiple agencies, and it typically involves a lot of staff training.
5. Nurse Executive
Every successful facility needs competent, dedicated, hard-working leaders who listen to the clinicians providing direct patient care. These leaders use their experience and their knowledge from a degree in leadership and management to steer the ship toward profitability, high morale, and excellent patient outcomes.
These are just a few of the nursing careers available that don't require direct patient care but still make a difference in patients' lives. Nursing isn't just a set of technical skills and responsibilities. It's a practical, holistic approach to problem-solving that lends itself to success in many different roles.