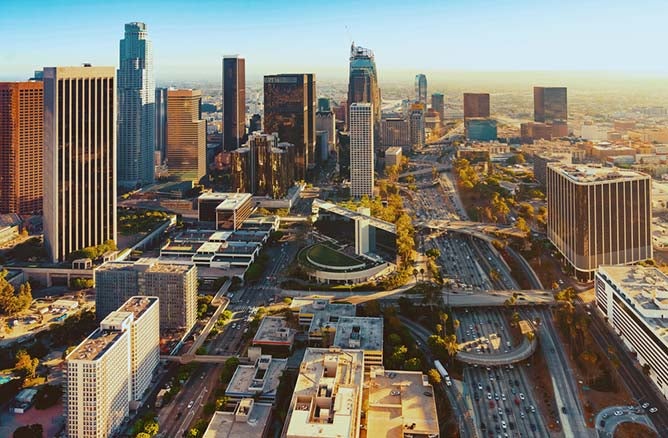 Considering a move to Los Angeles? You're in good company. With consistently good weather, a high standard of living, and exploding job growth in almost every field, it's easy to see why so many people are flocking to Los Angeles.
If you're thinking of moving to California, you might also be wondering about healthcare jobs in LA. According to the Los Angeles Almanac, there are more than 120 hospitals and major medical centers in the area—and that's not counting smaller, private doctor's offices, clinics, agencies, and other ambulatory facilities. With a population of more than 4 million, according to the World Population Review, Los Angeles offers no shortage of work for registered nurses in almost any field.
To the bedside and beyond.
As a result of the 2014 Affordable Care Act, a large proportion of California's then 8.2 million uninsured residents qualified for healthcare insurance, according to the California State and Consumer Services Agency, which estimated that the healthcare workforce would need to grow by 25 percent to handle these new patients. The Los Angeles County Economic Development Corporation estimated in 2018 that healthcare jobs in LA will grow by 125,000 positions over the next five years.
Healthcare jobs are not only booming in Los Angeles—they're paying well, too. The average salary for registered nurses in the area reaches north of $87,000, according to Glassdoor—and that's 27 percent above the national average. While many nurses find well-paying jobs in facilities that provide direct patient care, you don't have to stick with this type of hands-on work. Here are some unique nursing positions available in the greater Los Angeles area.
Concierge nurse: If you like caring for patients but want to venture outside the hospital, you might consider concierge nursing. Concierge nurses provide specialized care to patients in their homes, and many work in up-and-coming practice areas like anti-aging and at medical spas. The best part? Many concierge nurses make their own schedules.
Nursing informatics: Because Los Angeles ranks 18th among the top 25 tech cities in the United States, according to the Los Angeles Times, finding a tech job in the city isn't hard, and your interest in technology can translate into a productive nursing career. Nursing informaticists help develop technologies used in everyday practice by a variety of medical professionals and help safeguard patient information while advancing cutting-edge healthcare delivery and research..
Nurse to the stars: Dubbed the Entertainment Capital of the World, Los Angeles is home to A-list celebrities and studio executives—and they all need healthcare. If you're looking to apply your nursing skills in the film industry, you could apply for positions in occupational health at some of the biggest film studios in the world, which are headquartered in Los Angeles. Your duties might go beyond providing care, too, and could include wellness education, managing supplies, and coordinating care associated with worker's compensation claims.
Nurse consultant: In 2014, Los Angeles had more than 10,000 nonprofits, according to CalNonprofits, and many of these organizations employed consulting nurses to provide healthcare services to underserved communities. In some roles, you might work to boost the quality of life of children or people with developmental disabilities. In others, you might work with officials from the state of California or Los Angeles County to develop training programs and standards to help facilities reach and maintain compliance with nursing regulations.
Case manager: Case managers work to improve patient outcomes while helping facilities minimize costs. As a case manager, you might be tasked with developing patient care plans, conducting at-home or facility visits, and coordinating care schedules. Nurse case managers are often the primary point of contact for patients and family members.
Let's talk education.
One of the best things about nursing is the variety of opportunities available to individuals at every education level. But many positions prefer nurses to have bachelor's degrees in nursing, even if they don't require such a degree. Other jobs prefer a minimum of a master's degree in nursing.
Your BSN is your key to broader job opportunities and higher salaries in the nursing field. Online RN-to-BSN programs and RN-MSN programs offer a chance to further your education while continuing to work. You can set yourself up for good career growth, and you don't miss out on any income.
Los Angeles is one of the best places in the country for nurses seeking employment. The culture, standard of living, and access to numerous outdoor activities make Los Angeles a desirable location to call home, and the wealth of job opportunities is the icing on the cake. Start researching today to begin—or advance—your employment journey in an area known for providing top-notch healthcare.