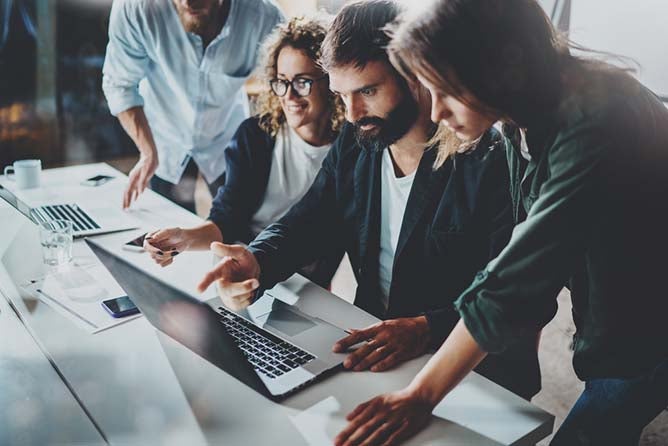 The IT field is flush with diverse roles marked by distinct responsibilities. Cybersecurity engineers keep pace with cyberattackers. Mobile developers write lines of code to build apps from the ground up. Data scientists gather and analyze data to help companies make sound business decisions. Each of these IT jobs requires specific knowledge and experience.
But all this job-specific know-how is predicated on fundamental IT skills. Here are some of the foundational skills that nearly every IT position requires.
1. Technical skills.
Although the specific set of requisite technical skills varies by position, every IT job requires some degree of technical proficiency. All IT careers are built upon a basic, foundational understanding of computers, software, and networks. The Balance Careers says that IT professionals need a working knowledge of the basic coding languages like HTML and C++ and have a grasp of areas such as cloud computing, architecture, and software development. Whether IT professionals are developing software or managing systems, they need these basic skills to succeed.
2. Analytical skills.
Analytical thinking is the basis of troubleshooting, and IT professionals use this skill when they're trying to determine why a line of code isn't working as it should or why a network connection failed. Regardless of role, IT professionals are regularly tasked with gathering information through observation and research, analyzing the information using logic and reasoning, developing ideas or solutions based on this analysis, and testing those ideas through trial and error.
3. Time-Management skills.
LinkedIn lists time management as one of the top skills companies across all industries—not just IT—look for in new hires. But most IT jobs are set in fast-paced environments in which employees juggle multiple responsibilities, so solid time-management and organizational skills are paramount to keeping all the balls in the air. A help desk employee might have a half dozen open support tickets to clear; a server administrator might have some security updates to perform, some network privileges to grant, and a new server to configure. The ability to budget time wisely is critical to keeping projects on track.
4. Problem-Solving skills.
IT employees are frequently called upon to solve problems, whether it's fixing a malfunctioning piece of equipment or figuring out how to improve efficiency through the use of technology. Effective problem-solving requires sharp analytical skills, as well as creativity, perseverance, and resourcefulness.
Highly skilled problem-solvers must be ready to innovate approaches to solve complex problems. They must be willing to work on problems even after others have given up, and they must be able to call upon outside assistance when an issue outstrips their ability.
5. Communication skills.
Communication is a critical skill for any job in any industry. But it's especially important for IT professionals, who work with many different professionals, including coworkers, tech vendors, teammates, and C-suite executives. Since communication styles can differ from one professional to another, IT professionals need strong oral and written communication skills to express technical and nontechnical concepts to other professionals and colleagues.
Gaining the right skills.
Many of these critical skills can be learned on the job—and they're also transferable to a wide range of careers. The best way to acquire technical skills, though, is to enroll in a certification or degree program. An industry certification or degree proves to employers that you possess the required technical skills. And if you choose the right IT degree program, you'll also learn essential nontechnical skills, such as communication, analytical thinking, and problem-solving.
If you choose a degree program that combines technical acumen and soft skill development, you'll be well-positioned for success in any IT career.