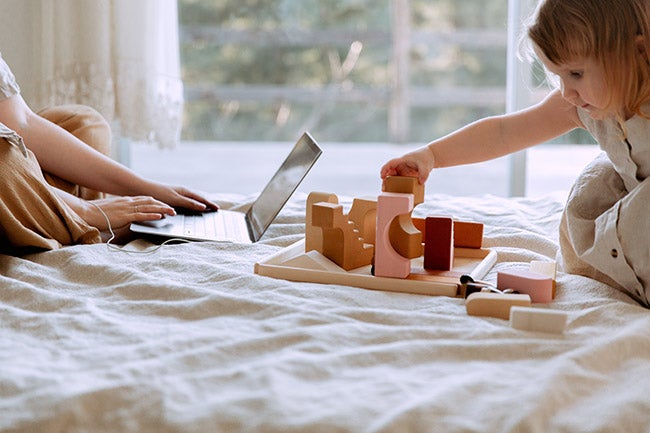 WGU attracts students from all different walks of life, but many of them are also parents. Being a parent is a full-time job—and when a parent is also working full time, pursuing a degree may feel overwhelming. Can you really add a degree program into your busy life? Believe it or not, the answer is yes!
Tackling a degree program amid all your other responsibilities is definitely a challenge, but that doesn't mean you should give up on your dream to further your education. Thousands of parents have enrolled in—and completed—a degree program at WGU, and they have some wisdom to share about how to stay organized so you, too, can be successful at WGU. Here are six ways you can increase your organization as a student parent.

1. Do Your Schoolwork on Nights, Weekends, and Any Other Time You Can Balance It
You may have visions of locking yourself away for days on end as you immerse yourself in your course load, but that's just not feasible when you've got a family. Still, you shouldn't let that stop you from diving in every chance you get because every minute counts. With WGU's flexible scheduling, you can work whenever it works for you.
"I found myself doing my schoolwork when my kids were at school, when they were enjoying a family film (during which I put headphones on and sat with them while they watched), when they were sleeping, and during a lunch break at work," shared Elisabeth Sanderson. "The best part of WGU is knowing that it is literally anytime or anywhere."

And Elisabeth really does mean "anywhere," as she found herself in the hospital at one point and continued to study as she recuperated. "I found that a hospital bed is a great place to do schoolwork," she said. "Nobody bothers you there!"

Adina Gardener echoes those sentiments. After completing her BSN with WGU in 2017, she was accepted into her PhD program and has continued to find time wherever she could to complete her program. But completing her BSN was an exercise in tenacity.

"While finishing my BSN, I was nursing my baby, pumping milk so I could work part-time, chasing a toddler, and losing my mind," Adina said. "So, I developed a motto: Every five minutes counts. If I had five minutes to bring up a Word document, write my name on it and save it, I did that. If my littles napped for 10 minutes and I had five minutes to read only the title and summary of my next reading assignment, I did that. Every five minutes counts."

Instead of trying to do everything at once, Adina focused on doing what she could little by little—and the result was earning her BSN. Her children are now ages four and six, and she's still using this approach to earn her PhD. As she put it, "I do miss the days of having uninterrupted 'me' time to complete my work, and those days will come again. But for now, every five minutes counts. Do what you can in the moments you have."

Even if you're sneaking in your study time when you can, it's important to stick to your commitment to get down to business when time allows—and that means not spending the first half hour of your study time playing Candy Crush or scrolling Instagram. And even though it's tough, there will be times where you'll have to choose between letting your kids derail your study plans and hunkering down to get it done so you can spend some quality time with them.
"It's easy to put off coursework until sometime later when you have kids, but if that's the plan, it never gets done," said Evelyn Partner. "It takes time and concentration to learn new things, especially if they don't come easily to you."

This is a roadblock Evelyn ran into during her degree program, as some components of her coursework posed a bigger challenge than others. "I've always struggled with mathematical topics, and I have to make myself tackle them. You have to be systematic and consistent at those things," she shared. "If learning periods are sporadic or infrequent, half the learning time is spent re-learning what you did last time. With so little time to spend at learning while working and/or caring for children, don't waste precious time re-learning."

Plus, procrastination only serves to derail the goals you're setting for yourself. "Putting off homework will not get it done and delays or prevents getting to your goal in the long run—it has to be a priority that is planned for in your life," she added. "Unfortunately, that means missing out on some social things with family and friends, but look at it this way: if you prioritize your education and get through it, those things will be a part of your life again sooner than you think."

And if all else fails to keep you on track, Eldon Cahoon has a recommendation: use the app to help keep you on track.

"Organize your time and use the app to study when you get some down time," said Eldon Cahoon. "Don't give up or start pushing off competition dates! It's worth it!"

3. Don't Feel Bad Letting Some Things Go!
Okay, so you wanted to have an actual family dinner one night but caved and ordered pizza. Or maybe you parked your kids in front of the TV and let them watch past their bedtime so you could have more study time. It may not be ideal, but don't forget: your degree program isn't going to go on forever. So take the advice of former WGU students and don't sweat the small things.
"Don't waste your time trying to have the perfect house, or waste your time with your children," Melissa Johnson advised. "Life is so crazy and busy; any spare time you have with your kids, have fun and make great memories. Someday they'll be older, and you'll be able to hire someone to help you clean the house, and they'll have great memories with you—which is what is most important."

Samuel Lett echoed these sentiments and admitted his kids got more screen time than normal while he was working through his degree program. "Basically, the kids got to watch a lot more TV/movies and play a lot more video games this past year," he said. "Sometimes I felt guilty for not spending enough time with them, but the key is to stay focused on the goal, the big picture."

And in some cases, that meant making some sacrifices. "It's ok to live a simple, frugal life and enjoy the small things," Samuel noted. "We shopped at Goodwill and didn't eat out much. Sometimes we even skipped church on Sunday to sleep in and have a down day." Samuel also recommended exercising and eating healthy when you can and taking breaks from schoolwork when you need to. And before you know it, you'll find normal again.

As he put it, "This stage in life will pass, and you can do it!"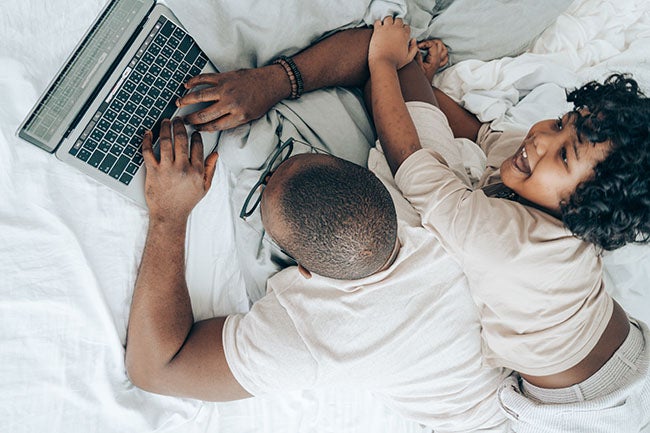 4. Find People Who Can Help You Be Organized
There's no question that managing a degree program while raising a family is a big challenge, and it's one you shouldn't tackle alone. Make sure to lean on your support system to help you get through, whether that means reaching out to family or friends when you need a helping hand, or touching base with your Program Mentor if things get a little unruly.
"Sometimes I had to make adjustments as I went along due to unforeseen circumstances," Kelly Wheeler recalled. "I even got way off track at one point because of a major personal issue, but my Program Mentor supported me tremendously with remapping my courses to get back on track." But Kelly's Program Mentor wasn't the only one to help her keep organized. "I learned to accept and request help when it was offered by family and friends," she added.

Jessica Edie agreed and invoked a common refrain to remind student parents what it takes to take on a degree program: "Do not be afraid to ask for help from family and friends. It really does take a village."

5. Spend Time on the Things That Matter
It may feel like your degree program is going to last forever, and some days will feel tougher than others. Putting in the time now means you'll be able to celebrate later, but that doesn't mean you shouldn't give yourself pockets of time to recharge, put something else first for a moment or two, or even make the time for a little self-care. But most of all, don't forget to spend time with your family to avoid burnout and stress.
"I worked full time in the ICU—12 hour shifts during my BSN/MSN," Veronica Garay said. "I had adopted five children years before, and have a total of nine children. I had to set my priorities—there was no social or 'me time,' it was my family first, work then school. I would always be disciplined with time and schedules and used a lot of 'free' time to study—especially at night. I just knew what I wanted. It's a very delicate balance, and I'm glad I did it at WGU."

Carmelle Phillipe was married, had a full-time job, and contended with three children while she was enrolled in the BSN program in 2016. And while it was "tough but doable," part of Carmelle's success was due to her non-school commitments.

"I made sure I made time for the more important things like worship and my family," she said. "I took time for self-care. Being balanced is the key to your success. I don't celebrate Mother's Day, but I celebrate mothers everywhere every day for the hard work we do at caring for our families."

You know those times when you're in a hurry to get somewhere, and you're scrambling to get everything together, but when you arrive at your appointment you realize you forgot something important at home? Rushing your way through your course load works the same way. Overloading yourself is a surefire way to create chaos, and you know what they say: slow and steady wins the race.
This is something Michelle Graves knows all too well. With a 20-year gap in her education, Michelle wanted to elevate her career and enrolled at WGU to earn a business and HR management degree. "I am not the typical student with WGU," she admitted. "It took me 46 months to complete my degree. I chose to take the time."

And that's the bonus of a degree program with a flexible schedule—you can do the work when you want, how you want. You can even study at work like Michelle did. "It takes grit," Michelle added, but for her, it was worth it. "My company offered me an administrator-in-training position, and I will sit for the Boards soon! WGU and I made this possible!"

Kim Schmidt followed a similar path, taking her time to complete her degree program on the schedule that worked for her. "You have to just do the best you can at your own pace," she shared. "I was not able to keep a full-time schedule for some terms and although it cost me more, I was able to complete my degree."

And in the end, it worked out for the best. Said Kim, "I am so happy I gave myself permission to put some classes off for another term. Even though my Program Mentor and the school frowned on it a little, it is what helped me push through and still have time for my children."

So if you're still concerned about whether or not you can manage a degree program along with your family duties, just remember the advice from these former WGU students. If they could do it, so can you!