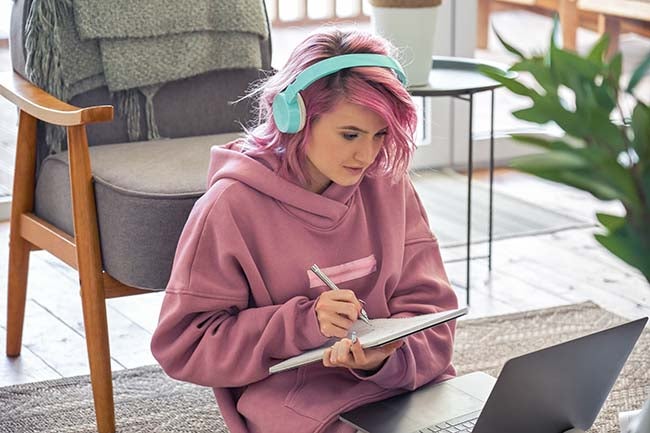 Will Online Learning Help My Career?
If you're considering online learning, you've probably picked up on the fact that it's a convenient, flexible option for earning your degree. But for many, the biggest deciding factor is whether an online degree can actually help their career in the long run. The reality is that online learning comes with several career benefits outside of the obvious ones. So, what are the benefits on online learning? Let's take a look.
Whether you have a full-time job, a family to take care of, or just study better on your own schedule, an online degree gives you the flexibility to balance it all. In many instances, both employers and employees benefit from online learning because employees can still work while they're going to school. Plus, you can immediately apply the things you have learned in your current job or get credentials for your résumé along the way that will have a direct impact on your career.
2. Respected and Valuable Programs Enhance Your Skills
Many schools work hard to make sure they're accredited and reputable so students get a degree that's valuable to them and to employers. A Northeastern University survey found that 58% of employers "believe that an institution's brand and reputation is the main driver of a credential's value, regardless of whether or not it was earned online." As you research online programs, it's important to look for an accredited online college, such as WGU. Here's why: 
Accreditation gives you an indication of a university's quality and reputation
You're assured of a standard level of quality in education and services
Your credits will transfer to most other accredited institutions
Your degree will be recognized and respected by other colleges and employers
To become accredited, an online college or university must go through an accreditation process laid out by the particular agency. For example, WGU is accredited by the Northwest Commission on Colleges and Universities (NWCCU), an institutional accreditation body of colleges and universities in a seven-state region.
Any chance to network is a huge benefit and online learning offers several opportunities for interaction between students, faculty, and alumni. At WGU, mentors and student community groups help you feel connected and supported during your studies. You can interact through chat groups, video conferencing, and email to socialize, compare thoughts, and get advice. In fact, many students find once they begin their program, they can connect to anyone. And the networking gets even better once you've completed your degree program. As a WGU graduate, you can tap into a private LinkedIn group, apps, and events to continue to make professional connections throughout your career. Many online universities offer similar social options for students to interact and connect.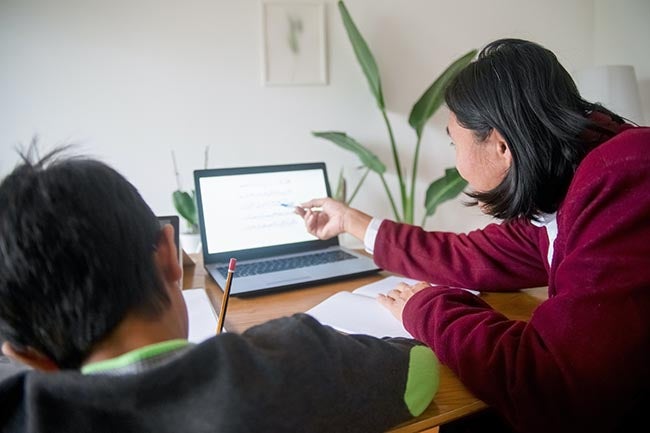 4. Get Confident with Technology
Studying online means you're going to be spending a lot of time using technology and software, likely with programs that are new to you. Many online learners find they're able to learn new tech and excel in it. Not only do they feel confident with their technological abilities but some even list on their résumé the kinds of programs they used as part of their coursework.
For many people, one of the biggest roadblocks to earning their degree is the cost. The good news is, getting an online degree is often more affordable than in-person degree programs. At WGU, you can earn a respected degree for about half the national average for a bachelor's degree*. Tuition is paid by six-month term, not by credit, so you pay one price for as many courses as you can complete in a term. On top of that, our programs are competency based, which means you can complete most courses as fast as you master the material. The more courses you finish in a term, the more money you can save.
It's also important to look at the time commitment and flexibility when considering the money. Because online learning is flexible, you can continue to work full-time while attending. This means you can continue to earn money while attending school. 

6. Develop Career Focused Skills
Whether you want a promotion, a career change, or to earn your degree, online learning can help make it happen. In many reputable online programs, the coursework is designed with your future employment and success in mind. WGU's programs are directly applicable to your career and provide you with a portfolio of relevant work before you even graduate, which can make you even more marketable to future employers.
Flexibility, affordability, networking opportunities, and valuable skills: these are just a few reasons to consider online learning, but the benefits are many. If you're ready to pursue higher education in a way that truly benefits you and your career, consider WGU.

*WGU average annual bachelor's tuition rates are 57% of the national average, compared to national rates reported by the Integrated Postsecondary Education Data System. WGU average rate does not include rates for WGU Bachelor of Science, Nursing Prelicensure program.