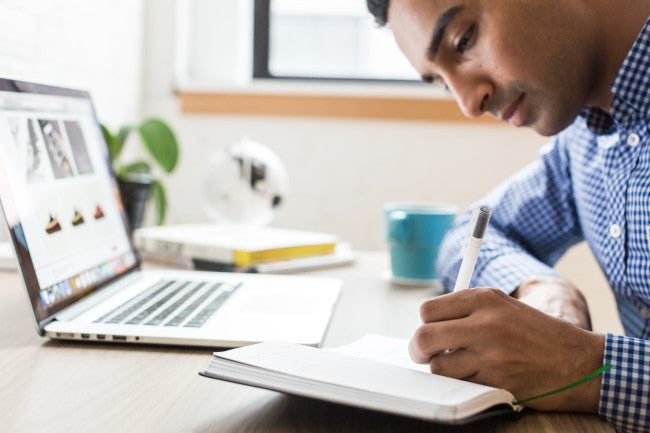 If you're searching "easiest online master's degrees" you probably are looking for a way to boost your career and move up to the next level. While no degree worth having will be easy, WGU helps remove many obstacles to make it simpler to earn your degree. Our online courses are designed to help students have the flexibility they need to succeed and earn a degree online, while continuing to work.
Many students find that an online degree is a great option for a graduate degree. After earning a bachelor's degree, most people go on to full-time employment. This means that when the time comes to earn a master's degree, there aren't as many options. While some programs have part-time options, many require full-time enrollment. With a job, it's extremely difficult to try and work a class schedule around a work schedule. Some students find they'd need to quit their job, or ask managers for flex hours in order to attend their classes. Even some online degree programs require logging in at certain times, which can be less than ideal for full-time employees who also have family responsibilities.
Online colleges are gaining popularity when it comes to graduate programs in particular. More employers are excited about online colleges because they can send their employees there to get better training and education, without taking them off the job or having to work around a schedule. And with many employers offering tuition benefits and discounts for graduate programs, students have high motivations to pursue graduate degrees programs online.
At WGU, our online degree programs are geared to help you earn your online master's degree without disrupting your daily life. Our fast and flexible degree programs are considered some of the best, and are a great way to continue your education without needing to revolve your entire schedule around schooling. Learn about the best online master's degrees to get online at WGU.
Getting a Master's of Business Administration or MBA is a common business graduate degree. In this program students learn more in-depth about finance, economics, marketing, and management. This online degree prepares students for all areas of business, and particularly the management and leadership element of business. Business administration online students tend to have widely varied bachelor's degree programs—it's common for students with different backgrounds to pursue a business administration degree program to help them be prepared to go up the career ladder to a management position.
Business administration careers. An accredited online master's graduate program can help propel you into a wide variety of careers. An accredited MBA program is a crucial stepping stone to management in nearly every business organization. Careers you can get with an MBA include:
Management consultant

Sales manager

Investment banker

Sales manager

Financial manager

CEO

COO
Graduates with an MBA will have great skills in communication, problem-solving, business acumen, and overall management skills. This will help them land a great career in the business world, in any industry. 

Earning an MBA fast. WGU's online MBA can help you get your online degree even faster by allowing you to move as quickly as you're able to master the material. Some MBA students struggle to graduate quickly because they have to spend time on material they already know. That's not the case at WGU. If you already know the material or understand it quickly, you can propel through the program at a much faster pace with our online program. Some students find issues understanding the material in an MBA program—and at WGU we have faculty members always ready to connect with you so you can get all your questions answered right away. Online students flock to our business administration graduate program because it is set up to help them succeed.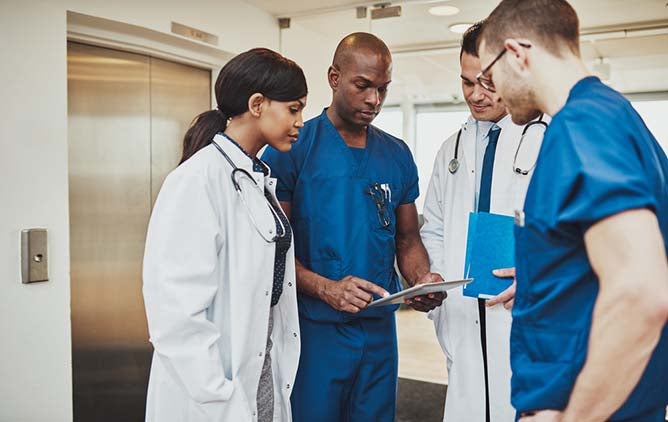 Healthcare leadership master's degrees are ideal for those who are wanting to move up the healthcare ladder into an administrative role. Many students who pursue a healthcare leadership online master's degree went through a bachelor's degree program and have experience in a health field. They could have a bachelor's of nursing, a health services degree program, or something similar. This degree program helps them propel their health career into something even more.
Healthcare leadership careers. A healthcare leadership degree program can prepare you for many management positions within the healthcare industry. If you want to move into higher leadership positions in the health industry, you'll likely need this kind of online master's degree to help you get there. A health leadership online master's degree can help prepare you for many careers, including:
Healthcare executive

Medical and health services manager

Healthcare administrator

Hospital administrator

Nursing home administrator

Clinical manager

Health information manager
Online student graduates with a health leadership online degree will have an understanding in the fundamentals of healthcare, as well as understand the business oriented side of that industry. They will learn about administration and the ins and outs of the field so they're ready to take on the business element as part of their career.
Earning a healthcare leadership degree fast. WGU's online health leadership master's degree program is designed to help you get your diploma even faster. Our flexible online programs mean you don't have to quit your job in order to get your online master's degree—you can do your courses on your schedule, whenever works best for you. You can also go through the coursework as quickly as you can master the material, allowing you to graduate and start your new career even faster. This online master's degree is crucial to help students progress.
A master's degree in accounting is needed in many states to qualify to sit for the CPA or Certified Professional Accounting exam. Most students pursuing a master's degree program in accounting are hoping to get the additional knowledge and credentials they need to sit for this exam, or other similar exams. These certifications are vital in helping individuals move forward in their career. The first step to a step up is a master's degree in accounting. In this degree program students learn about financial reporting, business finances, taxes, auditing, and more.
Accounting careers. An accounting online master's degree prepares you to become a CPA and can make sure you're prepared for a wide variety of careers. The additional education students get with a online master's degree in accounting can ensure they're ready for the top challenges in the industry. A online master's degree in accounting can help prepare you for many careers, including:
Auditor

Financial analyst.

Forensic accountant

Managerial accountant

Corporate controller

CEO

Chief Financial Officer (CFO)
Getting a master's degree in accounting will prepare students for all the financial details within a business. Graduates will know how financial reporting and procedures work, ensuring they're ready to help their organization flourish. 
Earning an accounting degree fast. WGU's master's of accounting is focused on the idea that you can graduate faster. We want to help students move forward with their lives, not waste time on material they already know. Many master of accounting students get frustrated that they are relearning old material instead of focusing on the kind of material that will be on the CPA exam. At WGU, you don't have to worry about that. You can move quickly through material you already know and spend time on the areas that you need to focus on.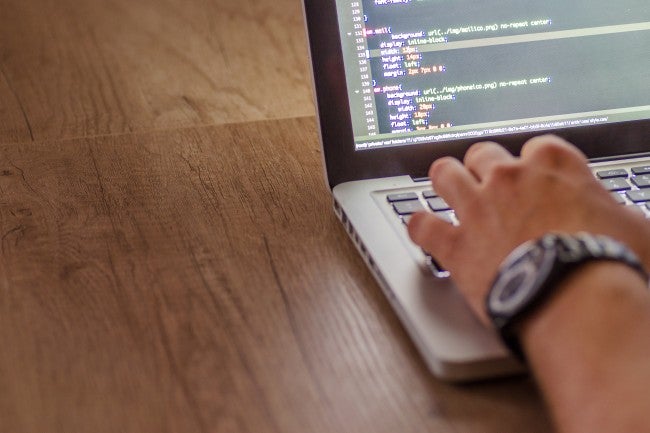 In the information technology world, many people don't have degrees because they've learned to code in a different way, through coding bootcamps or something similar. But more and more, the IT field is demanding higher education from professionals. Especially when it comes to promotions to management positions, a master's degree is crucial. Students in a variety of information technology backgrounds can benefit from an online program in IT management to help them propel their career forward.
IT management careers. IT management online programs are ideal for preparing those with an IT background for a leadership role in the industry. An IT background is essential for this online master's degree—you need to know how the basics will work in order to be a good and qualified leader. An IT management online master's degree can prepare you for many careers including:
CIO

IT director

Senior system engineer

Manager of information systems

IT infrastructure manager
Your information technology management graduate degree is essential to help you be qualified for higher level IT roles. This online master's degree will help you learn business and management skills to add to your IT skills to ensure you can be effective as a leader. 
Completing an IT management degree fast. Many students who pursue an IT management online master's degree want to do so quickly so they can be ready for a promotion or new job opportunity. At WGU our information technology management degree online is designed to allow you to go through the course as quickly as you're able to master the material, allowing you to graduate faster.
A master's degree in education leadership is a common online master's degree choice for teachers who want to move up into administration roles. It's also a great way for teachers to qualify for raises in their current school. This kind of degree program dives deeply into the background of education and the best way to teach and administrate to all age groups. In order to get an education leadership online master's degree, you'll likely need a bachelor's degree and maybe even a certification in teaching to be qualified. This online master's degree can go a long way in helping you be prepared for the next step in your career. 
Education leadership careers. An education leadership online master's degree is the gateway to many kinds of careers in education. Beyond teaching, education has positions in administration, research, development, training, and more. An educational leadership online master's degree will help prepare you for this kind of career path. Careers you can get with this online program include:
School principal

Educational trainer

Superintendent

Educational research manager

Workforce services manager
Graduates of an educational leadership online program learn about the business and management side of education. They will gain skills to help them learn to train, manage, and lead educators as they work to be the best teacher possible. 
Earning an education leadership degree fast. Many students who are pursuing a graduate degree in educational leadership are ready for a career change. Often they are teachers who are ready to take the step out of the classroom and into a more managerial or administrative role. At WGU, students are able to get their degree online, faster while still working at their full-time job. This gives teachers great flexibility to expand their career into something they're passionate about
Leadership and management.
A management and leadership online master's degree is an ideal choice for students who need the credentials to move forward into a leadership role. This kind of online master's degree is less technical than an MBA and can be ideal for a wider variety of industries and roles. Students with all kinds of backgrounds and different bachelor's degrees can benefit from a leadership and management master's degree. Students will learn about communication, problem-solving, management, and more as part of this kind of online program. 
Leadership and management careers. A leadership and management graduate program is the gateway to a promotion for many students. A variety of industries from government, to non-profit, to private organizations, are looking for individuals trained with this kind of online master's program to fill management positions. This online master's can prepare you for many careers including: 
President

Vice president

Branch chief

Director of operations

Executive director
Graduates of this program will be qualified for promotions in their organization, or job moves to a different one. Graduates will know about strategy, decision-making, ethics, as well as business fundamentals that come with management.
Earning a leadership and management degree fast. Those who want to pursue a leadership and management master's degree are usually hoping to get through their degree program quickly so they can move up in their career. WGU can help achieve that. While many degree programs have specific time-frames, WGU allows students to move forward as quickly as they can master the material. This means that students can graduate faster, and get started in their new management career.
A graduate degree in special education is a great choice for current teachers who are looking for options to increase their salary and skill in the classroom. It can be a fantastic option for already certified teachers who are hoping to move into special ed classrooms and be qualified and prepared for that work. Students who want to pursue this kind of degree will need a bachelor's degree and teacher certification to get started.
Special education careers. Most students who get a master's degree in special ed are hoping to work in a classroom. But the kind of places you can work vary greatly when you have an advanced degree. Students can work in many locations including:
Public schools from elementary to high school

Private schools

Charter schools

Special education facilities
Graduates of a special ed program from an online college learn specific skills that will help them in a special ed classroom, including teaching methods for special needs students, real-world practices, and communication techniques. These kinds of skills are crucial for those wanting to make a difference in a special education classroom.
Earning a special education degree fast. Most students who want a master's degree in special education are already current teachers, hoping to pursue higher education while they work. An online graduate program like WGU is ideal for these kinds of students. With the help of online courses and flexibility, these students can pursue their degree after the school day ends. Many students can also use their current classroom experience as part of their capstone project to help them graduate with a master's degree.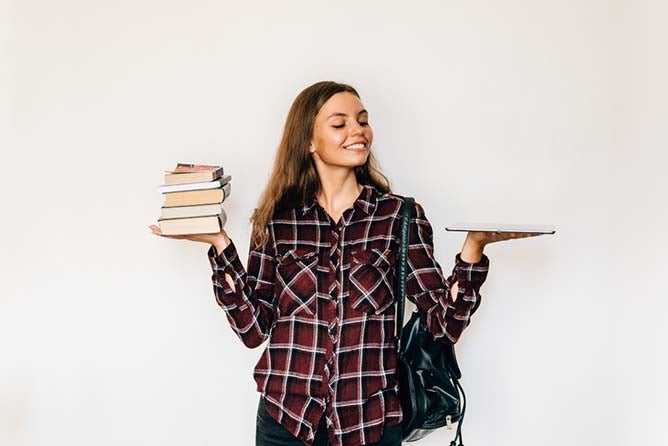 So what's the easiest online master's degree? Well no credible degree is going to be easy. It will take work and time to get the diploma that you deserve. However, your experience can play a huge role in how quickly you can graduate. With competency-based education offered at WGU, you can move through courses as fast as you can master the material. So if you already have experience in a field, you can use your knowledge to help you move through faster.
Whatever master's degree you want to get, it's important to think about the career you want. While one kind of degree may seem simpler than another, the ultimate question should be what career you want and which degree can help you get there. An online college is a great option for many master's degree students because they are already working. Whether you're looking for a promotion or a career change, you can continue to work and fulfill all your life responsibilities while attending school when you choose an online college.
At WGU, we're focused on removing barriers so you can pursue a degree in an easier, more straightforward way. Expensive tuition is often a barrier for students getting a traditional or online degree. At WGU, we don't want that to be an obstacle in your way. Our tuition nearly half of what you'd pay at other online universities, making us the best option for you. We charge a flat-rate per six-month term instead of per credit, so you know exactly how much you'll pay to earn your degree. We are a not-for-profit university, and because we are online we don't have the same upkeep costs that other universities have. We are committed to keeping tuition low so you have little to no student debt. This can be especially high for graduate students, and our focus is helping you take on as little student debt as possible. Additionally, our Responsible Borrowing Initiative is there to help you pay down your student debt even faster. We also offer many scholarships that can make our low tuition even more affordable. You can also apply for federal financial aid to help cut the cost of your tuition even more. While graduate programs don't have as many federal financial aid options, there are other ways to cut down on costs. Many employers will help cover master's degree tuition because the programs often help their employees be prepared for more responsibilities. Speak to your employer about tuition discounts or reimbursements. Similarly, many employers may be ready to offer promotions on completion of your degree, and that raise in pay can help you pay for your student loans quickly. WGU graduates on average are able to see a return-on-investment for their degree in just two years, which is much lower than the national average ROI.
Another common barrier that graduate students have is getting support. When getting a degree, it's important to have the support of faculty and mentors. Not having this support can make getting a degree extremely challenging—more challenging than necessary. Some students find it's hard to connect to a faculty member who has hundreds of students to help. And sometimes advisors have busy schedules, and it's hard to make time to connect with them. Here at WGU, we make it easier to get the support you need to earn a degree.
We boast supportive and engaged faculty and Program Mentors who are with you every step of the way. You'll have regular meetings with your Program Mentor to ensure you have everything you need, that you're making good progress with your program, and that you have the tools you need to succeed. Your instructor for each of your classes can be reached quickly when you have questions or concerns. We want you to have all the support you need to earn a degree. 
Some students worry that their graduate degree won't actually prepare them for a career. Here at WGU, we want to give you a degree that will directly lead to a job in your chosen field. Our degree programs are built to make sure you're prepared to continue or move into a new career.
Employers love WGU grads. According to a 2018 Harris Poll, 97% of employers said WGU graduates meet or exceed expectations, 94% said they would hire another WGU graduate, and 97% said that their WGU graduates were well-prepared for their jobs.
Each and every one of our programs are meant to specifically prepare you for a career. Ultimately, your success is our goal.
From our tuition rate, to our education model, it's easy to see that WGU wants to help students like you earn a great graduate degree. When students pursue higher education, it can be daunting or overwhelming, and those fears can make students unsure about the decision. We want to make it an easy and straightforward choice. With all that WGU has to offer, it's the best possible option to pursue a master's degree here.
If you're considering getting an online master's degree, WGU is the ideal choice. If you're ready to take your career to the next level, WGU can help with top master's degrees that will qualify you for an exciting future.