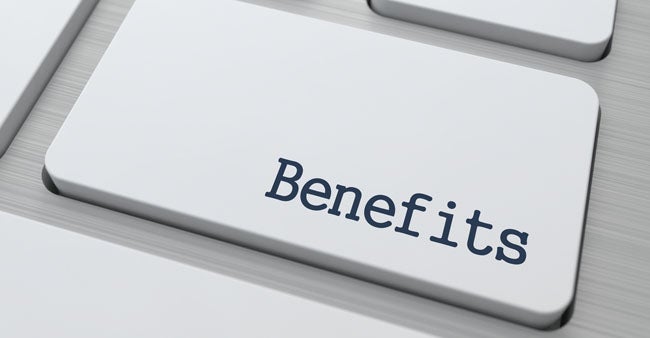 Careers in information technology offer employees some of the most remarkable perks out of any industry. That's because IT firms realize that productivity is a result of happiness. Some of the biggest companies around offer amazing benefit packages and workplace amenities that most people could only dream about. Whether it's Google providing employees an onsite bowling alley or Facebook's complimentary keyboard vending machine, tech companies give their employees a reason to stick around for the long haul. In fact, Google has such great amenities that employees have reportedly lived there for weeks on end. Remarkably, these type of perks span across the industry, and though each IT giant goes about making employees happy in its own way, all of them provide some incredible extras. Here's a look at some of the coolest perks provided by IT companies:

This might sound like a relatively normal perk, but at Google's offices, employees are gifted with food for breakfast, lunch and dinner. Imagine walking into a well-stocked pantry or strolling into the cafeteria knowing you can eat whatever you want for all of your square meals. Facebook, Twitter and Dropbox all also offer up lots of free food. In fact, Twitter's San Francisco office provides employees with catered breakfast and lunch. Zynga gives employees access to free Blue Bottle, some of San Francisco's best quality (and most expensive) third wave coffee.

Companies such as Yahoo, Google, Facebook, Cisco and Twitter all offer top-notch onsite gym facilities for their employees. This allows workers to go get some exercise during a long day or before heading home for the evening. Moreover, it encourages employees to maintain a healthy lifestyle. Promoting fitness culture throughout a company can make employees more social, productive and happy. Cisco even provides primary care, physical therapy, and acupuncture while Facebook boasts many health offerings for employees including medical care, running trails, yoga classes and a swimming pool.

Employees at software firm Evernote get their houses cleaned twice a month as a perk. This emphasizes a broader trend by tech companies to focus on employees having a healthy relationship between work and home. This way, employees can work comfortably without having to fret about rushing home to clean the house. Facebook provides laundry and dry cleaning services, making it easy for employees to accomplish personal tasks while at work. Google employees enjoy workplace amenities such as free massages, yoga, car washes, oil-changes and daycare.

Facebook has an onsite arcade for workers, while Google has courts for employees to enjoy a game of bocce ball. This allows employees to get out and socialize as well as stand up and move around after a long day in front of a computer. Furthermore, it brings a necessary fun atmosphere to the workplace.

The super odd looking MetroNap EnergyPods that Google has around the office might seem a bit peculiar to the outside observer. However, these $8,000 chair-bed hybrids are designed to provide good circulation and ambient sound while you drift off. Employees at Google have the benefit of rejuvenating in these awesome sleep vessels at anytime. Other tech companies have similar lounge areas for employees to catch a few winks, and Huffington Post even encourages naptime.

Gaming company Zynga allows employees to bring their dogs to work every day. This gives employees the satisfaction of not having to worry about their pets being left alone all day at home. What's more, it makes the work environment a friendlier place.

Companies like AirBnB are bringing a redefining the idea of paid vacation. The company gives every employee a $2,000 stipend to be used for traveling. Other tech companies provide company trips to popular vacation spots or surprise holidays. Evernote, Automattic, Twitter and Pinterest also don't keep track of vacation days, encouraging employees to take time off as needed. Evernote even has an incentive program for extra hardworking employees, which encourages workaholics to take time off.