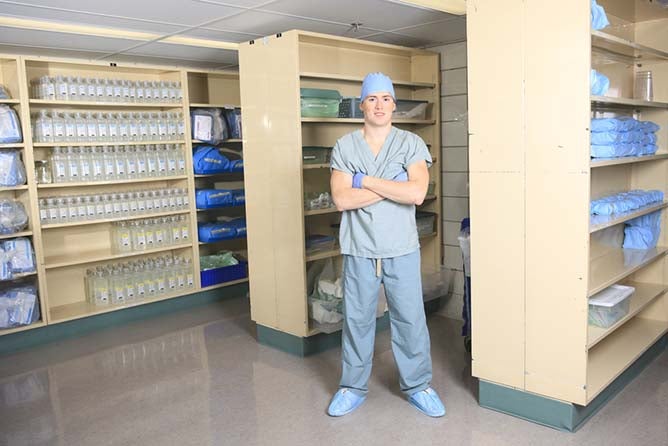 If you're considering a career in healthcare, it's important to keep in mind that your job could involve several administrative or technical tasks outside of patient care. Fulfilling these tasks will be an important part of building your healthcare career, since they are  critical to proper patient care and safety.
So before pursuing a degree in nursing, here's a closer look at the wide range of tasks and responsibilities these healthcare careers involve.
1. Charting and paperwork.
Keeping accurate records is an essential part of nursing practice. Throughout a shift, nurses document test results, treatment interventions, medication administration information, and other important data in each patient's personal medical chart. Medical teams use this information to make further treatment decisions, evaluate how the patient responds to care, and ensure proper reimbursement for the healthcare team and facility.
2. Inventory and ordering.
Having the right supplies handy helps you perform your job effectively. Taking stock of supply inventory and ordering new supplies is a huge—and often overlooked—part of the nursing profession. One Cardinal Health survey, taken from front-line clinicians including nurses, found that supply chain and inventory management accounts for as much as 20 percent of the workweek, with 78 percent of respondents indicating that their duties included manually counting inventory.
Many larger hospital systems use automated inventory management solutions, but other facilities like smaller hospitals and private practices still use manual inventory tracking and ordering processes. As inventory processes become more automated, nursing responsibilities will change from manually counting supplies to managing inventory solutions. Regardless of the method, though, inventory and ordering will always be a critical part of a nurse's role.
3. Nursing education.
No matter which nursing specialty you choose, you can bet your job will require some type of continuing education. And as your career advances and you gain more experience, you'll probably be asked to present in-service training to your colleagues.
In-service training provides an opportunity to educate other clinicians on any number of topics, such as the use of new equipment, updates to common procedures or processes, or growing trends within the nursing profession. Depending on your own education level and experience, you may develop and implement interactive learning methods like case studies or simulations. According to research published in Human Resources for Health, employing these different teaching techniques has been shown to effectively engage learners in healthcare settings.
4. Equipment maintenance.
Nurses use a variety of medical equipment throughout the workday. Portable glucometers, automatic blood pressure cuffs, and IV pumps are commonly used in most nursing specialties. Depending on where you work, you may also have access to specialized equipment, such as operating room tables or intracranial pressure monitors.
Maintaining medical equipment usually involves disinfection, cleaning, charging, proper storage, and, in some cases, troubleshooting. While hospitals often have maintenance technicians on hand to deal with any equipment problems, nurses in smaller facilities may have to take on these duties themselves.
5. Committee participation.
Workplace committees provide nurses with opportunities to learn new skills, improve interdisciplinary collaboration, and better understand how their healthcare system functions. Committee participation also offers a way to use your clinical expertise to help develop new protocols, procedures, or policies, and it's a great way to grow your nursing career and boost your resume.
Nurse committees meet regularly to address all sorts of topics, such as quality assurance and improvement, nursing education, patient care services, and nurse advancement and recognition. Many nursing committees recruit volunteer participants from various specialty areas.
6. Nurse precepting.
Once you get some experience under your belt, you may be tasked with precepting new nurses to help them learn the ropes. Nurse preceptors are invaluable to the success of healthcare operations, regardless of whether the nurse they're training is new to the profession or simply transferring to a new practice specialty.
As a preceptor, you'll help new nurses develop their own nursing practice. This could involve education, socialization, and evaluation, as well as supporting nurses coming on to your floor. In many cases, preceptors hold advanced degrees and specialty certifications. Preceptors are also usually required to have a certain amount of nursing experience before committing to working with new nurses.
7. Scheduling.
Once you begin working, it may seem like your life revolves around your unit's nursing schedule. As your practice evolves, you may be asked to weigh in on scheduling your colleagues to ensure safe staffing levels and patient care coverage.
It can be difficult to balance the needs of your organization with employee preferences, while also avoiding unhealthy staffing patterns. But working together with your colleagues can help you find your groove and prevent many scheduling headaches.
Keep in mind that some of these essential tasks in healthcare careers, like counting inventory, won't require much nursing experience. But others, like precepting, may call for years of experience and an advanced education. Obtaining a degree in nursing can help you take on all of these added responsibilities, advance your career, and ultimately provide the best patient care possible.