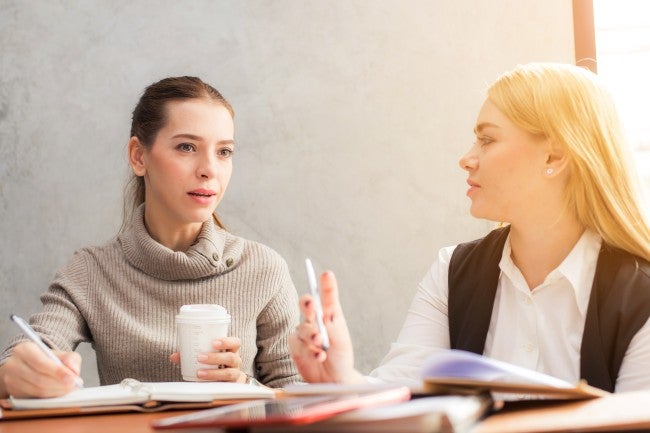 Online degree programs are a great way to pursue higher education with more flexibility. You can plan on getting a high paying career with solid security after you graduate with your online degree. WGU offers a wide variety of online degree programs that can help you get specific knowledge and skills you need for your dream career.
Online colleges can be a great place to help you be prepared for specific occupations. Degree programs that you pursue online are crucial in starting you on a path to your future. Online programs give you specific training in ways that other degree programs can't.
Online degrees at WGU are focused on occupational success, so they focus on training you with the skills you need for a certain kind of employment. There are many places of employment that are high paying and steady, and earning a degree online can help you be prepared for that work.
You can earn an online bachelor's or online master's degree from WGU. Whatever online program you choose, you can be sure that earning your degree online will be a good option for your future. Learn more about the top 8 online degrees that can lead to great employment for you when you graduate.
Accounting is a great online degree in the WGU business college that will help you learn about finances and business essentials. Accounting is a well-established and critical field in the business world. Organizations always need help with their finances and taxes, and as finance regulations and laws continue to change, the demand for these professionals will only grow. The online degree program at WGU focuses on business and accounting practices that are used in the real-world today. A career as an auditor or financial analyst could be in your future with an accounting degree. 
Auditor. Auditors are in charge of preparing and examining financial records for organizations. They make sure that an organization is following correct accounting practices, organize and maintain financial records, inspect the books and accounting systems, and more. Auditors often have a busy season at the beginning of the year, but there is generally high job satisfaction within this profession. According to the Bureau of Labor Statistics, the average annual salary for auditors is around $70,000 per year and the profession is expected to grow 6% by 2028.
Financial analyst. Financial analysts are responsible for providing guidance and advice to organizations when it comes to finances and investing. From stocks and bonds to other investments, financial analysts are key in helping businesses make smart decisions. Financial analysts typically have normal 40-hour weeks and high job satisfaction. They have an average annual salary of around $85,000 per year according to the Bureau of Labor Statistics. The field is expected to grow 6% by 2028, which is about as fast as the national average. 

Business administration is a online degree program involved is in overseeing the business operations, finance, management, and business processes of an organization. An online master's degree is highly flexible degree that can allow graduates to work in a variety of different business roles, industries, and environments. Online education at WGU focuses on management skills that will help you in starting a leadership career. Earning an online master's degree can allow you to continue to work while you're doing your online program. Business is an ever-expanding field and a business administration degree can be key in ensuring you have the specific knowledge and skills in finance, economics, marketing, and management needed to help you succeed.
Bank examiner. Bank examiners make sure banks and other financial institutions are compliant with the rules and regulations that govern them. They review balance sheets, review new regulations and make sure their organization understands and follows them, and they main focus on risk assessment and consumer compliance. Bank examiners have a fairly high occupational satisfaction, and can expect to earn an average annual salary of $80,000 according to the Bureau of Labor Statistics. The demand for bank examiners is likely to grow 7% in the next several years, especially as more laws and regulations regarding finance are put in place.
Budget director. Budget directors help public and private institutions organize their finances. They monitor spending and run budgets for the company. They are often responsible for working with all of the different departments and executives to establish sound budgets. Some budget directors are required to travel and work within the different locations of the organization, but overall have high job satisfaction. The average annual salary for budget directors is around $76,000, with the profession growing about 4% by 2028. This job growth is a bit slower than the national average, but still means that plenty of job opportunities will be available.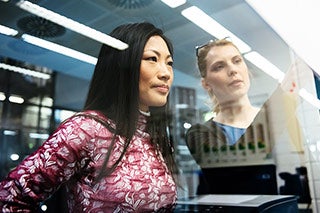 A computer science degree is focused on the study of computer systems and programs, and their processes. This degree focuses on software and software systems, and jobs in the computer science field will often include solving computer problems, creating new languages and tools, improving software systems, and designing tests for software. Earning a degree online in computer science makes a lot of sense. An online college helps you in starting on the path to technological mastery. And earning your degree online gives you more opportunities to be qualified for the future by giving you more hands-on experience with computers.
Animator. Animators create two-dimensional or three-dimensional artwork for movies, TV shows, graphics, and more They use computer programs to digitize their artwork in order to have it be used at a larger scale. Animators often make their designs move by using software programs or coding. Animators generally have relaxed schedules but when coming up on deadlines they may need to work more nights or weekends. Animators can expect to make an annual salary of around $72,000, and job growth is expected to grow 4% by 2028. 
Software developer. Software developers are the creative minds behind computer programs, creating the systems and programs that we use every day. They test new programs, make improvements, teach functionality, and more. A computer science degree will help you learn all the coding you need in order to be qualified to be a software developer. Developers earn an annual salary of over $105,000, and the profession is expected to grow 21% by 2028. This is a highly specialized field that is growing rapidly, making it a great career choice.
Technology and business are continuing to grow together, and more organizations than ever before need sophisticated security measures to keep data and information safe. Cybersecurity professionals protect networks, systems, and data for businesses and organizations. Every industry, from government to healthcare, needs cybersecurity to keep their information secure. Cybersecurity positions often come after experience in other IT fields, so it's important to be prepared to work your way up in this exciting technology field. Online degrees are popular options for cybersecurity training because so much of the work is done on computers. Online education can help give you real-world scenarios and increase your technological skills. Online programs in cybersecurity can be crucial in helping students be successful in the field.
Information security analyst. Information security analysts are sometimes called cybersecurity analysts, and their main role is to analyze risk and help come up with solutions to keep information safe. As cyberattacks continue to increase, these analysts have a more important role in working to come up with new systems to secure data. Information security analysts make an average annual salary of $98,000 and have a high growth rate, 32% in the next ten years. As technology continues to grow, so will the need for these professionals who can help keep threats at bay.
Penetration tester. In the IT world, hackers try to get into computer networks and systems to steal information and data. To combat this, ethical hackers or penetration testers work to find vulnerabilities for an organization before bad hackers do. Then they help the organization implement software or security practices to keep bad hackers out. Penetration testers have high job satisfaction and are in increasingly high demand. The average salary for a penetration tester is over $100,000 a year, with more experience leading to more money. There is a 28% job growth expected in the next ten years for this profession.
Healthcare administration.
Healthcare administration is a critical part of any patient's journey. A healthcare management degree can help you be prepared for all the healthcare and business work that come together in health admin positions. There is an important business side to healthcare that many people don't consider, but it is crucial to health and wellness of patients and employees alike. An online education can help you have the right skills and credentials for a position in healthcare administration. Online programs can help give you the healthcare and the business acumen needed to succeed in these roles.
Clinical informatics specialist. A clinical informatics specialist is in charge of managing health records for a hospital or clinic. They create ongoing reports and processes for supervisors and colleagues to help keep all patient data organized. There is a need for business, IT, and healthcare knowledge to come together in this position. Clinical informatics specialists earn an annual average salary of around $77,000, and is expected to grow about 13% by 2026. As technology continues to advance, the demand for qualified healthcare professionals in this field will also grow. 
Nursing director. Nursing directors are in charge of all of the nurses in a hospital or clinic. They often help create schedules, trainings, organize records, budgeting, and more. All the nurses in a unit or an entire facility will report to the nursing director. They must have a solid knowledge of healthcare as well as additional understanding of business and IT to make sure everything runs smoothly. Nursing directors earn an average of $99,000 per year, and the field is expected to grow 18% by 2028.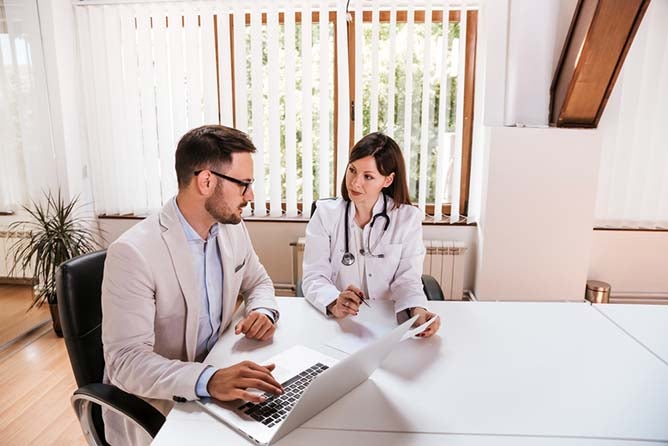 Health information management.
Health information management, often also called health informatics, is the practice of analyzing healthcare data and using it to improve facility operations and processes. Health information managers are in charge of protecting patient data and improving the quality of care at a facility. IT and healthcare come together in this field as well, and a background and understanding of both are key to success. The right online program will help combine your knowledge of health and IT to ensure you're prepared for your career.
Director of risk management. Directors of risk management in a healthcare setting are charged with analyzing the risk of certain situations for the facility. They then determine how to best minimize the risk and help set up the processes to make that happen. Risk management often involves working with insurance companies and lawyers to help set up correct procedures. Directors of risk management earn an annual salary of more than $129,000 and the field is growing rapidly, expected to increase by 19% in 10 years. 
Chief Compliance Officer. The Chief Compliance Officer of an organization is charged with making sure government regulations and rules are met. They are in charge of learning and understanding all regulations, and working to implement them within a facility. In healthcare settings this can revolve around Medicare or Medicaid compliance, HIPAA compliance, insurance compliance, and more. Compliance officers make an average annual salary of around $75,620 per year. The field is expected to grow about 5% in the next several years, which is about as fast as the national average job growth. 
Marketing is an exciting and fast growing field, with an increasing need for traditional and digital marketers alike. This means marketers can expect a good salary, security, and many opportunities for growth. With the right online degree and time working your way up in the field, you can become a marketing manager. This is an even better position within the field, with higher salary options. Online college options can help you earn your degree while you're currently working, so you don't have to quit your current job.
Market research analyst. Market research analysts are in charge of finding out what products people want, who wants them, and how to sell them. They are crucial to a marketing team in helping understand the best way to promote a product or service. They analyze a variety of data to really pinpoint the target audience and create marketing campaigns that will be most effective. Market research analysts enjoy good job satisfaction, and earn an average annual salary of $63,000 per year. This field is growing much faster than the national average at 20% by 2028. 
Product marketing manager. Product marketing managers create strategies and campaigns for specific products in an organization. They may be in charge of one specific element of the company, or oversee a subset of products and services. They are in charge of leading their teams to come up with the best ways to catch their audience's attention. The average annual salary for marketing managers is $117,000, and the field is growing quickly with an 8% increase expected by 2028. 
Nursing is a field that is experiencing a shortage, so more nurses are needed now than ever before. A nursing degree online can help you qualify for promotions if you're currently an RN, or help you be prepared to become a licensed nurse. An online degree in nursing is a simple way to further your career while you're working. And master's online degree in nursing will qualify you for different positions in the healthcare and nursing fields. As the field continues to need qualified professionals, a nursing degree will go a long way in helping you meet the demand. 
Long-term care nurse. Long term care nurses are in charge of patients who need extended care over a long period of time. Usually an illness or disease will cause them to need longer care times than other patients. Rehabilitation centers and elderly facilities are common places for long-term care nurses. From helping with medication, exercises, and monitoring, nurses in these positions are often busy. These nurses earn an average annual salary of $67,000 per year and the field is expected to grow 16% by 2024. 
Pain management nurse. Pain management nurses are experts at techniques and options to help control debilitating pain for patients. They are often in charge of medications and monitoring of patients, working with health records to help keep pain management organized and safe, and working with recovering patients. Pain management nurses earn an average annual salary of about $102,000 per year. This branch of nursing is expected to grow 9% by 2024, with many job opportunities available. 
These are just a few of the many occupations you can pursue with the help of your WGU degree program. Our goal is to help you be prepared for an exciting, lucrative career. An online degree is the first step into making that goal a reality. If you're considering an online college education, it's important to understand the many career opportunities that will be available to you as a result.
WGU offers many online degree programs that are key in helping you with your future. Our degree programs are designed by experts in the field so you're sure to learn the things that will actually be helpful for your success.