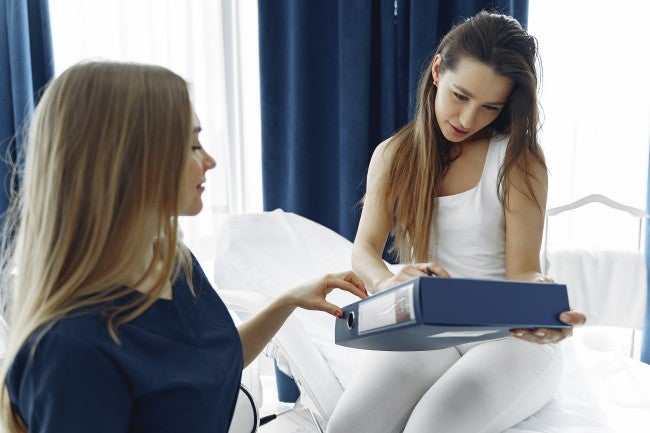 Reviewed by Janelle Sokolowich (Ph.D., MSN, RN) Academic Vice President and Dean, Leavitt School of Health.
As a nurse, you spend your days focusing on helping others get the best care and treatment possible. But sometimes, you need to focus on yourself and reaching your own goals. That's why more nurses than ever are opting to pursue a bachelor's degree. Nursing programs help those with an RN license enhance their education, giving them nursing courses that help them be better prepared for their work.
ADN, RN, BSN—there are so many options and abbreviations when it comes to nursing programs that it can be hard to keep all the degree programs for RNs straight. Whether you're a current RN looking to pursue a BSN or someone hoping to earn their RN license, there are many options for you to consider. In this guide you'll learn about all the different higher education options for nurses and discover how you can pursue a degree in the way that is best for you.
ADN stands for Associate Degree in Nursing. An ADN program is typically a two- to three-year program that prepares students to take the NCLEX exam and become registered nurses. ADN degree programs are one of the most common ways for students to become registered nurses. These associate degree programs help students get their clinical work accomplished and give them the skills and experience they will need to pass the NCLEX exam and become licensed. There are often full-time and part-time options for these programs as well as online program options for some schools.
What is a nursing diploma?
A nursing diploma is a non-degree program that allows students to prepare for becoming registered nurses but doesn't result in a specific degree upon completion. Students take nursing courses, earning skills and training they need to become registered nurses, but at the end of their coursework they receive a certification instead of a degree. These nursing programs prepare nurses for the NCLEX exam and help them be qualified for their RN license. These nursing programs are typically offered by community colleges or may be offered specifically by hospitals themselves.
A Bachelor of Science in Nursing is different from an ADN in many ways. This baccalaureate degree can have many program features that vary based on if you are full-time or part-time, already have your RN license, or are just starting out.
A BSN may be offered to students who do not yet have their nursing license—these are typically called pre-licensure programs and help student prepare for the NCLEX exam as well as give them the clinical experiences they need to become licensed. Their programs typically take three to four years and require extensive clinical time as well as bachelor's degree coursework. But when you graduate from this degree program, you'll not only have a bachelor's degree but you'll also be prepared for the NCLEX exam and nursing licensure.
But there are also BSN options for students who are already RNs looking to further their education. RN to BSN programs are often much shorter than pre-licensure programs—because the student already has their RN license. They are simply completing additional coursework that gives them their bachelor's degree.
What is an RN to BSN program?
RN to BSN programs are specifically designed for current registered nurses to pursue a bachelor's degree. Online RN to BSN programs are extremely popular, as they allow current nurses to continue working full time or part time while they pursue their degree. Online RN to BSN programs—like the program offered at WGU—allow students to use their RN experience to their advantage, offering transfer credits and allowing them to work on their schedule to complete their online degree program.
When it comes to finding a nursing program, you need to find an accredited option that will work for your needs. That's why many nurses find an online RN to BSN is an ideal fit for them. In an online program, nurses can work on classes faster, using their knowledge and experience to help them move along, and do courses whenever it works for their schedule. In a non-online program, class times may not fit with your work schedule, your family obligations, or may take time you simply don't have. An online RN to BSN program is a popular option for many registered nurses because of the flexibility it offers.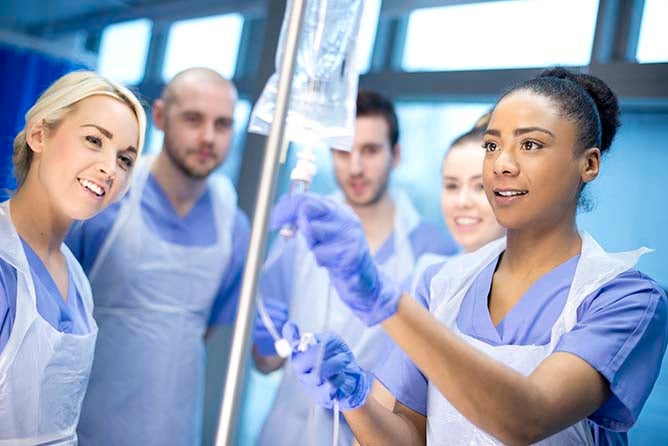 ADN to BSN is a program that helps students who already have their Associate Degree in Nursing move forward to earning a Bachelor of Science in Nursing. An ADN to BSN program helps students learn additional skills and get that bachelor's degree credential on their résumé. ADN to BSN programs are virtually the same as RN to BSN programs and the terms are often used interchangeably—both are for current registered nurses who want to earn their BSN.
In some ADN to BSN programs, a nursing diploma won't count—you'll have to have an ADN in order to enter the program. However, in most ADN to BSN and RN to BSN programs, you don't have to have a certain qualification beyond being a registered nurse. That means that a nursing diploma or an ADN can work for registered nurses hoping to earn a BSN.
WGU offers an RN to BSN program that is ideal for both registered nurses who have an ADN and for registered nurses who have a nursing diploma. Your experience as an RN and your past education will make earning a BSN at WGU much simpler—you'll transfer in credits and you can use your knowledge to your advantage with our unique educational model. 
So why earn a BSN at all? There are many benefits to earning a BSN degree, including:
Better preparation. Research shows that nurses who have their BSN are often better prepared for specific situations in hospital settings. They learn about nursing research, ethics, and informatics, which can help them be prepared for many situations in their field.
Magnet status. Hospitals are designated with Magnet status when they are known as one of the best in the country. More hospitals are working to obtain Magnet status, which requires the hospital to have a certain percentage of BSN and MSN nurses in order to qualify. Hospitals are therefore looking to hire more BSN-trained nurses or have their current RNs earn their BSNs in order to meet Magnet requirements.  
Clinical skills. The American Association of Colleges of Nursing say that BSN nurses tend to have better clinical skills than non-BSN nurses. BSN nurses are shown to have lower mortality rates, lower failure-to-rescue rates, and better ability to diagnose and evaluate patients. A BSN can help you improve clinical skills and be a better nurse.
Career opportunities. A BSN degree can help current RNs be prepared for career opportunities in a non-hospital setting. They are able to move into teaching, case management, policy review, and other opportunities. Some of these career paths will require a master's degree or MSN, and a BSN is required for students to move forward into higher educational opportunities.
If you're currently a registered nurse with an ADN or nursing diploma, the RN to BSN program at WGU could be the perfect way to further your education, boost your résumé, and enhance your opportunities. Our online RN to BSN programs help nursing students pursue their goal of higher education in a way that truly works for them. Accredited online programs hold the same value for employers as traditional programs—in fact, many employers encourage their nursing workforce to pursue online RN to BSN options so they can continue to work while earning their online degree. If you're interested in an online RN to BSN program, WGU is affordable and accredited—and could be the perfect fit for you.