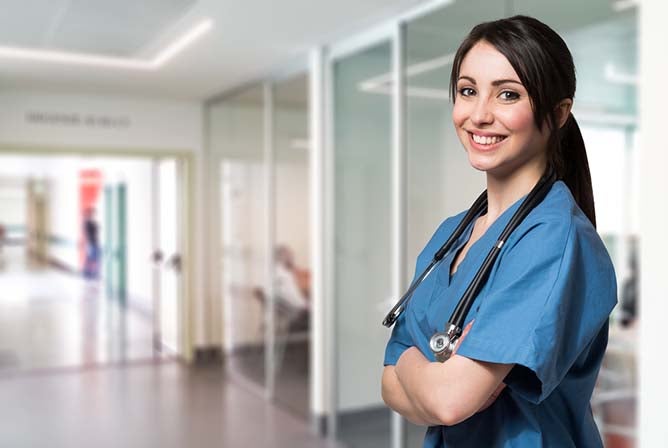 Completing community college is a big deal, and it is just the start of your educational journey. If you've completed your associate's degree in nursing, it's time to set your next professional goal after community college.
You've already shown you've got what it takes to succeed in the classroom, so earning a bachelor's degree in nursing (BSN) is your next challenging yet achievable goal. Why?  Bachelor's-prepared nurses are seeing more career advancement opportunities and financial benefits than nurses who stop at their associate degree.
The benefits of a BSN.
Earning a BSN can help you forge a long and fulfilling nursing career. After you've completed your BSN program, you'll likely see the following benefits.
Financial benefits.
If you earn your BSN, you'll likely see a higher paycheck. The Bureau of Labor Statistics notes that a BSN has become a standard entry-level credential for nurses, and that the median nurse's salary is about $72,000.
Payscale.com breaks these figures down a bit more: the average pay for an RN with a diploma or associate's degree is $64,000; the average salary for a BSN-prepared nurse is much higher at $82,000 a year. The numbers rise from there, especially for senior BSN-prepared nurses in management positions. According to payscale.com, the median salary of clinical nurse managers is around $84,000, while nursing managers earn a median salary of around $87,000.
Advancement opportunities.
More employers want to exclusively hire nurses with BSNs. This includes most hospitals, which is where new nurses often find the intense bedside caseload that cements their academic learning with what it means to be a nurse today.
Indeed, 504 U.S. hospitals have received designation from the American Nurses Credentialing Center's Magnet Recognition Program, a coveted credential that marks a facility as committed to valuing nursing talent. These organizations prioritize the hiring of bachelor's-prepared nurses because of the Magnet program's emphasis on education. According to the American Nurses Credentialing Center, to achieve Magnet recognition, medical facilities must employ bachelor's-prepared nursing leaders to set standards for patient care and healthcare procedures.
It's no surprise that bachelor's-prepared nurses are required for Magnet recognition. According to the American Association of Colleges of Nursing, "BSN nurses are prized for their skills in critical thinking, leadership, case management, and health promotion, and for their ability to practice across a variety of inpatient and outpatient settings."
With facilities increasingly requiring nursing managers and leaders to have BSNs, earning your bachelor's degree in nursing can help open doors to advancement.
Career options.
You're also more likely to have a wider variety of career options with a BSN l. The National Academy of Medicine's (formerly Institute of Medicine) influential 2010 report The Future of Nursing: Leading Change, Advancing Health recommends the U.S. should increase its BSN-trained nursing workforce. The report set an ambitious goal—for 80 percent of nurses in the American workforce to hold a BSN degree by 2020.
Since the report was published, many colleges and universities have made quality nursing education programs more affordable and accessible. In an RN to MSN program, you'll be able to specialize in a particular kind of nursing, including leadership and management, education, and informatics.  
Do you have friends or family who love healthcare but are not registered nurses?  Have them consider a bachelor's in healthcare management or health services coordination. These degrees prepare workers with the knowledge, skills, and confidence to play a key role in a wide range of healthcare environments including primary care, acute care, long term care, home care, and insurance and government careers.
Deciding to apply.
Once you've completed your community college nursing program and earned your RN license, you'll want to look for RN-to-BSN programs. These programs allow working nurses to complete the requirements for their BSN degree while building on their previous nursing education and experience.
Here's what you should think about when deciding which RN-to-BSN program is right for you.
Do I understand the curriculum? Your community college nursing curriculum gave you lots of hands-on, practical nursing knowledge. Now it's time to broaden and deepen that knowledge by taking courses in nursing theory, healthcare policy, public health, and current trends in healthcare. Look for programs that offer coursework that will build your leadership skills and round out any gaps in your general education requirements.

Is the program flexible? You want a school that understands the pressures of juggling coursework, a job, and family responsibilities. Schools that offer online courses provide the greatest amount of flexibility to students who are trying to get everything done at once. Nursing education is shifting toward a competency-based educational model, which allows you to complete coursework as you master the material, rather than on a calendar-based semester. If you choose a program that operates on the competency model, you'll be able to move at your own pace—and possibly get your degree faster.

Is the program accredited? Be sure to enroll in a program that is accredited by either the Commission on Collegiate Nursing Education or the Accreditation Commission for Education in Nursing so that you'll be eligible to receive federal financial aid. Accreditation acts as a quality-control indicator; employers might not recognize the value of a degree from an unaccredited school.
Pursuing your BSN after community college won't be easy, but it will pay off in terms of improved pay and career opportunities.