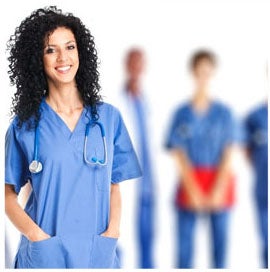 After spending years in nursing school, you may wonder why you would ever bother going back to school to earn your master's degree — after all, didn't you spend all those hours studying so you would never have to do it again? However, earning a master's degree can benefit your career in nursing in many ways, and online nursing degrees make it possible to go back to school without having to quit your job. Still not convinced that it's worth the effort? Here are four ways that earning a master's degree in nursing can give you an advantage in your career:

1. Higher salary
As with many other occupations, earning an advanced degree can give nurses' salaries a boost. Although higher pay is not necessarily a guarantee, advanced education does demonstrate that you have valuable expertise that nurses without master's degrees do not have, particularly if you choose an area of specialty.
2. Better hours
Although nursing can be a very rewarding career, let's face it — the hours are not always the best. Twelve-hour shifts are exhausting, even for young nurses fresh out of school, and no one ever wants to work on holidays. If you earn a master's degree, you will be eligible for management positions, many of which offer more traditional 40-hour work weeks.
3. More options
If you're feeling a little stuck in your current position and want to explore other options in the field of nursing, earning an advanced degree can open you up to a wealth of opportunities. The more experience, education and qualifications you have, the more likely you will be hired for new and exciting positions in areas of specialty or leadership. You may even be able to teach future nurses.
4. Greater knowledge
Of course, the main benefit of heading back to school is expanding your medical knowledge, which, in turn, will help you be better at your job. Earning your master's degree can give you a deeper understanding of things that were skimmed over in nursing school, and may also allow you to hone in on an area that is of particular interest.
---