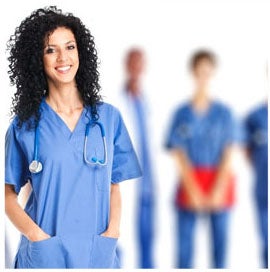 After spending time and money in nursing school, you may wonder why you would ever bother going back to school to earn your master's degree—after all, you spent all those hours studying so you could become a nurse and have a career and never have to go back to school again! However, earning a master's degree can benefit your career in nursing in many ways, and online nursing degrees make it possible to go back to school without having to quit your job. Still not convinced that it's worth the effort? Here are four ways that earning a master's degree in nursing can give you an advantage in your career:
What are the benefits of a master's degree in nursing?
1. Higher salary.
As with many other occupations, earning an advanced degree can give your nursing salary a boost. Although higher pay is not necessarily a guarantee, advanced education does demonstrate that you have valuable expertise that nurses without master's degrees do not have, particularly if you choose an area of specialty. Typically, RNs earn an average salary of around $64,000 per year. MSN graduates earn an average salary of around $86,000 per year. Your advanced degree could end up giving you a $20,000 raise in your income over time. 
A nursing MSN can help you move into higher-level positions in the nursing field as well, which are often better paid. Getting a degree in nursing education, nursing leadership, or nursing informatics can propel you into more senior-level positions in a hospital. And these higher-level positions almost always come with higher pay. 
2. Better hours.
Although nursing can be a very rewarding career, let's face it—the hours are not always the best. Twelve-hour shifts are exhausting, even for young nurses fresh out of school, and no one ever wants to work on holidays. If you earn a master's degree, you will be eligible for management positions, many of which offer more traditional 40-hour work weeks.
An MSN degree can help you move into a role as a nurse manager, setting schedules and leading your nursing team to success. Nursing managers are less likely to have to work nights and weekends because they will be mostly in-demand during more normal hours. Similarly, an MSN can help you become a nurse educator, which again has more normal hours. Nurse educators help train their teams on procedures for the hospital, and that training typically happens during a regular workday. And nurse informaticists are responsible for utilizing data to work with nurses and hospital administrators to make decisions. This is usually done during the day, during regular business hours. 
3. More options.
If you're feeling a little stuck in your current position and want to explore other options in the field of nursing, earning an advanced degree can open you up to a wealth of opportunities.
If you have more experience and an advanced degree, you could move into a leadership role, working to help manage all the nurses in a department or in a clinic. You would help set schedules, track performance, oversee all of their work, and more.
A higher education can help you become a nurse educator, training future nurses and helping prepare them for the scenarios they will face on the job. You could work for a hospital or for a school to help future nurses be prepared for their future.
An advanced degree can also prepare you for a future in nursing informatics, where you utilize your nursing experience and combine it with technology and data to help drive decisions for an organization. 
There are so many options for nurses beyond traditional nursing work, and an MSN can help you be prepared for anything ahead. 
4. Greater knowledge.
Of course, the main benefit of heading back to school is expanding your medical knowledge, which, in turn, will help you be better at your job. Research shows that the higher education a nurse has, the better their clinical skills are, the higher their success rates, and the more knowledgeable they are in their specialty.
Earning your master's degree can give you a deeper understanding of things that were skimmed over in nursing school and may also allow you to home in on an area that is of particular interest. 
What is the value of a master's degree in nursing?
While there are many personal benefits to earning a master's degree in nursing, it's important to understand the value of a nursing master's degree as well.
The hospital or clinic where you work is likely to see value in your increased skill. Evidence shows that nurses who have postgraduate study have better critical thinking and decision-making, have leadership qualities that help them make changes in their organization, and are ready to take on advanced roles.
Additionally, nurses can see a value in a master's degree in nursing in their increased salary, increased opportunities, and increased ability to help patients thrive. 
Ultimately, a master's degree in nursing will help you have a positive impact on patients and on other nurses. When you rise up to take the lead, you can help other nurses with their own growth and development, and overall you can work as a team to improve patient outcomes and save lives.