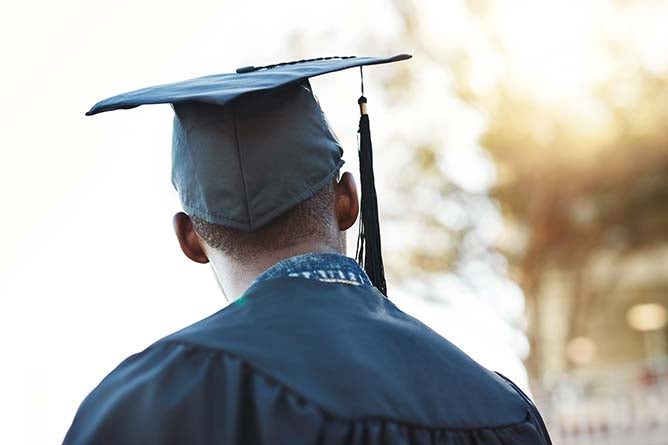 For a long list of well-paid professionals, the benefits of a master's degree are increasingly apparent. Professionals such as coders, nurses, and marketing executives now view a master's as a necessary workplace credential to get prepared, hired, and paid for good jobs.
In 2001, 474,000 students earned master's degrees, according to the National Center for Education Statistics. Sixteen years later, that number had jumped to 805,000. The dramatic increase reinforces the notion that students and new professionals consider a master's degree a critical part of professional success.
If the trend continues, earning a master's degree could quickly become a requirement for many jobs, not just a preference.
The new bachelor's.
In today's job market, it's often said that the master's is the new bachelor's. It used to be that having a bachelor's degree set you apart from your competitors. But as more professionals sought to stand out, the bachelor's degree quickly became a prerequisite for many jobs in IT, business, and other fields. During the 1960s, for example, just 10 percent of the U.S. population held a bachelor's degree, the U.S. Census Bureau reports. Nowadays, a bachelor's is often needed simply to get you in the door for an interview.
In many ways, the master's degree is following the same trajectory as the bachelor's. Employers want to see candidates with advanced credentials that demonstrate a unique combination of skills, experience, and knowledge. They're willing to pay more in exchange for those credentials, too. A 2016 CareerBuilder survey found that 27 percent of employers hired candidates with master's degrees for roles previously filled by bachelor's-prepared professionals. And 32 percent of employers, the survey found, were increasing their educational requirements across the board.
Professional fields of dreams.
If there's a story to be told about the growth and benefits of a master's degree over the past five decades, a good title might be "The Rise of the Professional Credential."
Back in the 1960s, teachers and academics most often earned post-baccalaureate degrees. Now, according to the National Center for Education Statistics, more than half of all master's degrees come from one of three fields: business (23 percent), education (18 percent), or health professions or related programs (15 percent). The number of master's degrees conferred in engineering and computer science has also risen significantly since 2001.
The dramatic emergence of the master's degree in business administration is most notable. It suggests that while having an MBA or a related business degree might not be a requirement for many jobs, employers perceive an MBA as a symbol of relevant skills and knowledge.
Even though master's degrees are becoming the new norm in the workplace, earning an MBA or a related degree can provide significant benefits to new professionals. For one, holding an MBA could broaden the range of jobs you're prepared for. A Graduate Management Admission Council report shows that 96 percent of employers think that hiring an MBA-prepared professional will add value to their company and that 58 percent plan to increase starting salaries for new employees with MBAs.
Fastest-growing degrees.
If you were only to look at the trends since the 1960s, though, you'd miss an important part of the story—that some master's degrees are growing a lot faster than others.
Law enforcement, health professions, engineering technologies, and leisure and fitness studies are the fields in which master's degrees have grown the fastest since the turn of the century, according to Vox. That parallels the overall job growth in higher-paying jobs, especially in health, IT, and education. And The Balance Careers notes that several healthcare professions—psychologist, physician assistant, nurse practitioner, and postsecondary nursing instructor—now require candidates to hold master's degrees.
Another way to look at the growth of master's programs is in the expanded range of offerings. According to the Urban Institute, the total offerings of IT and computer science master's degrees, for instance, has increased fourfold between 1993 and 2017—the fastest rate of any profession.
What's the outlook?
As with the bachelor's degree in the 1960s, a master's degree in the 2020s can put professionals in an excellent position, career-wise. The master's degree might not yet be the new bachelor's, though. In some fields, holding a master's degree still gives you a serious advantage. In other fields, however, holding a master's is par for the course. Many teaching jobs, for example, require a master's degree, and according to the U.S. News and World Report, product managers and senior product managers are frequently required to hold MBAs.
In many professions, a master's degree is still a preference—kind of like a bachelor's degree was in the 1960s, before it became a must-have. It's fair to assume, though, that earning a master's degree will continue to become increasingly desirable.