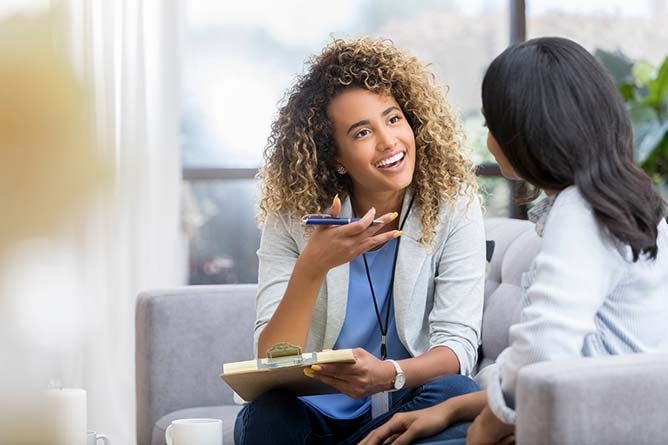 Healthcare is one of the fastest-growing employment sectors in the United States, and there's a wide range of roles available to prospective nurses. Perhaps you've already earned a certificate, diploma, or associate's degree in a healthcare-related field and you're exploring opportunities for advancement. Or maybe you're interested in joining this dynamic field. Either way, career options and opportunities abound in this booming field.
What if you aren't a registered nurse?  If you're searching for a patient-facing role that creates a lasting impact on the health of a community, you're in luck. A bachelor's degree in health services coordination can be your ticket to an exciting and fulfilling career that empowers you to help others.
What is health services coordination?
As the healthcare industry shifts toward a value-based care and coordination model, it'll need skilled professionals to help make care safer, more efficient, and more effective. That's where health services coordination comes in.
Health services coordinators and managers are the intermediaries between patients, clinical providers, and healthcare organizations. They work in a variety of healthcare settings, including acute care hospitals, long-term nursing care facilities, ambulatory care, and more! Using evidence-based information, health services coordinators help clinicians identify the resources available to a patient, which might include the newest technologies, medicines, and durable medical equipment/supplies, and help the interdisciplinary care team navigate insurance procedures to provide the best care possible.
The Bureau of Labor Statistics estimates that the employment rate for medical and health services managers will increase by 18 percent by 2028. A bachelor's degree in health services coordination could give you an advantage in this thriving job market. As you earn your degree, you'll gain experience in several important aspects of patient care, such as case management, communications, cultural awareness, and leadership.
Health services coordination roles.
Health services professionals fill a number of roles responsible for many tasks, most of which focus on patient advocacy and administrative issues such as helping patients navigate complex billing systems. Upon earning your degree, you could land one of the following positions:
Care coordinator.
Care coordinators help manage all aspects of a patient's care. They meet with patients to determine their personal needs, then coordinate and monitor treatment plans and connect patients with healthcare services. When necessary, they identify educational resources for patients and their families about specific conditions and treatment recommendations.
Care coordinators also help clinical providers develop effective care plans and evaluate treatment interventions. They serve as a point of contact between the patient and the healthcare team, frequently updating the interdisciplinary care team on the patient's health. In some cases, they're asked to help identify funds to help pay for a patient's plan of care.
Patient advocate.
Patient advocates work with patients across their entire healthcare journey, from screening and diagnosis through treatment and follow-up. Their primary responsibilities are to help patients communicate with their healthcare team and navigate the complicated healthcare system. But they might have additional duties—many patient advocates help patients make appointments, obtain financial or social support, and often work with insurance companies to maximize the patient's benefits.
Patient educator.
Because healthcare needs are becoming increasingly complicated, patient educators are needed more than ever. Educators help patients understand their medical conditions, inform patients about their treatment options (including any risks and benefits), and help patients navigate toward their best course of treatment.
Some patient educators devote their careers to helping one specific type of patient, such as people living with diabetes or cancer, but there's no limit to patients' educational needs.
Community health educator.
Community health educators are passionate about public health; they educate people in a specific community or region, helping to promote good health and disease prevention and management. They might work in a school or prison; with local, state, or federal governmental programs; or with private or nonprofit businesses and companies.
Community health educators aim to improve the health of specific populations by identifying issues that impact that population or community. They identify and develop educational resources and work with local healthcare resources to help people achieve optimal health.
Making a difference.
You don't need a clinical license to make a lasting difference in patients' lives. With a degree in health services coordination, you can help improve the health and well-being of individual patients and your community.