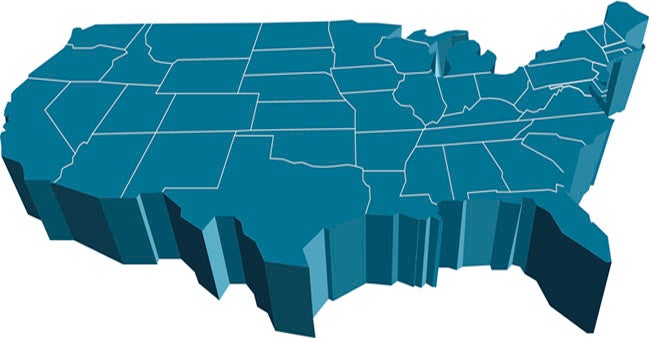 A career in information technology is rapidly evolving into one of the premiere professions in the U.S. According to the Bureau of Labor Statistics, IT jobs across the board are expected to grow in the next decade, including an expected 22 percent increase for both software developers and computer systems analysts. As more people are obtaining their online information technology degree, finding the states with the highest demand for IT jobs should be a top priority for students about to enter the workforce. Here is an overview of the top states in the country with the best markets for IT professionals:
It should come as no surprise that the home of Silicon Valley remains one of the top states in the country for IT jobs. According to CIO.com, the Golden State is home to the largest number of IT firms across the U.S. with more than 34,000 IT businesses up and running. If you're interested in the lucrativeness of IT jobs in California, the Washington Post reports that the state features the nation's highest paid IT workers, with an average salary exceeding more than $121,000. Just as Hollywood is where to go to make it as an actor, Silicon Valley remains the utopia in California for careers in information technology.
Utah is one of the more booming states when it comes to finding IT work, mainly because of its attractiveness for businesses looking for a number of amenities. Utah is a state flourishing with lower taxes, top educational facilities, as well as an outstanding natural landscape. According to Forbes, Salt Lake City has recently blossomed as a Mecca for IT professionals, experiencing a 31 percent increase in IT employment over the past decade. Numerous big time companies have picked Salt Lake City as a location for their headquarters. Big-time tech business that have a home in the city include Twitter's data center, as well as major departments for Electronic Arts and Adobe, which has a premiere office stationed in Lehi, just 20 minutes outside Salt Lake City.
As a state that is flourishing with several of the leading IT employers in the country, Washington continues to prove to be a legitimate northern neighbor when it comes to giving California a run for its money as the best state for IT professionals. Seattle is to Washington what Silicon Valley is to California regarding IT jobs, and on top of a steady 43 percent increase in IT employment for the city over the past decade, this metropolitan area has recently experienced a 12 percent growth in just the past two years. With IT-titans such as Amazon, Microsoft and Boeing constantly hiring up-and-coming IT employees, it's easy to see why Washington remains one of the most renowned states when it comes to information technology careers.
While northwestern states tend to get all the love when it comes to the IT market, Georgia is a state that has flown under the radar in recent years, quietly providing a booming market for careers in information technology. Atlanta is the pinnacle for IT jobs in Georgia, serving as the home to a variety of IT businesses focusing on everything from mobile device application firms to social media marketing. CIO lists the median income for IT professionals in Georgia at more than $76,000. Experts report that Atlanta is also a premiere location for system analysts, as well as those extremely familiar with computer programming, software engineering.
This state has continued to establish itself as one of the most competitive markets for IT professionals on the East Coast. Home to such key technology employers as Verizon, Northrop Grumman and Lockheed-Martin, the Baltimore metropolitan area alone has experienced a 38.8 percent growth in IT jobs over the past 10 years, and many tech companies are continuing to transition over to Baltimore from the greater D.C. area. The Washington Post also lists Maryland as one of the states in the U.S. with an average salary for IT jobs exceeding six figures.
---