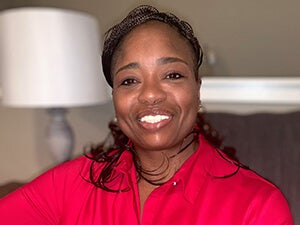 CJ Renaud
By CJ Renaud
The New Year's Resolution is something I have never subscribed to.  I read a lot of Charlie Brown cartoons and Calvin and Hobbs when I was a kid, and it was Calvin the Great who voiced my reaction to the whole resolution thing—"As far as I'm concerned, I'm perfect the way I am!" 
I was born and raised in Colorado. I attended the University of Northern Colorado. I am married to a schoolteacher, and I have a beautiful 22-year-old daughter. I have raised my daughter to value and appreciate all that she is and to know her worth. My husband has been an amazing social studies teacher for 29 years. I was a police officer for 20 plus years and have been in education for the past three years.
Our mantra has been to like who we are, but if the opportunity for growth or change comes then we as amazing humans can grow and change. That is what a new year is about: starting off with recognition of all that you already are, with the chance to add a little something more if the right door opens. 

If you are all about the change, make it manageable.  Set small goals, like the amazing "relax" program on your FitBit. This program promotes you just breathing. This was a challenge for all of us in 2020. However, in 2021 you will crush this!

How about reading as a way to gain a little more? I am currently reading How to be Anti-Racist by Ibram Kendi, and then I mix it up with something not so scholarly.  Reading is an amazing skill that's always there for you. It just takes a little dedication. 

The pandemic created some of the world's greatest chefs! If you want to, feed your adventurous side in the kitchen. Close your eyes, grab a random spice and find a recipe.  Cardamom? What is that, and what will you make with it? 

These next resolutions are a bit bigger, but still manageable. "Learn something new" nearly always makes the top 10 lists when researchers gather the most popular New Year's resolutions. "Make progress in my career" is another biggie, coming soon after "Lose weight" and "Exercise more."

Maybe combine a couple of those? WGU can help you get to both "learn something new" and career progress. WGU runs on a competency-based model: when you demonstrate you've mastered something, you move on to the next class, without waiting for an arbitrary semester date. More educational institutions are moving in this direction—and we've been perfecting it for years.

Your semester starts when you start. That might be January, February, or in the middle of the month. Whatever the case, your six-month semester begins when you make the move to get a degree. Since you're in control, you can achieve a degree in less than four years if you want, and for less than $20,000 all-in. You set the pace based on your schedule and commitments. All the while you are mentored by experts in your chosen field, always with an eye on your career goals.

A new year is all about what you decide is new for you. You will breathe more, create something new in the kitchen, read a life changing book, and make the decision to explore and learn more about WGU.

If you need a little more incentive to even consider it for the new year, take a look at our New Start Scholarship. You can get up to $2,500 toward the already-affordable WGU degrees. Learn more about those here: www.wgu.edu/newstart

Let WGU help make the best version of "YOU" possible. Happy New Year!