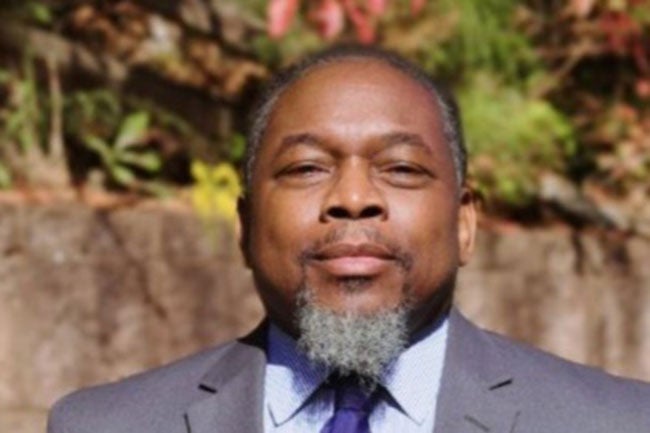 Docendo discimus. It's a Latin proverb that means "by teaching, we learn" and a saying Dr. Lee Jones lives by. He's taught an American government course at WGU since 2011 and has impacted countless students over the past decade.
"From an early age I knew that I should be a teacher," said Dr. Jones. That desire, supported by his family, peers, and religious leaders, led him to a position where he can make a difference for students around the country. Dr. Jones' time at WGU has been positive from the start. "Everyone that I spoke to during the hiring process and during the training weeks was professional and very pleasant," he said. "And that continues to this day."

Dr. Jones is a member of the Ebony Owls Employee Resource Group, a group created by Black employees at WGU with support from the office of Diversity, Equity, and Inclusion (DE&I) to create an opportunity for connection. "The African proverb says 'If you want to go far to together.'  Ebony Owls has attracted a group of people who are committed to providing a safe and secure place for African Americans and their allied friends at WGU to commune, get to know each other, celebrate family milestones, and to energize each other for our work here at the university as we push students to go as far as possible," he said. Dr. Jones calls the Ebony Owls one of the high points of his work at WGU and adds that he is continually encouraged by the work WGU is doing to further conversation and improvement for communities of color. 

"I am heartened and still find it striking to find that the university has allowed the spring 2020 George Floyd/Black Lives Matter protests that rose up in EVERY American city along with most international capitals, to teach lessons to the WGU leadership. Continued reinforcement and including the [office of] DE&I into the executive board sends the message that discrimination and racism will not be tolerated. We who are the children of the people who have felt the most concentrated forms of discrimination that this country has to offer are glad that this university has committed resources to combat it," he added.

Another critical component of Dr. Jones' time at WGU is helping individual learners overcome challenges. Dr. Jones recalls a particular student who had two parents struggling with severe medical conditions, two small children—one of them autistic, and a rambunctious dog. Dr. Jones met with this student three times a week for 90-minute sessions.

"Her struggle to pass the course and secure her degree was moving," said Dr. Jones. She is just one of many degree seekers he's had the privilege of interacting with over the years. Of his students, Dr. Jones said, "I'm very happy to play my role in making sure they get my class deep in their pores like lotion on dry skin." 

Making sure the material sinks in is critical to Dr. Jones. "Poll after poll…shows that the political intelligence of the average American voter is very low," he said. Dr. Jones aims to help his students gain knowledge from reputable sources. He relies on empirical evidence and provable facts to draw reasonable inferences as he teaches and encourages learners to read to gain empathy and understanding. "Reading allows you to know things that you will never directly experience and is thus an imperative part of learning," he said.

In addition to having a passion for student success, Dr. Jones has a desire to help all gain a greater understanding of Black history and the racial injustice that still plagues our nation today. "The stakes are high enough for us to be serious about it," said Dr. Jones, echoing a sentiment articulated by the late civil rights writer James Baldwin.

Reflecting on Black History Month, Dr. Jones gives some final words. "Black History is American history, and we should all know it without fear." At WGU, we echo this sentiment as we push for to advance equity and to change lives for the better by creating pathways to opportunity.