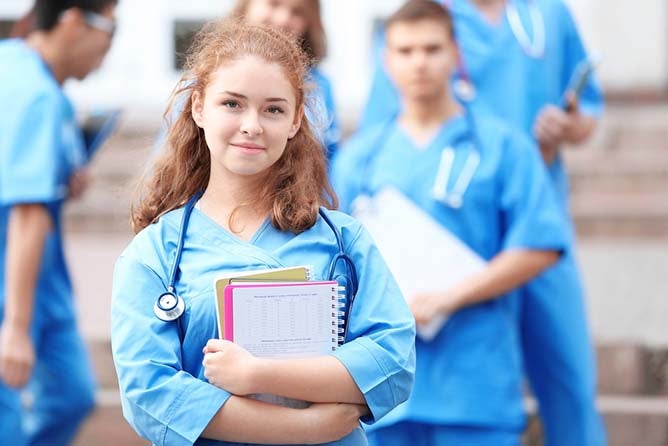 Many Californians start their careers by earning associate's degrees from community colleges. The California Community Colleges Chancellor's Office notes that there are 2.1 million students enrolled in 115 community colleges in California, making it the largest community college network in the country.
Healthcare programs comprise a substantial portion of this system, and nursing grads are poised to benefit from attending community college in California. According to the California Community Colleges Chancellor's Office's 2019 Nursing Educational Programs Report, there are 77 registered nursing programs in the community college system. Seven out of every 10 California nurses received their training at a community college, and almost 92 percent of them passed the National Council Licensing Exam in the 2017–18 school year.
One of the nursing profession's virtues is that it's open to prospective nurses from a variety of educational backgrounds, including those who have an associate's degree. But where do you go from there? Earning a bachelor's degree in nursing can help you propel your career.
Taking the next step.
Graduating from an associate's degree program to a bachelor's degree program can be challenging. According to CNN Business, brick-and-mortar nursing schools are rejecting applicants by the thousands because resources are limited, even though the United States is short on nurses.
The California State University system recently introduced what it calls "impacted" campuses and majors; a campus or major is considered impacted when the number of qualified applications it receives is greater than the number of available spaces. When a campus is impacted, it can apply stricter criteria to screen potential students. Seven campuses were designated as impacted for the 2020–21 school year across all undergraduate programs; at other Cal State schools, only certain degree programs are impacted.
Programs such as the impacted campus program reinforce the competitive nature of the California education system and how moving from community college to a brick-and-mortar university can be hard, despite the California school system's best efforts to mitigate challenges for prospective nursing students.
The benefits of an online degree.
One way to bypass competitive admissions processes and state school overcrowding is to pursue an online nursing degree. Online schools let you obtain the education you need to further your nursing career without having to deal with the overcrowded California state system, and they offer specific benefits that brick-and-mortar schools cannot.
Flexibility.
Flexibility is one of online education's biggest benefits. Look for programs that offer 24/7 access to course materials so that you can fit your coursework around your job and family obligations and complete your work when it suits your busy life. Competency-based programs are especially beneficial for aspiring nurses. They let you progress through your coursework as you learn the material rather than through a set schedule built around rigid semesters. Each course is capped by an assessment that allows you to prove what you know as soon as you're ready—you don't have to wait for the end of a semester.
Because you already have your associate's degree, seek out an RN-to-BSN program. These programs add to your clinical skills by honing your knowledge of evidence-based practice, patient safety, technology integration, and healthcare systems and policies. You'll also want to find a program accredited by the Commission on Collegiate Nursing Education, which guarantees a high-quality educational experience and the kind of rigorous academic coursework that helps you gain the skills you need to advance your career.
Affordability.
Some online schools offer flat-rate tuition, wherein you pay a flat fee no matter how many courses you enroll in. According to CollegeCalc, average in-state tuition in California for the 2017–18 school year cost just short of $14,000. Comparatively, enrollment for a six-month term pursuing a bachelor's degree in nursing at Western Governors University is around $3,500.
When you factor in the competency-based approach to learning and the flat-rate tuition, the savings deepen. If you're motivated enough, you could earn your credit hours faster than you would in a traditional school—and save money in the process. If you're currently employed at a healthcare facility in California, you might even be eligible for tuition assistance from your employer, which could drive down costs further.
As a community college graduate in California, you might find that online education's twin benefits make it easier to earn your BSN degree at your own pace. Getting a degree online could be your next best step towards a long career in healthcare.