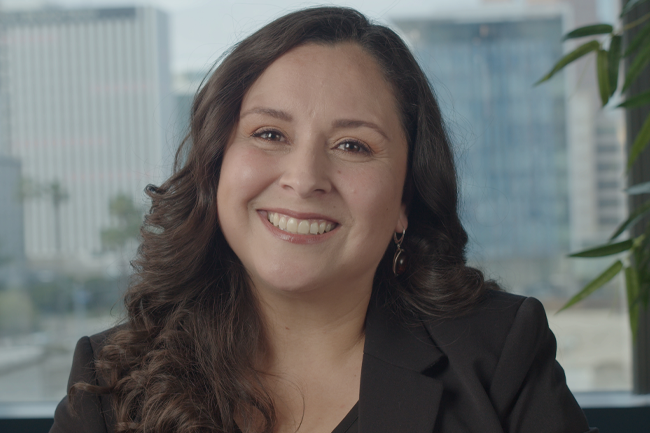 Veronica Gomez has overcome many barriers to obtaining her education and life goals. A fierce advocate for WGU, Gomez has navigated being a mother to three daughters, navigating challenges through life, and making the life-changing decision to complete her education. Even when life threw curveballs, Veronica continued to motivate herself to achieve her degree. After hearing about WGU from a close friend, Veronica pursued a Bachelor of Science in Business Management degree and graduated in 2021. Determined to take her career to the next level, she enrolled in the MBA in Healthcare Management program and will graduate in 2023. 
Veronica received the WGU and Los Angeles Chargers one-year full-tuition scholarship in honor of Hispanic Heritage Month as a busy mother and student. Gomez also graciously shared her story of attending WGU as a part of the College of Business Success in the Making campaign. This Q & A reveals why she values higher education and how she remains motivated to achieve her goals.
Please give a brief description of your background. (Work, family, future career, etc.)
I have been a single mother of three for nearly 18 years now. I recently obtained my Bachelor of Science in Business Management from WGU in August 2021 and am currently working on an MBA in Healthcare Management with plans to graduate in 2023. 
My career has spanned over 16 years in the healthcare industry, and I am looking forward to advancing and working towards obtaining an Executive Director role with a non-profit organization.
How did you find WGU? Why did you choose our university? 
I was introduced to WGU through one of my best friends after she enrolled in an undergraduate program. She knew of my desire to return to school to obtain a bachelor's degree but had concerns about being away from my kids to attend school physically. I needed a program that would work with my full-time schedule and being a single mom. WGU had the flexibility to work around my schedule, and I could complete courses faster, which helped me save money. 
What made you decide to get your degree at this point in your life? Why in this particular field? 
I went to college for a year right after high school, but life happened. At 21, becoming a mother changed my life, and providing for my children became my priority. Once my kids were at an age where they were more independent and did not require too much help, I decided it was time for me to go back to college and complete my degree. 
I also knew the only way to advance in my career path was by returning to school. I chose healthcare management because it made the most sense to combine my existing work experience with formal education, and it would offer me the opportunity to grow.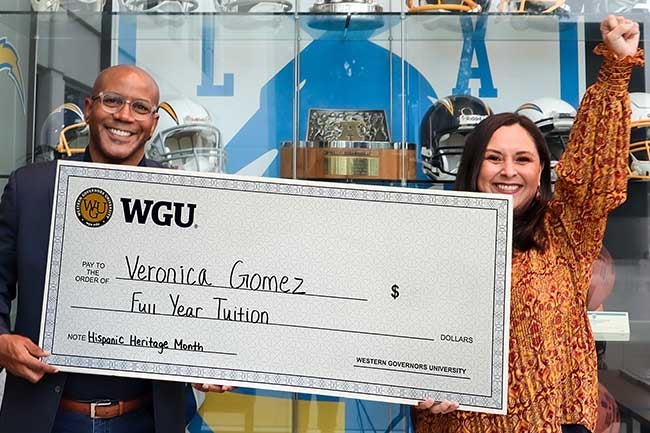 What does it mean to you to be awarded a scholarship? How does it make you view your studies or experience at WGU in the future? 
Being awarded the scholarship from WGU and the Los Angeles Chargers has been a blessing, and I am eternally grateful to have been chosen as one of the awardees. I have tears of gratitude as I write my response because it made me feel appreciated for all my hard work. 
Before receiving the award, I was concerned about potential debt from student loans and thought I would try my luck applying for scholarships. I knew I had nothing to lose but receiving the scholarship made me feel like I had won the lottery. It motivated me to work harder and make WGU proud by selecting me as one of its recipients. 
Were there any barriers you've had to overcome (life, education, career)? Who were your influencers and supporters? 
During the journey to completing my bachelor's, I experienced health issues, family trauma, and many other challenges. Like so many during the last two years, there were a few deaths of relatives and friends due to Covid-19. I often felt like the universe was testing me and asking, how bad do you want this? However, I persisted, and I was fortunate to have an excellent support system of family, friends, and mentors through WGU. They helped keep me strong through the most challenging moments in life. My biggest supporters were my kids, best friends, and mentors, and I could not have done it without them.
Can you share your future career and life goals? 
My future career is to become a non-profit Executive Director in the healthcare industry. Growing up, my sisters and I did not have health insurance because my parents couldn't afford it. That motivated me to want to work with underserved communities in helping find ways to provide quality care at little to no cost. I have two primary life goals: (1) to leave this place a better place than what I found it in and help those who are less fortunate, and (2) to retire early, if possible, to live the rest of my life traveling and exploring this beautiful planet that we call home. 
Would you recommend WGU to your family and friends? If so, why? 
I would recommend WGU to family and friends. Especially to those who feel they cannot pursue higher education because they work full-time jobs and have other obligations. I would tell everyone that WGU's programs offer the flexibility and support for every student to succeed. It is essential to know that nothing worth fighting for comes easy in life. Life and distractions will always happen when you are on the verge of a breakthrough, and the mentors at WGU will be there with you every step of the way. 
Watch the video below to learn more about Veronica's story.