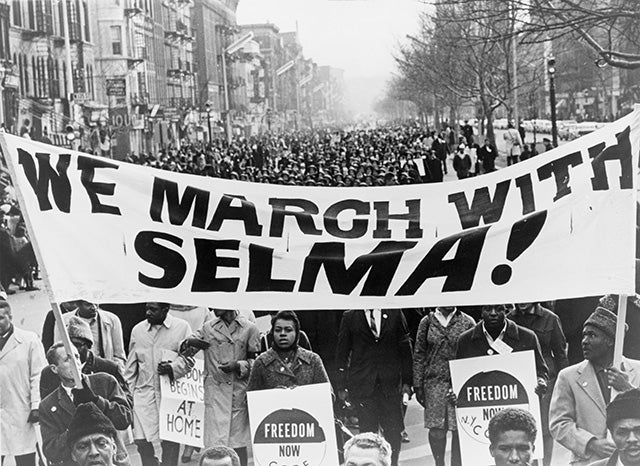 February is African-American History Month, and WGU is offering a series of free online discussions—open to students, alumni, and the public at large—to reflect on the black experience in America.
The full schedule is below. Plan to join us for the panels that you find interesting; mark your calendar and use the following information to log in for the live sessions:
Visit: http://wgu.adobeconnect.com/socialsciencecolloquia/
Call-in: Dial 1-888-585-9008, conference room 556-081-544
Tuesday, February 24, 11 a.m. MT — "Selma: Context and Historiography"
» Featuring: Dr. Katherine Douglas and Dr. Sharla Chittick
While the passage of the 1964 Civil Rights Act desegregated public facilities nationwide, Southern states vigorously resisted equal access to the ballot box. At the national level, key congressional committees controlled by Southern Democrats actively blocked bills that would provide federal enforcement of the 15th Amendment. Dr. Douglas examines the interaction between the Johnson Administration and Congress prior to March 1965, provides a chronology of failed efforts to secure free and fair voting rights for all, and identifies the major players who both supported and opposed federal enforcement of the 15th Amendment. The March to Selma was a deliberate strategy to draw attention to the stubborn opposition of local, state, and national policy makers who were unwilling to open the doors of our political system by providing equal voting rights to African-Americans. The recent film release provides an excellent opportunity to discuss the historical resources surrounding this momentous event. Dr. Chittick will explore newspaper, television, and testimonial evidence to determine whether Hollywood got it right.
Wednesday, February 25, 10 a.m. MT — "Faith and Civil Rights Movements"
» Featuring: Dr. Charity Carney and Dr. Anne Borden
Mahatma Gandhi, Dr. Martin Luther King Jr., and Malcolm X were all men whose faith became a tool in their fight against social injustice. Faith inspired action, provided a common language for their followers, and, in the end, brought each man to a deeper appreciation for racial diversity and equality. While spirituality binds these three important civil rights figures together, the religious traditions that placed them on each of their paths are very different. As we celebrate Black History Month, we have an opportunity to explore the religious diversity of leaders and activists in the Civil Rights Movement and the many spiritual perspectives that helped define it. This discussion will touch on that diversity and those spiritual perspectives and will connect it to more recent civil rights movements that have been driven by similar religious forces. This session will also look at how to use the experience of key civil rights leaders when teaching about the Civil Rights Movement.
Wednesday, February 25, 4 p.m. MT — "Movement, Film, and Commemoration in the Civil Rights Struggle"
» Featuring Dr. Lee Jones, Dr. Rob Whiting, and Dr. Erinn Nicley
Movies about protest and the politics of space: Recent years have seen multiple films dealing with race and class, from Django Unchained and 12 Years a Slave to Fruitvale Station and The Spies of Mississippi. Now these films are in the public space the substantive question must be asked, "Do these films harm or assist current social protest movements?" For example, in the context of the "Hands Up Don't Shoot" and #blacklivesmatter movements, does the film Selma stand in the way, or does it help things? Dr. Jones' presentation will be framed by two geographers, Dr. Rob Whiting and Dr. Erinn Nicley, who will discuss the power of space in protest and commemoration.