"Your Story" blog by John Sharify
Milestones can mean different things to different people. I asked Mark Dimalanta to name some milestones in his life. 

Easy answer.

When his oldest child was born. He says that was definitely a milestone. Joshua is 5 years old now. And then when his daughter Chloe was born. That was another milestone. Chloe is 3 years old now. 
More milestones. 
When he received his first master's degree. And then his second master's, both from Western Governors University. Double milestones. "I'm living proof that you can do it," he says.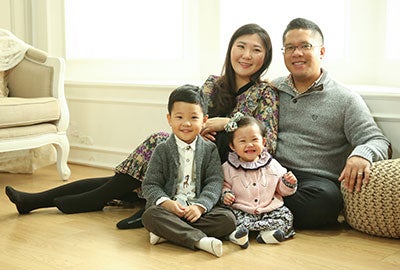 Mark and his family
Now you can add one more milestone to all the others, Mark. This is a biggie. Drum roll please… 
Mark Dimalanta, you have the distinction of being WGU's 5,280th graduate from Colorado. Time to celebrate!  What do you say? 

"I have goosebumps," he tells us. "What are the odds? Getting the degree at the right time. Wow. I'm shocked."

Western Governors University will be celebrating this 'mile high' milestone, and celebrating Mark too, with up to $132,000 in scholarships and a celebration race starting May 28th. More on that race and how you can get involved in just a bit. But first, Mark's WGU story.  

The 36-year-old, from Broomfield, Colorado, received his first master's in cybersecurity in 2017. It took him just eight months to complete. On to the next goal and degree. Mark, while working full-time as an Information Systems Manager, completed his MBA. It took him just seven months. 

And that's the beauty of WGU. You can move through courses as quickly as you master the material. "I've already told a lot of friends and coworkers that at WGU, it's all about you," he says. "The motivation is for yourself, for your family." He says his two children may be too young right now to appreciate his accomplishments, but he looks forward to the day when they look up and see their dad's diplomas on the wall. WGU diplomas!
Mark is grateful to his mentors. "They have a student mentor who checks in with you. They have course mentors," he says. "There's a good community. There are forums, things like that. It's definitely very doable." And affordable. WGU offers courses at about half the price of most other universities.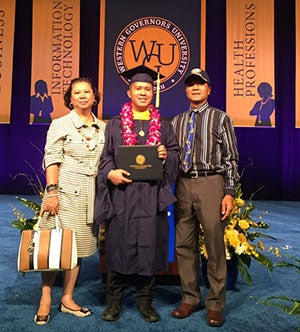 Mark celebrates his first master's degree at commencement with his parents.
"I just want to instill in my family to continue to learn," he says. "Continue to push the limits. See what you can do. For me, that first master's with WGU came about and then the second one just recently. And that was the cherry on top." 

And now, the cherry on top of that cherry. Mark will forever be known as the 'mile high' milestone WGU graduate from Colorado. #5280. 

As part of the milestone celebration, WGU will be offering up to 25 $5,280 scholarships to honor the 5,280 graduates, and more importantly, invest in the future graduates to come. 

Now the fun part. Remember the Milestone Race I mentioned earlier?  WGU will host a virtual 1-mile road race (one foot for each graduate) commemorating the journeys of all 5,280 Colorado graduates. Alumni, students, friends, family and community members are invited to complete their mile at their own pace and place anytime between May 28th and June 4th. 

To register, go to www.wgu.edu/5280MilestoneCelebrationRace.

Participants are encouraged to capture their mile with images posted to their social media channels or the WGU platforms using the hashtag #5280Scholars. Although the event is free to participate, funds are being raised for WGU's Emergency Fund through optional merchandise sales. Recently, $45,000 of these funds were awarded to more than 90 Colorado students who were in need of support. 

Below, you can watch John's interview with Mark Dimalanta, proud WGU graduate from the class of 2021.