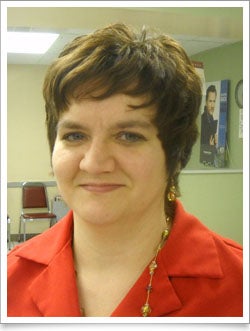 By Theresa Paterra
Theresa Paterra is a recent graduate of WGU's online Teachers College, having earned her bachelor's degree in Special Education in January 2013. She is a mother of three daughters living in McKeesport, PA. After staying home to raise her daughters, she has recently realized her lifelong dream of teaching. She works as a paraprofessional in the special education system.
I was used to the brick-and-mortar institutions where one signed up for classes, if one could get a slot, and hope that none of the classes were at 7 a.m. on a Saturday.
Regardless of the classes that one chose, a time and place was attached to the schedule, and one knew where to be and when. Online learning was a nuance for me.
The new environment at WGU was simple: Post to peers, answer discussion threads, and complete assignments by midnight of a certain date. The place was in the den, at a computer desk, and while wearing pajamas sometimes. The importance of building a pace, schedule, and agenda became quickly evident as deadlines for three to five courses fused into the already busy life of a married working mother.
There are necessary steps to ensure success for self-pacing.
First, open the syllabus, and read it entirely. How long does it take one to write an essay, or read a chapter in an e-text? These are important factors in timing.
Chart the monthly goals: when the classes start and end, when the assessments are due. Align studies with the results of preassessments and retake the preassessments, and allow three to five days for the results of final assessments to post.
Chart the weekly schedule on a calendar: when assignments are due, what time of the day one intends on focusing to study.
Invest in an agenda book and chart daily tasks: what chapters will be read that day, what essays will be written that day, what posts to discussion threads and peers will be conducted, and what tests will be taken.
I devoted myself to three hours a night and spread my work out. On Monday, I read the chapters necessary for the assignments and took preassessments; Tuesday, I drafted the essays; Wednesdays, I posted to discussion threads and peers; Thursdays, revised and finalized essays; and Fridays, posted to peers, submitted essays, and took final assessments.
There were still several times that I bled into the weekends to finish a task, and did it at 7 a.m. while the kids were still sleeping. However, seeing the tasks charted and broken down made life easier.

When I worked on assignments a little each day, it was not so daunting. It is much better than waking up on a Sunday morning and realizing that one has a five-page essay due the next day without even an inkling of what the topic is about.