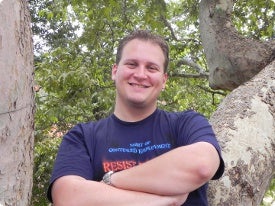 Nick Lane, a community college grad from Phoenix, Arizona, took more than eight years to earn his associate's degree, juggling work and family and school at a physical campus. When he completes his bachelor's degree online later this month, it will have taken him less than a year-and-a-half.
Lane is earning his bachelor's degree in Business—HR Management from WGU, a school that, according to Lane, "has completely blown me away."
WGU students enjoy a flexible learning experience tailor-made for those who can't attend more traditional universities—working adults, stay-at-home parents, military service members and their families, those who don't live near a university, and others.
That includes students like Lane, who considered attending a physical university campus after graduating from community college. "It just didn't look conducive to my needs. I didn't want to spend four hours a night on campus, and I certainly didn't want to quit my full-time job."
Lane learned about WGU from his mom, who suggested he look into it.
"I did some more research and it sounded like it jived with my goals, and with the way that I study and take on things," he said. "I didn't have to wait around for a teacher or other students to get caught up."
That's because of WGU's competency-based model, a major differentiator between WGU and most other universities, both traditional and online. WGU students work through their coursework independently, at their own pace, and when they are ready, advance by passing assessments—papers, presentations, and objective exams. This approach allows students to move quickly through material they already know so they can focus on learning what they still need to learn.
Students advance by demonstrating that they are competent in course materials, not by logging time in class. When they graduate, WGU students have a degree that proves that they know what they need to be successful in their fields.
"I'll be able to graduate with my bachelor's in three terms," Lane said. He started his program in September 2010 and is finishing up his capstone project now, expecting to graduate in February. A human resources professional for the last seven years, Lane was able to accelerate through his program because of the competencies he had already acquired from years of on-the-job experience.
"I have a fair amount of HR experience. I'm sure other students may have even more than I do," he said. "My associate's courses took care of a lot of the requirements."
WGU's relationship with hundreds of community colleges nationwide means graduates can transfer credits to WGU seamlessly. For example, Lane transferred 48 credits into his WGU program. WGU also offers grads of member institutions a waiver of the $65 application fee, a 5% discount off the already affordable tuition (less than $6,000 a year for most programs), and the opportunity to apply for WGU's Go Further Scholarship, worth up to $2,000.
Visit https://partners.wgu.edu/ for more information and to find out if your college is a member institution.
WGU offers more than 50 degree programs in four colleges—Business, Information Technology, Teaching, and Health Professions, including Nursing. The successful WGU student is a hard-working, independent learner who is committed to success. WGU's degree programs are nationally and regionally accredited, and they have earned several program- and industry-specific accreditations as well. Learn more about WGU's accreditation here.
"Earning my bachelor's degree will enable to me to take care of my family better," said the married father of a 2-year-old daughter. "Not to mention the recognition—knowing something is one thing, but being viewed as a professional is really important. It's a great feeling."