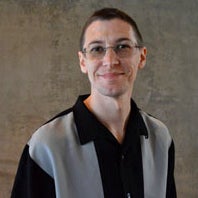 For Lodi, California, IT technician Jonathan Lincoln, the ongoing debate among information technology professionals—the "certifications or degree?" question—has never been a question at all.
For Jonathan, it's not about either/or; it's about both/and.
"Personally, I believe that degrees and certifications complement each other," Jonathan said.
That's why WGU's B.S. in Information Technology—Network Administration degree program—similar to WGU's current B.S. Cloud Computing program—was a perfect fit for Jonathan, who had four associate's degrees from a local college and his CompTIA A+ certification from 1998 but who wanted to update his credentials with newer certifications and upgrade to a bachelor's degree.
WGU recognizes industry certifications as an important component in the development of a well-rounded, highly educated IT professional poised to thrive in a competitive job market. WGU's online, competency-based IT degree programs include a number of highly respected industry certifications, including seven CompTIA certifications, as part of the curriculum—and it's all included in the low, flat-rate tuition of less than $6,000 per year.
Additionally, incoming students who already hold industry certifications may have some of their course requirements toward a bachelor's degree waived. The list of transferable certifications includes several from CompTIA.
And now, thanks to a partnership between WGU and CompTIA, incoming students with at least on CompTIA certification can apply for enrollment without paying the $65 application fee.
Learn more about the benefits of WGU's partnership with CompTIA »
WGU is a competency-based university, meaning students study independently, with individualized faculty support, and advance through coursework as soon as they are able to prove what they have learned. As a result, students move quickly through material they already know so they can focus on what they still need to learn. This allows many students to accelerate, and with WGU's flat-rate tuition, it can also save money.
It worked for Jonathan. Before enrolling in WGU, he decided to use the knowledge he had gained on the job as the sole on-site IT technician at a Home Depot warehouse to attempt—and pass—three more CompTIA certifications. Jonathan enrolled in his bachelor's program in November 2011, and between the certifications he was able to transfer into his WGU program and the acceleration made possible by competency-based learning, it was just two years later—in November 2013—that he had earned his four-year degree.
"I have always valued CompTIA certifications as a basis of understanding for IT topics," Jonathan said. "My personal belief is that any IT professional should at LEAST have A+, Network+, and Security+ to be considered a serious technician. The fact that I had four CompTIA certifications prior to enrolling allowed most of the basic IT classes to be waived, so I could focus on the subjects for which I had little knowledge."
And Jonathan knew that his employer and others would respect his degree. After all, he learned about WGU from his IT instructor at his local college—who was also a WGU IT student. Now, thanks to his WGU education, he has taken on a second job—teaching IT courses at the same college where he earned his associate's degrees.
"The knowledge I gained from WGU has certified me to teach the courses that I would have otherwise not been able to teach, such as Microsoft and Cisco classes," he said. "The CompTIA certifications have also made it much easier to teach the beginning courses, such as Computer Repair, and assist other instructors with my broad knowledge of computers and networks."
Because WGU worked so well for him, Jonathan is back for more.
"I am currently enrolled at WGU for my M.S. in Information Security & Assurance, and have greatly enjoyed my WGU experiences thus far. Education is one of the most important things in life, and I believe that degrees and certifications of any kind only reinforce the knowledge that you have attained in your life. In my opinion, CompTIA certifications prove that you are serious about your technical background. If I had a chance to do everything all over again, I would have attended WGU sooner."
Learn more about WGU's bachelor's and master's degree programs in Information Technology »
Learn about WGU's flat-rate tuition, including scholarship and financial aid opportunities that might be available for you »