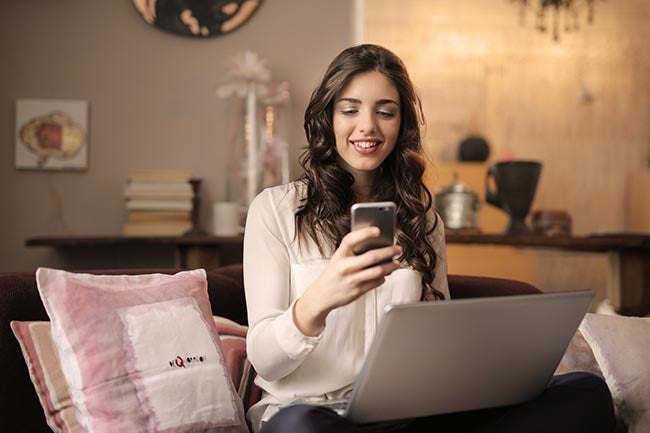 This piece is from a publication titled "COVID and the New, Emerging Workforce" by JoDee Salisbury, Ph.D., SPHR & Stephanie Dunston, Ph.D. on February 28, 2022.
The pandemic seems to be ongoing. Common questions revolve around getting back to "normal", but our new reality may just be that we are in a new state of normal and as such, we have to adapt. The good news is that humanity has always adapted from the early pre-historic era to modern day, humanity has had to continuously learn, adapt, and then change again. Unique to this current pandemic, is that the change was sudden, unexpected, and scary. Not only were humans learning to live their lives differently, but organizations around the world were forced to send workers home, determine how to continue serving customers or making products, and innovate just to stay afloat. This pandemic has morphed operations for many businesses and may have had a lasting effect on how business is done and what the new workforce will look like. This article will review data gathered from employees about their experiences and expectations of working during the pandemic and afterward, highlight some implications for employers that might be considering long-term (or even eternal) remote work arrangements, and assert some best practices for maintaining productivity.
The Data Behind Who Works from Home
When the pandemic began, it forced employers to evaluate their workforces not only in terms of size, but also in terms of who was necessary to keep operations going. This was not only happening in the U.S. Worldwide, we saw employers really beginning to evaluate who was "necessary" if the business was to stay afloat, to service customers, or to meet the basic needs of society. Employers were now forced to delineate "essential" and "non-essential" workers and we saw that division happen based on economic cost of the workers (Aum, Lee, & Sin, 2020), which is defined as the cost of lost revenue the organization would experience as a result of not providing a product or service. The organizations then had to determine which of the workers were most essential in the delivery of that product or service so that they could minimize that economic cost. Generally, essential workers were defined as those with the highest economic cost; i.e., if they do not come to work, the organization cannot provide the service or product. In pandemic times, it makes sense that our health care workers would be associated with a high economic cost because if they are not at work, people may die. What was surprising through this pandemic, is that we saw many jobs on the lower end of the pay scale be deemed essential such as grocery store workers, construction, and service industry workers. We needed these folks at work to fulfill our everyday basic needs.
According to Parker, Horowitz, and Minkin (2020) 75% of the workers they surveyed and deemed lower income, reported that their jobs could not be done from home. It would be difficult for a grocery store clerk to ring up your groceries or stock the produce from home for example. Of middle-income workers, 63% reported their jobs could not be done from home while only 44% of upper income workers reported not being able to work from home. Some executives and upper management still find themselves working remotely two years later. Since many of these lower income jobs were deemed essential, that also meant those workers were at higher risk of contracting the virus and that posed other problems for employers including absenteeism, fear, safety protocols, and mental health. The authors also found that 68% of those with a graduate degree reported their work could be done from home while only 17% of workers without any college reported their jobs could be done from home. Compare these numbers also to 58% of workers with a bachelor's degree who reported their work could be done from home while only 29% of workers with some college thought their jobs could be done from home. Of those in the tech and accounting/finance industries, over 80% reported they could work from home while less than 20% of those in the retail/transportation/trade industries thought they could work from home. There is a clear connection between degree attainment and income levels associated with those who believed they could work from home versus those who did not think it was possible. Another interesting find from these authors is that of the 70% of total workers who reported their jobs could be done remotely, 62% of them reported rarely or never working from home prior to the pandemic. Below is Figure 1, which is a synopsis that shows the disparity of workers in various industries who worked remotely at the height of the pandemic (May, 2020) compared to present day (June, 2021). The larger the disparity the more essential these occupations would appear (Sheffey & Hoff, 2021).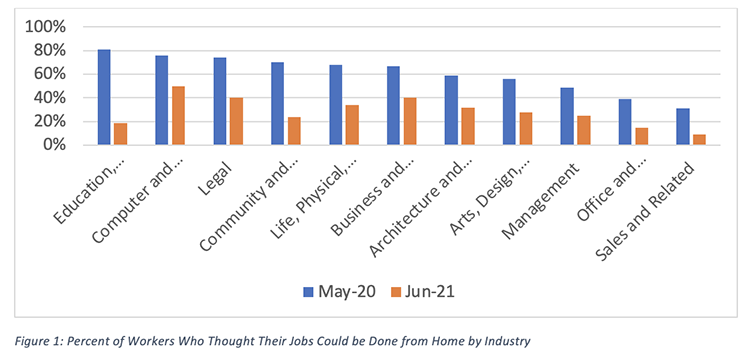 After understanding the premise for deciding who might work remotely and how the decisions may disproportionately affect lower income earners, it is important to understand some of how workers think about their work, their risk levels, and their desires heading into the future. Parker, Horowitz, and Minkin (2020) found that 60% of employees simply prefer to work from home. The reasons varied from childcare and homeschooling responsibilities to avoiding relocation, concerns about exposure to the virus, and saving money. In fact, Sheffey and Hoff (2021) found that African American women felt safer working from home because they could avoid racism and sexism. Marinova (2021) asserted another benefit of working from home is that employees save $5,000 a year because they avoid gas, lunches at restaurants, and clothing not to mention commute times. Parker, Horowitz, and Minkin also studied work from home concerns and found that 87% found handling equipment or technology needs very or somewhat easy, 80% reported no problems meeting deadlines, 77% reported having adequate workspace in their homes, 68% found it very or somewhat easy to work without interruptions, and lastly, 64% found it very or somewhat easy to be motivated. Luckily, technology has evolved in such a way that working remotely is a possibility for so many. The bigger issue is managing a remote workforce. How do managers know employees are being productive? How do managers manage someone who they do not see? While coaching and leading a workforce can be more flexible with remote work arrangements, productivity is still a standard metric, and some supervisors are uncomfortable with measuring something they do not see every day. That's where technology helps support workers and managers—by measuring productivity.

Productivity Data
Microsoft (2021) performed a study of its own technology to help organizations understand how technology could be used to measure productivity and to gain an understanding of how remote workers were performing their jobs. The study measured various productivity statistics using its application Teams. During this time, usage of this platform more than doubled. It became the go to for collaboration, group meetings, and even one-on-one meetings since the app allows video conferencing as well as desktop sharing, document sharing, and presentation ability. It should be noted that there are other apps that serve a similar purpose so while this study does present a picture of worker behavior and reliance on technology during the pandemic, it is still only a partial picture. The study also found that the average Teams meeting lasted 10 minutes longer than before the pandemic. Increases were also gained in all major use metrics including 45% more chats per week, 42% more chats per person after normal operating hours, and 66% more people collaborating on documents. Other significant findings were that 62% of all Teams meetings were not scheduled ahead of time (spontaneous) and 50% of users responded to Teams chats within 5 minutes. This was clear evidence that remote workers were relying on Teams to complete their work and to get through their workday; however, interactions outside of the workers' immediate teams dropped indicating workers were remaining somewhat siloed, which can negatively affect innovation.
The Microsoft (2021) study also found that Generation Z (those born mid-to-late 1990s through early 2010s) as the generation struggling the most to handle work from home demands. As early career starters, they noted challenges in feeling secure about suggesting new ideas, participating in conference calls/meetings, and feeling engaged or excited about work. They also expressed challenges related to workspace and technology resources as they may still be living with parents or on their own in small residences without appropriate support systems that are required to work from home. As career starters, this groups needs consistent mentoring opportunities and coaching and they know that forming relationships is important for career success; they felt they were missing out on these opportunities because of remote work assignments.
What the Data Means for Organizations
HR professionals may use this data to derive several implications for the future of the workplace. According to the Microsoft (2021) study and Prossack (2021) three-quarters of those surveyed expect remote work will become the standard. It is important to note that not only does remote work help the employees save money, but it can also help the employers save costs predominantly in overhead, absenteeism, tardiness, and workers' compensation. Marinova (2021) asserted that employers can save about $11,000 per employee and found that 25% of employees would be willing to take a 10% pay cut if afforded the opportunity to work remotely at least half time. A vast majority of those surveyed, according to Prossack; Marinova; and Parker, Horowitz, and Minkin (2020) reported not wanting to return to the office after the pandemic ends either full or part-time. The Microsoft study reported 67% of those surveyed wanted more face-to-face time with their teams, which means they are seeking a balance between remote work and the collegiality, innovation, and collaboration that comes from being across the table with colleagues. Considering the data from Gen Z, workers' desires, and their own self efficacy, as well as the benefits to both employers and employees, hybrid types of work arrangements may be here to stay. To make these arrangements work however, employers will need to be cognizant not only of performance metrics and how to measure them, but also how to provide support for employees, address technological concerns, and ensure data protection.
First, when organizations have remote workers, effort must be made to avoid feelings of isolation. More about this will be discussed later in this article, but now it is important to note that Marinova (2021) found 19% of remote employees reported loneliness as their biggest challenge. Team meetings using video as well as hybrid work arrangements can help all employees including Gen Z through face-to-face time, innovation sessions, collaboration, and mentoring/coaching opportunities. The key is to create value in these interactions so that employees are energized and feel supported. Second, some financial support to remote workers may be necessary. When employees work from home, they are generally using their own internet and may have to buy some office supplies they previously took for granted including printers and/or toner, a desk, chair, etc. Helping employees offset some of these expenses can help promote the feeling of support remote employees need. Also, key is the protection of customer/client data. Marinova reported 54% of IT professionals attributed greater security risk to remote workers. Proper protocols and training should be implemented to reduce the risk to the employee, the organization's equipment, and the organization's customer data. Third, employers must manage expectations for remote workers. As the Microsoft (2021) study highlighted, remote employees were responding to chats outside of standard working hours and were responding quickly. It also found that 20% of remote employees believed their employer did not care about their work-life balance, 54% felt overworked, and 39% felt exhausted. If remote workers believe they must be on call 24 hours a day, it can lead to worker burn-out, which will eventually lead to lower productivity and even turn-over. It is still important that workers rest when sick, take personal time to reset, and are allowed to use their personal time for their personal interests.
Employees have many reasons to want to continue to work from home and feel protection from the outreach of Covid 19; with variants of Covid 19 continuing to cause new outbreaks, some organizations are in support of remote work arrangements. When faced with the reality that Covid 19 was going to affect full operations far into the future, companies began to develop support for employees working from home (Lockwood, 2003) and had to rethink how the work gets done to keep employees working together as a team while moving to home-based locations.
How the Hawthorne Studies Can Help Today
What most organizations found was separating employees from the workplace presented problems. The main concerns for organizations were how to keep employees motivated to work, keep employees connected to the mission of the organization and provide tools that were appropriate to support employee success while working from home. To help understand the effects of employees working separate from their work environment, the outcomes of the Hawthorne Studies conducted in the 1920's can provide a framework about how employees may react to working apart from their familiar surroundings.
The Hawthorne Effect was a set of studies conducted at a Western Electric Plant in 1920 (Bauerfeind & Olson, 1973). The study tried to determine if there was a link between productivity and the work environment. The most important opportunity was to determine if changes in variables or environment influenced productivity. The most famous of the experiments manipulated light to see how the absence of light affected productivity, but the absence of human interaction was also evaluated. Most related to this discussion of employees working from home was the Hawthorne study's evaluation of the absence of interaction with supervisors or leaders. In the study, if employees were not observed or watched by a supervisor, productivity would drop. Modern day organizations need to know if employees begin to act the same as the study's participants. While supervisors can routinely check in on remote employees, it is difficult to provide the same oversight as being together under one roof.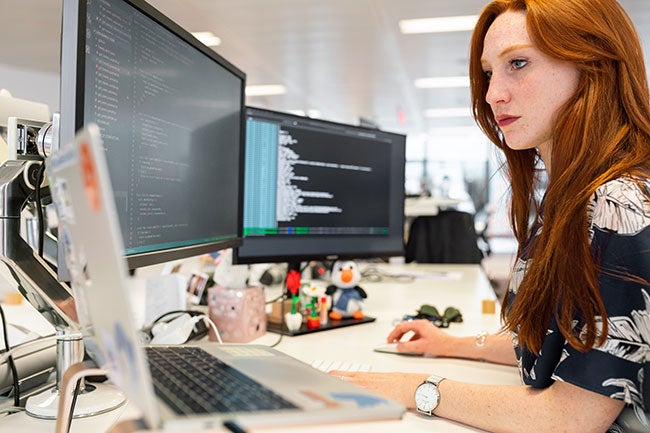 Supporting Remote Workers
To maintain expected levels of productivity, organizations can focus on three opportunities: the use of sound technology, emotional support for employees and outside resources. Technology is a needed resource to support the efficient operations of any organization. The need for sound technology to support sustainable productivity became paramount during the pandemic (Fallon, 2020; Parker, Horowitz, and Minkin (2020)). Organizations need secure servers and operating systems to support operations and protect the valuable information shared by employees. The use of internal servers such as Dropbox and Google Drive helped organizations provide security for operations and allowed employees to feel comfortable in the home office environment sharing information across the organization. The secure environment provided by technology also supports employees staying connected to supervisors and peers. To support sustaining work relationships, employers utilized software applications such as Zoom and Microsoft Teams to support audio and video conferencing to discuss secure information and topics. The security provided by internal servers provided a safe environment for use of the software and an opportunity for employees to stay connected to supervisors, work, and peers to ensure that important levels of productivity were maintained.
While the support of a secure work environment supported employees feeling safe performing work from home, some employees had other concerns that could have affected productivity. Employees expressed concerns about their personal work stability, safety of self and family, and influences of change during the pandemic (Grinsing-Paphal, 2020). All the concerns weighed heavily on employees struggling to maintain productivity during the pandemic. Emotional Intelligence allowed supervisors and leaders to look for signs of employee strain. The authors also noted that leaders need to show empathy while speaking with employees and make connections to not only review work with employees, but also to check on emotional well-being. Supervisors could do this by joining employees for quick chats and talking about activities that were not work related. Supervisors could also ensure they were socially aware by looking at employees' actions and behaviors to understand where support was needed. One of the major emotional support activities with which supervisors can support employees is being aware of their own emotions and understanding how their reaction to working from home impacts employees. The authors suggested supervisors connecting to their own emotions and ensuring they are making positive connections with employees. Along with providing adequate technology resources, displaying Emotional Intelligence shows employees care and builds a sound emotional connection which should help maintain expected levels of productivity.
In addition to technology and Emotional Intelligence, there are several outside resources that can help fill in the gap. Support from resources such as Employee Assistance Programs, Community Support Agencies and Yoga sessions are sound resources to support employees in recharging to support maintaining productivity (Lookwood, 2003). When employees or supervisors reach out to agencies for support, they can do so discreetly to ensure they receive the best support in the most personal and private manner possible. Ensuring support is private will help employees feel comfortable using resources. Resources are the most valuable tools organizations possess to fight against a decline in productivity while employees are working remotely. As Social Learning Theory asserts, sound productivity occurs in the most supportive environments that foster learning by observing behaviors (Lopes, 2005). Based on this idea, employees need the support and observation of leaders to maintain high productivity. Without the use of sound tools to promote connection between employees, supervisors, peers, and the organization, productivity can be threatened for the organization during the pandemic or after if the organization continues remote work options.
Conclusion
Over the past two years, the pandemic has had an altering effect on the operations of the business community.  Organizations and their employees are adjusting daily to the new normal the pandemic has forced.  As statistics within this article support, employees are evaluating their role and considering how working from home can become a constant opportunity.  The influences of the industry, the type of work employees perform, and organization/employee philosophy concerning work should be considered when considering a permanent work from home or hybrid environment. 
Prior to committing to a decision to allow employees the opportunity to work from home, the organization must be equipped to monitor and handle a shift to the work from home environment for employees.  Organizations should have appropriate technology, understand emotional factors that can affect employees, and be equipped with sound support systems to ensure working from home does not cause a decrease in productivity for the organization.
References
Aum, S., Lee, S., & Sin, Y. (2020). Who should work from home during a pandemic? The wage-Infection trade-off (NBER Working Paper No. 27909). National Bureau of Economic Research. http://www.nber.org/papers/w27908
Bauernfeind, R. H., & Olson, C. J. (1973). Is the Hawthorne effect in educational experiments a Chimra The Phi Delta Kappan, 55(4), 271-273.
Fallon, C. (2020).  Top tech tools to keep your team connected.  www.uschamber.com
Gale, E.A. (2004).  A fable for our times.  Quarterly Journal of Medicine, (7), 439-449.
Lockwood, N.R. (2003). Work/life balance, challenges and solutions. SHRM Research, USA, 2-10.
Lopes, S.(2005). The emotional intelligence science is clear.  https://fundacionevoluciona.org
Marinova, I (2021). 28 Need-to-know Remote Work Statistics of 2021. https://review42.com/resources/remote-work-statistics/
Microsoft. (2021). The Next Great Disruption is Hybrid Work--Are We Ready? 2021 Work Trend Index: Annual Report. https://www.microsoft.com/en-us/worklab/work-trend-index
Parker, K., Horowitz, J., & Minkin, R. (2020). How the Coronavirus outbreak has-and hasn't-changed the way Americans work. Pew Research Center. https://www.pewresearch.org/social-trends/2020/12/09/how-the-coronavirus-outbreak-has-and-hasnt-changed-the-way-americans-work/
Prossack, A. (2021). 5 statistics employers need to know about the remove workforce. Forbes. https://www.forbes.com/sites/ashiraprossack1/2021/02/10/5-statistics-employers-need-to-know-about-the-remote-workforce/?sh=115b85e6655d
Sheffey, A., Hoff, M. (2021). This may be the end of the work-from-home economy. Business Insider. https://www.businessinsider.com/working-from-home-declining-june-jobs-report-remote-in-person-2021-7