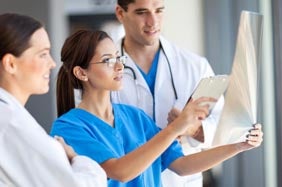 "The WGU Nursing program has an innovative competency-focused education that prepares nurse leaders to utilize their knowledge, technical skills, and individual attributes to support and promote physical, mental, environmental, and spiritual well-being." – Dr. Linda MacIntyre, Chief Nurse, The American Red Cross.

As one of the fastest-growing fields in America, healthcare is constantly changing. To keep pace with these changes, WGU works regularly with our partners and industry experts to ensure that our Bachelor of Science–Nursing and Master of Science–Nursing (MSN) degrees remain on the cutting edge, equipping nursing students with the knowledge and skills they need to advance healthcare and educate future health professionals.
Some recent upgrades to the MSN–Education and MSN–Leadership and Management programs, for example, include:
Inclusion of "the three P's"—physical assessment, pharmacology, and pathophysiology.
The requirement of two field experiences: one in the student's place of employment and one in their specialty track (education or leadership and management).
Students now have greater mentor guidance from and interaction during the completion of their capstone project.
These additions apply to the RN-to-MSN programs for students who need to complete their bachelor's and master's degrees simultaneously, as well as the standard MSN programs for students who already have a Bachelor of Science–Nursing degree.
Coursework emphasizes timely and relevant topics, including leadership and team development, how current trends impact healthcare, and how healthcare continues to change. Courses also focus on the new technology healthcare professionals use and ways to use it to teach, including social media and e-learning. With each course, students will learn ways to change and improve the current healthcare model.
These upgrades follow the standards set by the Commission of Collegiate Nursing Education (CCNE), which provides accreditation to WGU's nursing programs*. Additionally, the education track follows the certification-prep standards set by the National League for Nursing (NLN) for nursing education, while the management and leadership track was designed around standards set by the American Organization of Nursing Executives (AONE).
"New leaders will benefit from this program grounded in the AONE competencies for leadership and crafted with the current challenges of contemporary administrative practice in mind." – Dr. Laura Caramanica, Past President, AONE.
The MSN program is 38 competency units for those entering with a BSN. There is also an RN to MSN option for ADN graduates which is 152 competency units. Like all WGU competency-based programs, students may progress at their own rate. Each program is accredited and provides the information MSN students need for successful healthcare careers.
*Western Governors University offers nursing programs that are accredited by the Commission on Collegiate Nursing Education (One Dupont Circle, NW, Suite 5380, Washington DC 20036, 202-877-6791).