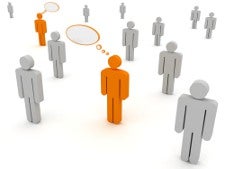 You never get a second chance to make a first impression.
We've all heard those words of warning, and they can be a little intimidating. It puts a lot of pressure on that first meeting—pressure to put your very best foot forward, to make your first impression a positive one. It's especially important when meeting a potential employer as part of your job search.
But it gets even scarier in today's job market, when you could very well be making your first impression before you've even shown up for your interview or met the hiring manager.
The web—especially the social web, from Facebook to blogs to that embarrassing video of you on YouTube—can paint a picture of you digitally long before you've had a chance to show your face in person.
But this isn't gloom and doom: You have control over your digital personality just as you can control your behavior in a personal meeting. WGU's Alumni & Career Services job search tips webinar series, the Career Café, recently took a look at the cyber security questions job searchers may be asking.
What do employers look for in online search? What are the red flags they notice? What can a job seeker do to strengthen their online presence in the job market? And how can job seekers protect their online identity in the job search?
"One thing you should do when you're out there seeking employment is to Google yourself," said Delano Carter, a technology solutions architect for a major Georgia retailer who earned both his bachelor's degree and MBA online with WGU. "See what's out there. Correct incorrect information."
Some things you should be looking for:
Is your LinkedIn profile current, accurate, and up-to-date?
Is an old, unprofessional blog post still showing up out there?
Does your Google search return too little? For some employers and in some fields, this could cause concern that you're not an active web user.
Are your new activities online (or someone else's activities that mention you) changing the way you look online? Setting up a Google Alert with your name is an important way to monitor when new online content about you is showing up.
And it's not just the considerable resources at employers' fingertips—the power of a Google search, social media search, and things like that—that can feed into a potential employer's online impression of you.
Employers can also hire companies to run an online digital profile of candidates, looking at their social profiles, blogs, etc., and writing up an overall profile of that candidate.
"Be aware that any of that information is public information and can be used by a hiring manager," Delano said.
It's important to understand the privacy settings on sites where a potential employer may search for information about you, like Facebook, which changes its privacy policies often, said WGU IT project coordinator and system analyst Rob Alexander.
"On a regular basis, people should go into their privacy settings and account settings and see who has access to what information on their profile," Rob said. Do you allow friends of friends to view all your information? Are you too exposed?
Rob, Delano, and the rest of the panel have great tips on how to avoid the pitfalls of an online persona that can impact your job search—and, maybe more importantly, how to build up a robust, impressive online presence that will make you a must-hire for your future employer. 
What are your thoughts? What precautions do you take to protect yourself online? Have you learned any lessons the hard way? We want to hear from you in the comments below!