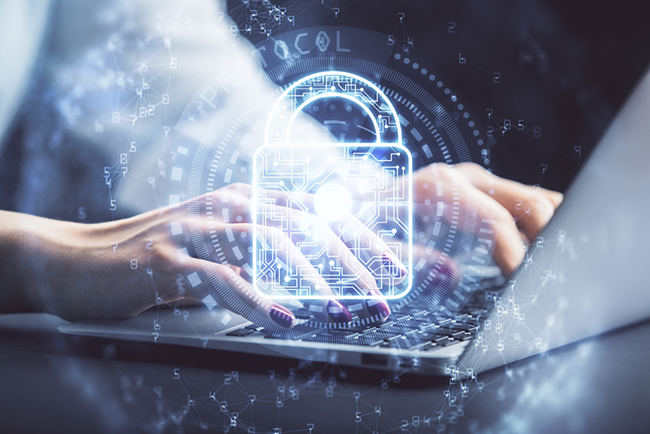 As the demand for cybersecurity professionals continues to grow, many people might be wondering what it takes to break into this field. During a panel discussion WGU recently hosted on LinkedIn, participants explored the kinds of jobs available in IT security and the best way to launch a cybersecurity career.
Here are five key takeaways from the conversation.
1. There Are Many Career Pathways Available
"When I tell people I'm in cybersecurity, they automatically think of the hacker or the pen tester in the dark room," said Ahnna Hengsterrman-Cash, a WGU graduate who works as a security consulting engineer for ClearShark. "There's so much more out there, so many different paths you can take."
For example, a cybersecurity career might involve designing secure technology systems, investigating or responding to security breaches, managing networks, or securely provisioning devices.
Casey Harrington, a supervisory special agent for the FBI, noted there are several cybersecurity roles within his organization.
"We have 56 field offices in the U.S. and over 70 foreign offices, so we have a massive network to maintain," he said. "When it comes to investigating cybercrimes, we have a group of special agents, intelligence analysts, data analysts, and computer scientists who all work together to investigate these crimes. From monitoring networks to investigating crimes, we have a wide variety of cybersecurity positions."
Anyone who's interested in a cybersecurity career should consider a role that suits them most appropriately, Hengsterrman-Cash advised.
"I'm in security consulting," she explained. "It fits me because I like troubleshooting and working with teams. I'm very competitive. Each path has a different aspect to it. Finding the one that fits you is really rewarding."
2. A Degree Program Is the Best Way to Prepare for a Cybersecurity Career
Because of the diversity of cybersecurity roles available, the best way to prepare for a career in cybersecurity is to choose a degree program that exposes you to a wide range of knowledge and skills.
"It's important you start out with a general breadth of knowledge," said Andy Igonor, director of academic programs for WGU's College of IT. "At the undergraduate level, our Cybersecurity and Information Assurance program really covers everything." That way, he said, students receive a broad foundation—and they learn what they might want to specialize in from there.
One thing that sets WGU apart is that its cybersecurity courses focus on workforce competencies and skills.
"We want to make sure when students complete a degree, they're job-ready from day one," Igonor said. "The skills covered in the courses we teach are mapped to competencies in jobs. You're not just learning something for the sake of it, you're learning something that really [aligns with workforce needs]."
3. Combining a Degree with Industry Certifications Can Give Graduates a Leg Up
"In my experience, I've seen certifications allow individuals to get their foot in the door within the IT industry," said Hengsterrman-Cash. "But having a degree that complements the specific certifications has allowed me to stand out from other candidates for positions that I really wanted or that were hard to get, which I think is very valuable."
WGU is unique because it builds industry certifications into its cybersecurity degree programs. Students graduate with valuable industry certifications and a degree.
"It really is the best of both worlds," Igonor said.
4. Curiosity and Passion Set Candidates Apart
Tyler Pack, who earned an MBA in IT management at WGU, manages the Cybersecurity Operations Center and directs the cyber incident response team at Zions Bancorporation, a bank holding company headquartered in Salt Lake City. Aside from the technical requirements associated with any cybersecurity position, he said, there are certain characteristics he looks for in job applicants.
"When we're hiring people, we're looking for folks who have hands-on mastery and understand common exploit techniques, a thorough understanding of networking and endpoints," Pack said. "The people who build their own home labs and tinker and get their hands dirty in their spare time, are [curious and] passionate about it, are the ones who stand out."
5. Demand for Cybersecurity Professionals Is High—and Will Only Grow
There is no industry that hasn't been touched by cybercrime.
"We see everything from a five-person law firm to the biggest companies in America getting hit," Harrington said. "The losses are staggering. The money these groups can make is in the tens or hundreds of millions of dollars. Unfortunately, I don't see it slowing down."
While that might be bad news for businesses, it means that cybersecurity professionals will remain in high demand. The number of cybersecurity job openings in the United States totals nearly 600,000, according to CyberSeek.org, a partnership among CompTIA, Burning Glass, and the National Initiative for Cybersecurity Education. Internationally, that number is even higher.
"Cybersecurity is a global challenge, and it needs a global solution," Igonor said. "The demand we're seeing is all over the world."
Learn more about WGU's online degree program in cybersecurity.