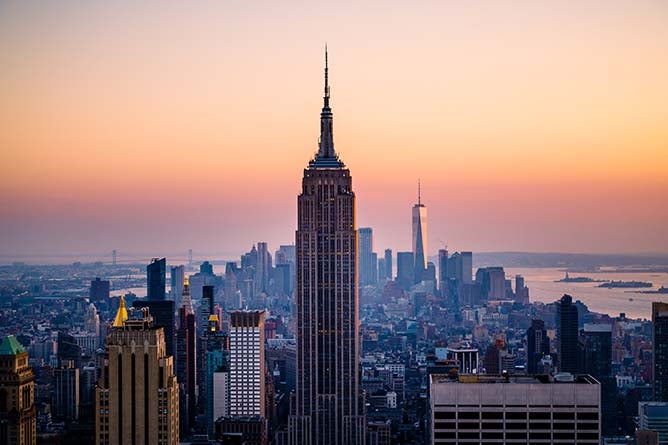 Is there a more exciting place to live and work than New York City? A vibrant, fast-paced city and a global technological hub, New York City has it all. And for IT professionals looking to make it in the Big Apple, employment in the industry is only booming. Fast Company reports that cybersecurity jobs in NYC are on the rise thanks to a $100 million push to make the city a global center for cybersecurity.
Because world-changing companies such as Google and Amazon work alongside tech start-ups and because the city's status as one of the world's leading financial hubs requires top-notch security, New York City offers a chance for IT professionals to build long, rich careers.
What is cybersecurity?
Just as the financial buildings in New York City require security guards, the data stored within those buildings require protection. Cybersecurity professionals prevent internet-based attacks from happening by assessing the systems, hardware, and software of an organization and building layers of security around those systems.
Forbes reports that cyberattacks cost consumers $158 billion in 2016. With losses this extreme, cybersecurity professionals are necessary to safeguard data and finances that are vulnerable to cyberattacks.
Cybersecurity careers in NYC.
According to nyc.gov, there are more than 200,000 businesses in New York City. And while 98 percent of these companies employ fewer than 100 people, many of these organizations nonetheless need professional cybersecurity experts. There's also a shortage of skilled cybersecurity workers in the Big Apple: According to a study conducted by WGU and LinkedIn, there were nearly 5,000 cybersecurity job openings in the Greater New York City area posted to LinkedIn alone, and only about 2,500 available cybersecurity professionals in the region.
Here are four cybersecurity roles perfect for IT professionals looking to build their career in the area.

IT security specialist.
IT security specialists are common in cybersecurity, and companies often employ several of them. Their job is to understand the causes of past breaches and prevent new ones. They design and test security measures, customizing them according to the security needs of the organization.
According to Bloomberg Professional Services, the financial sector is especially vulnerable to malicious cyberattacks, largely because of the financial incentive these institutions hold for attackers. New York City is home to major global financial institutions such as JPMorgan Chase & Co. and the New York Stock Exchange, so the city needs skilled cybersecurity professionals to protect its vulnerable financial data.
With an average salary of about $117,000 a year, according to Indeed, an IT security specialist could be well positioned in New York City.
Information security analyst.
Cyberattackers typically look for one of two things when they attack an organization: money or information. An information security analyst's primary responsibility is to protect the latter. They examine security problems across the company and figure out ways to prevent security threats, and they continuously monitor systems and keep up to date on the latest IT research.
Indeed reports that the average salary for information security analysts is about $79,000. And with significant consumer businesses—such as the major insurance company Metlife and real estate giant Cushman & Wakefield—headquartered in New York City, there's no shortage of available security analyst positions.
Security engineer.
The security of an organization's data is of the utmost importance, especially as hubs like New York City adopt more stringent privacy restrictions and data-protection procedures. A security engineer maintains the security of an organization's systems, creating and implementing solutions as needed. The average salary hovers around $104,000 a year, according to Indeed.
Network security engineer.
According to Savills, New York City is the world's top tech city, making it the perfect city for network security engineers.
Network security engineers protect a company's computer network; updating security hardware and software, installing firewalls, setting up routers, and monitoring the network are just a few of their daily tasks. Having a bachelor's degree in computer science, programming, or some other related field is a good way to enter into the field, where the average salary is around $107,000, according to Indeed.
Entering the realm of cybersecurity.
As a newer field tasked with keeping up with an evolving IT industry and innovative cyberattacks, cybersecurity is vital and ever-changing. While different cybersecurity roles share common tasks, each role's specific focus allows professionals to specialize in an IT area, whether that's network security, information security, or financial security.
If you're interested in pursuing cybersecurity jobs in NYC, the first step is getting a degree in cybersecurity. A bachelor's program will give you the training, hands-on experience, and certifications necessary to have a fruitful career in the Big Apple.