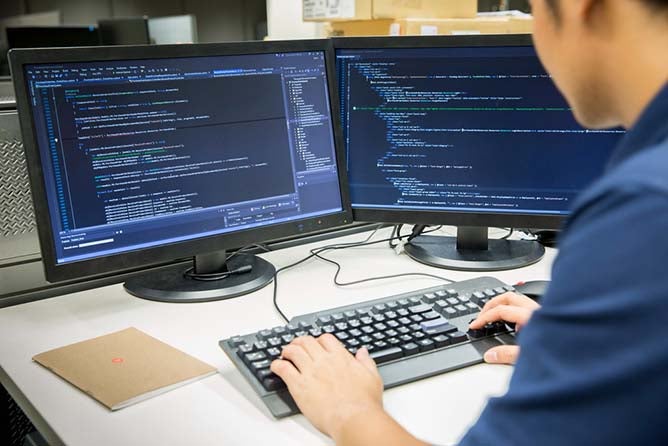 With the emphasis on science, technology, engineering, and mathematics (STEM) education in schools now, many high schools and colleges include technical skills, such as coding, in their curricula and students stand to reap the benefits. Strong coding skills and the right credentials—whether an advanced IT degree or a professional certification—can help you land the IT job of your dreams.
But which side do you take in the battle of degree vs. certificate? Here's a breakdown of the certifications and educational pathways available to you, and how you can figure out which is best for your career.
What is coding?
Coding is the backbone of computing. Every program, every piece of software, every website and app is written in thousands of lines of code using a specific programming language. Essentially, the code tells the computer what to do; each line of code commands the computer to perform a basic task or a complex series of functions.
Coding is also the backbone of several careers. Web developers, for example, construct websites to a client's specifications using programming code to create functions from scratch. According to the U.S. Bureau of Labor Statistics, the average salary for web developers is almost $70,000. A computer programmer, on the other hand, writes code for software applications. They earn about $84,000 a year, the Bureau of Labor Statistics says.
Degree vs. certification.
A certification proves your skill level and knowledge, and can help you get your foot in the door with prospective employers. The Computing Technology Industry Association (CompTIA), an industry-leading trade association, is one of many associations that issue professional IT certifications. These are offered at WGU as part of your tuition towards your IT courses. 
One advantage to a professional certification is that you can typically earn one quickly—most certification programs take about three months to complete.
Obtaining an IT degree provides the same essential credentials that a certification does. But an IT degree comes with many other benefits, including
A wider and deeper breadth of knowledge in IT areas like cybersecurity, systems administration, and operations

Accreditation through a respected institution

Hands-on coding training

Training in additional skills, such as communication, business, and management

Mentorship from industry experts
Obtaining a bachelor's degree in IT will likely take longer than earning a certification, but the benefits gained through such a program could help you land a better job or climb the job ladder more quickly. If you want to earn the certifications necessary for success as a developer or programmer and learn about other areas of IT while receiving experiential training, pursuing a degree is right for you. With instructors who will mentor you through coursework and exam prep, you'll have the right industry connections, certifications, and knowledge to succeed in the field.
Choosing the right path.
Today's IT job market is tough. More STEM-educated professionals are looking to make their mark on the industry. To stand out from the pack, choose a degree program that allows you to obtain the right certifications and learn about the ins and outs of the industry. With an accredited university degree and top-notch IT certifications on your résumé, you'll be able to put your coding skills to work in your dream job.