At WGU, we value a work-life balance that gives employees the opportunity to be their best selves at work and at home. WGU is committed to supporting the lives of our employees with robust benefits programs that include family forming and paid parental leave.
Family Forming Benefits

WGU offers benefits to help employees navigate all paths to parenthood with a robust and inclusive fertility and family-forming benefits program, designed to support every unique parenthood journey. The program, CARROT, covers fertility education and assessments, fertility preservation (egg, sperm, and embryo freezing), in vitro fertilization (IVF), donor-assisted reproduction including gestational carrier services, adoption, and fostering support. 
Paid Parental Leave

WGU recognizes the significance of becoming a parent and the importance of parent-child bonding following the birth or placement of a child in employees' households. WGU provides eligible employees up to 12 weeks of paid parental leave following the birth of an employee's child or the placement of a child with an employee in connection with adoption, surrogacy, or foster care.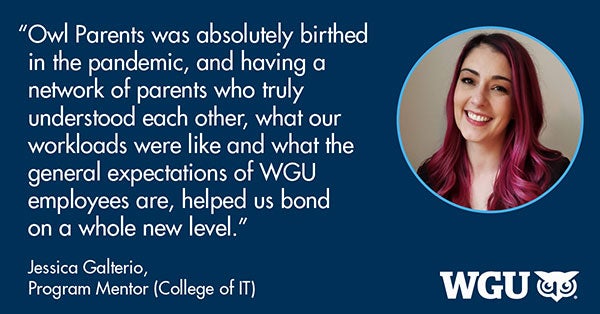 Owl Parents ERG
Another way WGU supports employees and their families is through the university's Owl Parents ERG. ERGs, Employee Resource Groups, are university recognized and supported, voluntary associations of full-time and part-time employees with common interests. They practice inclusivity by extending membership to all WGU employees. 
Jessica Galterio, a WGU College of Information Technology program mentor, participates in the Owl Parents ERG. She believes ERGs are valuable ways to connect to all the wonderful employees who are scattered all over this country. WGU recognizes that not everyone arrives at parenthood the same way, and Jessica noted that the university has many great benefits to help support employees in their journey to parenthood. 
The Owl Parents ERG hosts monthly meetings at which employees can share strategies as a working parent in the home, as well as to celebrate wins and help each other through some losses. 
"Owl Parents was absolutely birthed in the pandemic, and having a network of parents who truly understood each other, what our workloads were like and what the general expectations of WGU employees are, helped us bond on a whole new level," Jessica said. "I was so excited to meet new people from all departments and clusters of the university, ones I never would have had a chance to connect with otherwise. We have created a wonderful network of support in a very short time!"
Jessica explained that Owl Parents has worked closely with People and Talent (WGU's HR team) to help deliver information about the new paid parental leave policy, which was announced in July 2021.
"Having the unique opportunity to bond with your new baby, without having to consider an adjustment in pay truly sets WGU apart in the industry," Jessica said. "We have also collaborated with Daisy Dowling of WorkParent, an organization designed to help parents meet both their career and parenting goals. 

"WGU already provided a flexible environment for parents, with the majority of us working from home, however, they have taken things a step further recently with the new paid parental leave policy, along with the inception of the ERG network," Jessica said. "There is a space for everyone to feel seen and heard, both professionally and personally, while they are supported in their careers."    

Employees can learn more about these benefits in the intranet: