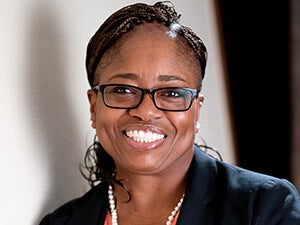 Carolyn "CJ" Renaud has joined WGU as senior community relations liaison for Colorado and the Northwest Region. CJ will work closely with like-minded organizations to create pathways to opportunity and strengthen communities through education, particularly among people of color and low-income student populations.
We asked CJ to share more about herself and her new role at WGU.

Can you tell us about your professional background?
I am a former police officer, serving over 20 years in the City of Aurora Police Department. Prior to working at WGU I was partnerships manager at Greely-Evans School District in Colorado.  I have a bachelor's from University of Northern Colorado in Kinesiology and Exercise Science and an Education Specialist master's degree from University of Phoenix.

How did you hear about WGU?

I heard about WGU through a dear friend and now colleague, Corey Edwards, who is also based in Colorado.

What will your role look like?

I will be developing networks of community partners to help bridge the opportunity gap for individuals across a nine-state territory—which includes Colorado, as well as Alaska, Hawaii, Idaho, Montana, Oregon, Utah, Washington, and Wyoming. At WGU, the belief is that talent is abundant, but opportunity is not. For example, communities of color and low-income communities often lack the conventional resources that allow talented people to open new doors and create better lifestyles for themselves and their families. I share that belief and am excited to make a meaningful impact for traditionally underserved student groups.

Can you tell us about yourself and what you like to do?

I love, love, love to play golf! However, I am a fair-weather fan so please do not call me to play a round when the weather is not optimal! I enjoy movies, sports, cooking, reading, and spending time with my family and friends.