Every year in May, Older Americans Month recognizes the contributions of older adults across the nation and the vital role they have in the success of our communities, workplaces, and lives. To celebrate, WGU shines a light on one of its very own: Kevin Cummings. Kevin works in the Office of Student Affairs as an ombud where he helps students resolve problems and make informed choices about their academic careers.
"Our goal is to make sure every student gets a good listening to and a fair outcome," he said. "I try to meet each student with an open mind and hear their story. Then I work with them to find a path which will help them achieve their goals."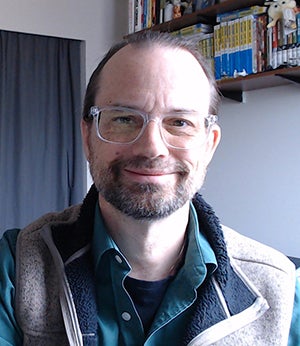 Education has been a lifelong theme for Kevin. In 1990, he earned his bachelor's degree in elementary education from the University of Utah. After working in higher education for 12 years, he felt the pull to go back to school.
"I heard about a project that facilitated dialogue among people with very differing political views, and I wanted to learn those skills. So, I took a one-year certificate in conflict resolution. That led me to enroll in my master's degree," he explained. 
Kevin earned his Master of Arts in Negotiation and Conflict Management in 2004 and says it was a turning point in his career. At the time, he was working at a state technical college. 
 "I was an educator who had moved into a position where I never actually had any contact with students," he said. 
 That changed in 2019 when Kevin joined WGU. 
 "For my second act, so to speak, I moved out of a formal leadership role and into an individual contributor role. But more importantly, I was able to start working directly with students again," he said. "That experience, along with my master's degree in negotiation and conflict management, set me up nicely for my current role." 
 After 30 years working in various education roles, Kevin says the journey to WGU has landed him right where he's supposed to be. 
 "I could never have guessed it would've brought me to this amazing point in my life," he said. "It's always inspiring when I work with a student who is going to be the first person in their family to graduate from college. That doesn't happen without a clear institutional commitment," he said. 
Kevin calls the WGU culture something he enjoys most about working here and adds that he's continually impressed by the efforts made toward greater diversity and inclusion.   
 "One of the things that WGU does very well is to create conversations around diversity. The employee resource groups are direct evidence of that commitment," he said. "Connecting with people who have the same concerns is very encouraging." 
 Kevin is a member of the Silver Owls, an Employee Resource Group (ERG) at WGU that brings together employees with common interests. 
 "It's great to be in a group with people who have similar life experiences. I don't know if I'm any wiser than I was when I was 20, but the road definitely looks different from this vantage point." 
 When asked for his insight on promoting diversity and inclusion during Older Americans Month, Kevin has these parting words:  
 "I'm old enough to have seen Bill and Ted's Excellent Adventure in its original release, so I think I'll end with their sage advice: Be excellent to each other!"