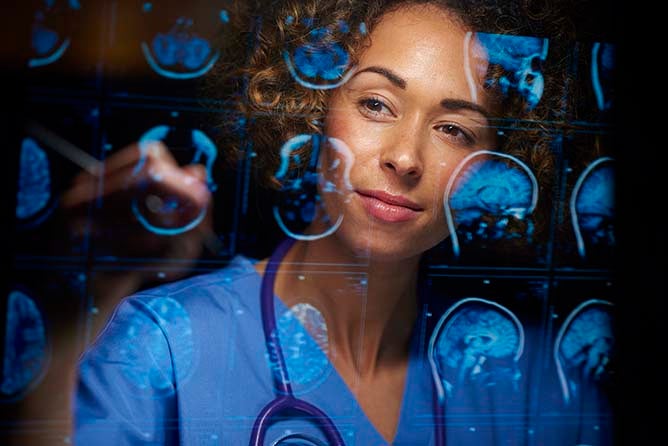 If you hope to advance your career, it's a good idea to take a long look at where a particular job can take you. Think about where you want to be in the next 5, 10, or 15 years. To land your dream job, do you need to earn a higher degree? Work your way up the ladder? Or develop specific on-the-job skills?
In the nursing informatics field, landing your dream job typically means gaining a mix of education and experience and being able to balance nursing skills with analytical ones. Nursing informatics jobs can be demanding, but they can also be rewarding, as they are the behind-the-scenes roles that help improve patient care on the front lines.
Further reading: 5 unusual nursing careers.
Here's a look at what you can expect from a few nursing informatics positions.
Clinical informatics specialist/analyst.
The people working at the heart of nursing informatics might take different titles; they might be clinical informaticists, nursing informatics specialists, or clinical informatics analysts depending on the organization. Each title might be slightly different, but the roles are very similar. Clinical informatics specialists collect and interpret data from patient outcomes, develop electronic medical records for medical staff, teach others to use electronic medical record systems, and integrate clinical nursing and IT knowledge to improve patient outcomes.
Some professionals picked up their informatics skills on the job, but more employers are requiring clinical informatics specialists to hold at least a bachelor's degree in nursing. Many facilities require certification in nursing informatics from an accredited organization such as the American Nurses Credentialing Center. A master's degree in nursing informatics can give you an advantage in the job market, as this program helps you develop the leadership, IT, and nursing science skills you need.
Salary varies by many factors, including location, facility, and experience. But ZipRecruiter reports that the average salary for clinical nursing informatics specialists is around $102,000 a year.
Clinical informatics manager.
Clinical informatics managers supervise nursing informaticists and assist in the upper-level decision-making for the department. They work with other managerial staff to determine the needs of the facility and how to optimize patient care. They combine the clinical and IT expertise of the clinical informaticist staff with project management and people management skills.
Ideal candidates for this position should have strong clinical knowledge and informatics experience as well as a background in management. Many professionals start as entry-level healthcare data analysts before moving into management-level roles. Gaining on-the-job managerial and leadership experience and earning a master's degree in healthcare management and leadership or a master's degree in nursing informatics can give you the skills you need to climb the ladder.
Because they manage people and data, clinical informatics managers make good money. Salary.com reports that clinical informatics managers earn, on average, around $133,000 a year.
Chief nursing informatics officer.
Some larger facilities operate many clinical areas and employ executive-level management to integrate the various streams of clinical information and systems development. The chief informatics officer is at the same executive level as a CEO, chief nursing officer, and chief financial officer of a healthcare facility, and they oversee the big-picture strategy for directing the vision of their nursing informatics department. According to the American Informatics Association, the chief nursing informatics officer plays a vital role in the future of healthcare. "In order for organizations to achieve their strategic goals, improve adoption of technologies focusing on the patient's health care experience, meet the requirements of patients and clinicians, as well as those of governmental and accrediting agencies, an executive nursing informatics leader is essential," writes Rosemary Ventura, DNP, RN-BC, in the report The Role of the Chief Nursing Informatics Officer.
This role requires advanced credentials— a master's degree in nursing informatics or even a doctoral degree—as well as exceptional communication, innovation, and leadership skills. Years of experience in this field are required to help prepare you to perform at this level.
The salary for this position varies widely, but chief nursing informatics officers typically earn between $200,000 and $250,000 a year, according to Healthcare IT News.
Nursing informatics educator.
Maybe you don't want to climb any corporate ladders. Maybe you'd be happier nurturing the next generation of informaticists or helping bedside nurses complete their charting more effectively. If that sounds like you, consider a role as a nursing informatics educator, where you will provide training on electronic medical records management, either in a group setting or one-on-one. Nursing informatics educators develop and execute curricula, and because technology is always evolving, they must stay on top of technological changes and convey new information to the next generation of informaticists and clinicians.
You'll definitely need a bachelor's degree and experience in IT to be successful as a nursing informatics educator. A master's degree in nursing informatics is often seen in these roles and experience in education will also make you a competitive candidate. Depending on the electronic health records system or health information system your facility uses, you might need certain specific certifications for that system. According to paysa.com, nursing informatics educators make about $88,000 a year, on average.
Further Reading: Superheroes wear gowns not capes.
Nursing informatics is an emerging field capitalizing on the introduction of new technologies and data systems in healthcare facilities. Professionals in nursing informatics directly influence the procedures that clinicians perform, and they ultimately work to improve patient outcomes. If working with data and helping patients away from the bedside resonates with you, consider a career in nursing informatics.