"Your Story" blog by John Sharify
When we talked the other day, Katie Ton wanted to make one thing perfectly clear. "This is not a Katie fight," she said. "This is a fight for everyone. Everyone's family that has struggled with it."
Katie was referring to the disease that has no cure, no known cause, a disease she was diagnosed with twelve years ago—Multiple Sclerosis.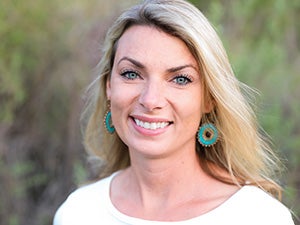 The 37-year-old single mom from Colorado, remembers, as if it were yesterday, that day when the 'lights went out', as she put it. "I lost my vision. And within the next few weeks, it would start to come and go." 
What did she do next? Katie met with a neurologist, who told her: "It's either a brain tumor or MS."

After more testing: "I got the full diagnosis of MS and that's when the journey began."

That journey has had its ups and downs. The 'down' part? The symptoms. "I have tingling sensations throughout my body," Katie said. "It always stays with me. That one never goes away. Trouble walking. Trouble holding things. Fatigue. Cognitive issues and delays."Now for the 'up' part. It's without question the support and care and love she receives from her daughters. "My 13-year-old daughter is an amazing kiddo. I was diagnosed twelve years ago," Katie reminded me. "You can kind of do the math here. The whole time she's watched me with this. There are times where I just let her know that I need a little extra help and she knows to step up."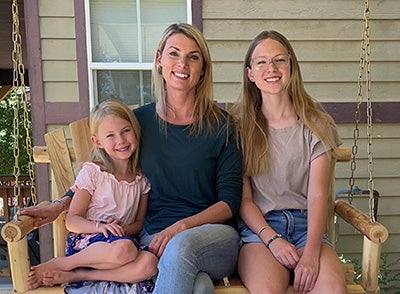 Katie with her two daughters.
"It affects her," she said. "And she sees a mom that does struggle and does have a disease without a cure." 
I learned about Katie through a colleague at WGU. Katie works as a student success coach at WGU Academy. "One of the amazing things about working at WGU is I can work remotely," she said. "Which means I have a lot more flexibility with the disease."

Katie Ton is sharing her personal story in the hopes of raising awareness and raising money for research. In fact, this summer, Katie is participating in an event called MS4MS. "Meaning multiple summits for Multiple Sclerosis," she said. "The event is to hike 14'ers!"  

Let me stop you there. 14'ers? Please explain.

"14'ers are mountains over 14-thousand feet," she said. Katie also explained how WGU's Colorado and Wyoming coalition have formed an MS4MS team. Katie is encouraging anyone from WGU to join her team. Family and friends are also welcome.

The money raised will benefit the Rocky Mountain MS Center. "Whether it's legal services, counseling services, and research. I've seen a huge improvement in the research with the medications I take," she said. "My neurologist said, 'you do well because you are a result of research in the medicines we have now.' If you were diagnosed forty years ago, your prognosis might not be the same." 

Katie mentioned the 'forty years' because I had just told her that about forty years ago my dear friend Jarod, from grade school, was diagnosed with MS. That 'fight' Katie talks about is a fight I've watched Jarod and his family take on. I've watched in awe. It's the same feeling I have after meeting Katie and learning about her inspiring story. I'm in awe. 

As for the 14'er, Katie is determined to complete the 14-thousand-foot hike for this fundraising event.

"It takes me a longer time," she says. "That's for sure. And the recovery will put me down for several days. So, I think that's the biggest thing. When my body tries to do bigger climbs and hikes like that, it's a longer recovery for me."

One last question for Katie: Why share your story now? "This shouldn't be hidden from anyone that I have this disease," she responded. "So, why now? Because it's time."  

Want to join the MS4MS WGU team (WGU4MS) for the July 9th – 18th event? Click here to register.

Below, you can watch John's interview with Katie Ton.