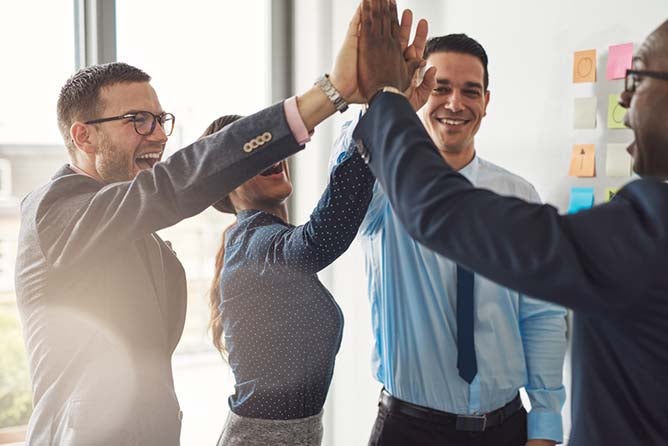 When looking for IT jobs or positions in other industries, it's important that your values align with those of the organization. Money matters, of course, as does professional fulfillment and work culture. But job seekers should also look for work that nourishes their core values and beliefs.
It's more than just feeling happier when you leave work at the end of the day. It makes you better at your job, says Dr. Mike Peterson, Program Chair of Computer Science in the College of Information Technology at Western Governors University (WGU).
"When someone loves their work, they tend to work with higher quality and more passion," says Dr. Peterson.
But for IT professionals, what does it mean to work in a job that's aligned to your values? What should candidates look for in an organization? Are there certain types of jobs, roles, or sectors worth taking a closer look at?
To answer some of these questions, we asked Dr. Peterson and Dr. Pubali Banerjee, Program Chair of Software in WGU's College of IT, about what kinds of jobs might fit with specific values.
Changing the future of climate change.
Whatever cause you're passionate about, it's likely that the leaders and organizations behind the movement need skilled IT professionals to run their campaign systems, protect their data, or manage their digital presence. Some IT work is specialized based on the sector, but practically every nonprofit needs system, network, and cloud administrators.
Look a little deeper, and you'll start to find interesting and innovative jobs through which developers, IT professionals, and computer scientists can support their cause. Take the environment, for example. Scientists have been very clear about the risks posed by rising global temperatures, according to a 2018 BBC News report. Companies large and small—in industries such as finance, healthcare, and automotive—are in need of systems to help them reduce waste and increase energy efficiency.
"Virtually any business looking for efficiencies in energy use and waste reduction can use a computer scientist to help engineer the best climate-respecting systems," notes Dr. Peterson.
Dr. Banerjee adds that data management and analytics fields could also aid in reducing the devastating effects of climate change. Data analysts, she says, are able to "find patterns in the data and fit the data into models," helping drive research into the issue.
If you want to use your IT skills to help save the planet, seeking employment at a nonprofit environmental group could be the best way to find a job that truly aligns with your values.
Ask not what your country can do for you...
One way to fulfill your civic duty—besides going to jury duty and paying your taxes on time—is helping government agencies become more efficient and innovative in how they deliver services to citizens. Whether it's at the local, state, or federal level, more governments are embracing the role that technology can play in improving the lives of their citizens.
Municipalities are developing technology to make public transit more convenient, says Government Technology. Artificial intelligence, the internet of things, and blockchain are all cited as emerging technologies that will help city Offices of Emergency Management prepare and respond when disaster strikes, according to Data-Smart City Solutions. GoGovernment reports that there are over 79,000 IT professionals working in the federal government for military branches or agencies that keep the country safe from international and domestic threats.
As governments use technology to help with public transportation, city planning, economic development, and disaster management, more IT positions will become available. If local, state, or federal policy and technology reform resonates with your values, pursuing a government IT job might be right for you.
Protecting and serving.
Cybersecurity is perfect for those who feel passionate about protecting and helping others. LinkedIn and WGU's The State of Cyber Security 2019 report states that IT professionals who gravitate toward cybersecurity and network security are driven in part by the mission.
"Cybersecurity professionals often talk about a sense of mission and the satisfaction they get from protecting their colleagues and customers, and the data and systems that run the business," the report reads. "Cybersecurity is about protecting and serving the organization, and keeping the business running. It makes sense, then, that many people in the field have transitioned from military and law enforcement careers."
"As security is becoming more of a concern, more and more computer security professionals are getting hired in various industries," says Dr. Banerjee. If you value protecting others, you could have a fulfilling career in cybersecurity.
Transforming the world with technology.
You don't need to work for a traditional nonprofit or government organization to find work that's aligned with your values. And you don't necessarily need to be passionate about a single issue to feel like you're making a difference, either.
Dr. Peterson says computer science graduates will have a hand "in creating systems that rely on artificial intelligence and machine learning to approximate better solutions to daily living." IT professionals who thrive on innovation could find job satisfaction in an organization working on cutting-edge technology. These organizations and employees might develop the next generation of wheelchairs or work on autonomous cars.
"It's the systems thinking that computer science graduates learn through their degree program that prepares them to enhance the world," says Dr. Peterson. If transforming society is important to you, achieving a degree in computer science is the first step toward finding a career that aligns with your values.
Helping others.
No matter where your passions and values lie, there's an IT job available for you. Technology can help people manage virtually every facet of their personal and social lives, notes Dr. Banerjee. And organizations need skilled professionals to manage that technology.
The message is clear: "As we move toward more automation and artificial intelligence, IT professionals are now needed in every industry," says Banerjee. "This makes it much easier for job seekers to choose the industry and organization that match their principles and core values."