We're on a mission to help working adults across the country earn the bachelor's and master's degrees they need but have yet to complete. We still have a long way to go—37 million adults with some college experience but no degree, and many, many more with an undergrad degree who would benefit from earning a master's—but we have a lot of success stories to celebrate.
More than 57,000, in fact!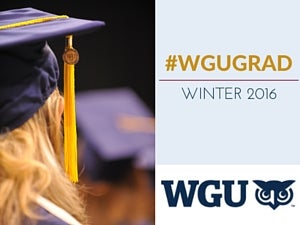 When we celebrate Winter 2016 commencement this weekend—Saturday, February 6, at 9:45 a.m. EST—we'll be celebrating a graduating class of more than 7,300.
Here are just four of those stories—your winter 2016 commencement speakers! If you can't join us in person in Orlando for commencement, be sure to watch live online. If you're reading this after the fact, check our YouTube channel for video.
Marc Miranda, MBA Clifton Park, NY
Marc worked in sales for many years. He had a constant feeling of stagnancy nagging him throughout his career. When he began competing in triathlons, he met his life mentor, the dean of a local college, who encouraged him to return to school, and suggested he consider WGU. While pursuing an MBA from WGU, Marc was laid off from his job. The layoff was bittersweet: The job had become tiresome, but losing it meant he also lost his tuition assistance. Newly unemployed, Marc set his full focus on completing his degree as quickly as possible. When he reached his capstone project—a project students often complete in their place of employment—Marc instead reached out to a number of businesses he was interested in working in. He met the CEO of a medical practice, who agreed to let him "fix her business." She was impressed by Marc's abilities and hired him as a business manager. Having recently obtained a second job as an adjunct professor, Marc's degree has allowed him to leave behind  an unsatisfying career history and embark on a career path he finds extremely fulfilling.

Sarah Aronack, MSN—Leadership & Management New Brockton, AL
Sarah served in the United States military for nearly a decade before she married an active-duty serviceman. She earned her bachelor's degree using military benefits, but had used them all up before she could complete a master's degree. With a service-related disability, her military counselor recommended WGU as an affordable option, knowing that she would have to pay out of pocket. While working night shifts as a charge nurse in the ER, Sarah completed her MSN—Leadership & Management with WGU. During her last term, she accepted a Director of Nursing position at a small, rural Alabama hospital. The hospital was on the verge of losing Medicare and Medicaid eligibility—which would have likely forced the facility to close and spelled disaster for the community it served. Sarah used her capstone project to improve the hospital's documentation practices, regain its eligibility, and save it from closure.

Adrienne Saulsberry, B.A. Science Hephzibah, GA
After completing just a couple semesters of college, Adrienne landed a coveted job at a nuclear power plant. She had plans to pursue a degree in chemistry and took several night classes over the years, but was unable to finish for various reasons. Instead, she worked her way up to management and was making a good income working in radiology and environmental safety at the nuclear plant without a college education. Throughout the course of her career she was drawn to teaching but was unable to complete the coursework at a traditional college. The opportunity for a degree came when federal sequestration cut her plant's funding and she was laid off from her job of 23 years. Adrienne took the layoffs as an opportunity and enrolled in WGU's B.A. Science degree program. She currently works with underprivileged children as a STEM educator at an alternative school.

Brett Ford, B.S. Information Technology Charlotte, NC
Brett took a few college classes here and there before realizing the time he was wasting and put off college for 27 years. He never imagined returning until he witnessed his wife completing her teaching degree through WGU. Watching his wife balance a full-time job, school, and caring for their children was the inspiration he needed to earn his own degree. Brett continued to work a full-time job at AT&T and two part-time jobs, and he was heavily involved as a "dance dad" for his two daughters while he completed his B.S. Information Technology with WGU. Additionally, he managed to find the time to build a prosthetic hand for his daughter using a 3D printer, which was highlighted in the local media.
A degree made it possible for Brett to advance his career with AT&T, and he now helps maintain wireless traffic for cell phones all across the United States. 
(Oh, and yes—he's also a clown!)