May 6-12, 2012, is National Nurses Week. To celebrate, WGU Connection is profiling this WGU online nursing student. Enjoy other National Nurses Week activities, including a hoodie giveaway contest, at the WGU Facebook page.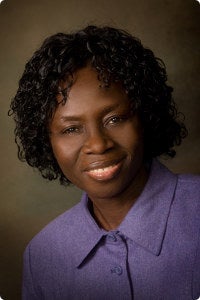 For WGU online nursing master's degree student Gladys Adjei-Poku of Sandy, Utah, health and healthcare have been a passion for decades.
"Loving people—it's the reason you live, to love people," she says.
That's why in the 1980s, when she still lived in Ghana, where she was born and raised, she earned her first degree in nutrition. It's why when she moved with her husband and young son to the United States in 1988, she started nursing school at Loma Linda University, and why when her physician husband's career brought them to the East Coast, she transferred to New York University to finish her Bachelor of Science in Nursing degree.
And it's why today, as she nears completion of her Master of Science in Nursing—Leadership and Management degree at WGU, she dedicates her life to caring for the sick, both in her day job as nurse manager at the University of Utah Hospital's 35-bed cardiovascular unit and also as one of the organizers of a yearly medical service trip to Ghana.
It's taken hard work and dedication to get where she is, but Gladys lays the credit squarely on the shoulders of her support network, people whose influence has been so important to her she insists they're called out by name.
People like Laura Stratton, one of the nurses on her team who is a WGU student and first introduced her to the MSN—Leadership and Management program.
People like her husband, Dr. Michael Adjei-Poku—who didn't hesitate when Gladys mentioned returning to school but simply said, "Grab the credit card! Do it!"—and her sons, who said, "Mom, awesome! Wonderful! Go!"
People like her manager at work, Jeremy Fotheringham, who didn't flinch when Gladys pointed out that returning to school would add to her already busy schedule. "Gladys, go for it!" he said. "You can do anything! I believe in you!"
So as she waited to board a plane for a vacation to Boston, she decided to give the university a quick call to begin exploring the option. The information and help she got stunned her.
"I got so much response from that one call that I was astounded," she said. "Just that one call, and they cared so much about me. I really enjoyed the attention."
She entered the MSN—Leadership and Management program in October 2011, expecting it to take roughly two years. On track to finish "probably not later than December 2012," she again deflects the credit for finishing in just about a year—to her mentor, to the staff at WGU, and to the continued support of her family and coworkers.
"I happened to have one of the best mentors—Jennifer Long," she said. "She has called me every single week. She has supported me, guided me. I have not been confused about anything."
"I had so many wings—it wasn't only flying, but flying with speed," she said.
Gladys is one of a handful of nurses being honored by the University of Utah College of Nursing on May 8, 2012, at the Honors for Nursing celebration during National Nurses Week. Stay tuned to WGU Connection for a video telling more of Gladys' story in the coming weeks.