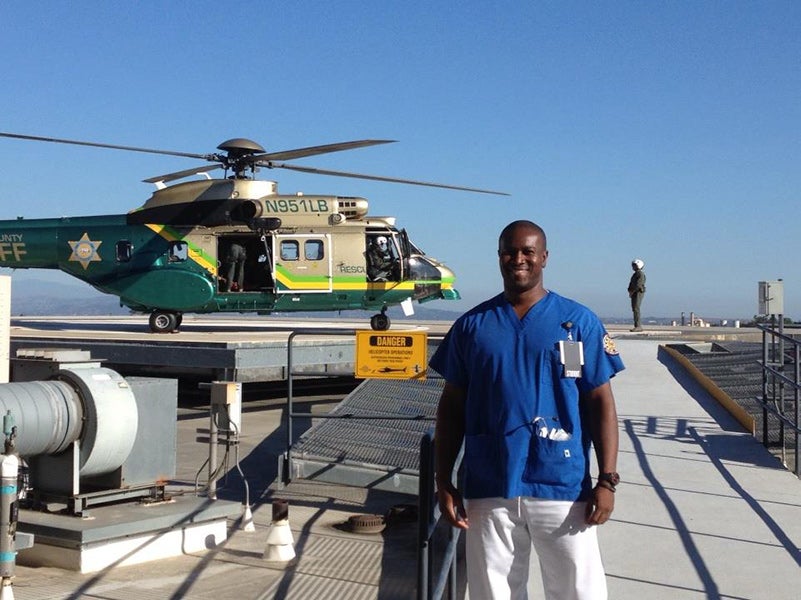 Amaechi "George" Ozor grew up in Nigeria surrounded by family, but his parents always planned to send him to the U.S. for college to study environmental science. At the time, Nigeria was just beginning to realize the importance of taking care of the environment and had established a new ministry of environmental science.
At 18 years of age, George left his family in Nigeria to begin his career in the U.S. There was initial anxiety leaving his family and heading into the unknown and assimilating into a new culture, but George had always looked forward to his future and the potential of living in the U.S.
"In Nigeria, we actually welcome and embrace everyone around us without even knowing them," he said. "Bringing that attitude to the U.S. allowed me to see the positive around me." It didn't take him long to become "Americanized," and he soon realized that a career in environmental science was not his only option. His career options were limitless.
George enrolled at the University of Massachusetts and began taking general education classes with hopes of soon deciding what his major would be. He also joined the school's ROTC program. "During my first run with the ROTC, I was told I was too slow," he explained. "I took that feedback and decided I would do whatever it took to improve. My attitude helped me to assimilate with people in America."
With an interest in economics, George took an intro to economics course, and his professor's enthusiasm actually made him eager to learn for the very first time.
As part of the program's final project, George worked with a professor to research California's efforts to correct environmental problems. He loved California and moved to the state after completing his bachelor's degree in 2002. George worked in the financial industry dealing with commodities until he chose to start his own business—a commodities brokerage firm. 
He moved the business to New York City, and his endeavors were successful—but when the economy grew rocky, his business followed suit. Needing more job security, George revaluated his career options. He was surprised when his mother suggested he go into nursing; he was not thrilled at the idea of returning to school. George had never considered a career in nursing. He contemplated his mother's advice a little more and discussed it with a few friends who worked as nurses. His friends covered the good and the bad of the profession, but George left the discussion eager to learn more.
He turned to the Internet and typed "how to be a nurse" into Google. Despite the difficulties his business faced with the state of the economy, George's clients were online traders, and the business was running smoothly without him in the weeds. He felt he had a little extra time to try something new and enrolled in a CPR class with the Red Cross. The material was fascinating, and George continued on to complete a CNA course.
His clinical was at a convalescence home where he assisted patients with daily care routines. While feeding one of his regular patients, the man quietly asked for "more juice."
"My experience with that man made me realize how good it feels to do something nice for someone else," George said. "After that experience, I began to embrace the craft of nursing—providing care for another human being." His decision to change careers was confirmed.
Realizing how much schooling he had ahead was overwhelming, so George decided the only way he could follow through with his plan would be to complete pre-requisites at a local school and then enroll in an accelerated program.
He says WGU's competency-based model felt custom made for him so he enrolled in the B.S. Nursing degree program. "WGU simplified complex material that could have been really hard to understand. I was able to take the resources provided to me through WGU and create a formula to help me understand and remember the material. I was learning about the human body the same way someone would learn about a car. The way the courses were taught allowed me to communicate with family members of patients in a manner that makes sense to them."
George's first job as an R.N. was in the ER, and he loved it. He became a Certified Emergency Nurse and took a trauma certification class at the Tallahassee Memorial Hospital. The environment at the hospital was exactly where George wanted work, so he contacted the director and was hired on.
In January of 2015, George took his education even further and began the M.S. Nursing–Leadership and Management degree program with WGU. "I'm that geek who sees needs for change and wants to change it himself," he said. "At the hospital where I work now, I'm in a catalyst program. It's a group that comes together to improve how the hospital runs. I am hoping that, with a master's degree, I will have an opportunity to become a significant part of the hospital organization in a leadership role. That's my immediate plan."
When he's not working, George is usually at a rugby practice or game for the Tallahassee men's rugby team. His long-term plan is to pay respect to the reason he became a nurse in the first place. "Someday I will open a memorial clinic named after my mother in an underserved part of the world. I plan to leave a significant mark in the nursing world."