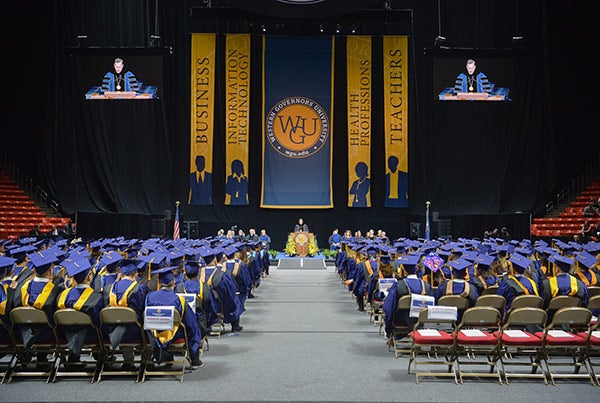 This month 167 students who completed their capstones in the first half of 2016 are being recognized for their outstanding work. 
To celebrate student excellence in the completion of this important endeavor Western Governors University (WGU) grants "Capstone Excellence Awards."  
Since November 2015 the Awards have been presented through a continuous nomination/selection process.  Capstone Faculty Evaluators nominate deserving capstone projects.  The finalists' work is then reviewed and approved by the Evaluation Management in each College. 
Often students' capstones were chosen because they provided an excellent example of (1) expressing ingenuity (creativity, originality, initiative, or resourcefulness), (2) exhibiting mastery (higher competency, true craftsmanship, or proficiency), or (3) enabling synergy (creating greater value by serving individuals, an organization, or their community).
Besides the nominating statement and examination of the completed capstone project, the reviewers consider:
Did the candidate earn highest scores on most aspects of the final capstone rubric?
Was the candidate nominated for an Excellence Award for a prior capstone task?
Did the candidate average two submissions or less on all capstone tasks?
Were appropriate Originality scores obtained?
Was the capstone completed within a reasonable amount of time?
Note: the importance and relevance of these criteria differ somewhat by degree program.
The capstone is the culminating degree project where WGU students integrate all of their program competencies.  It represents our candidates' best work, and most of their projects are archived with student permission, thereby available to other students, graduates, mentors, and accreditors to view.  See below the list of WGU students (now graduates) who received the Capstone Excellence Award for their work during the first half of 2016.  You can also link from there directly to these students' nomination statement and archived work in the Capstone Excellence Archive, accessible through WGU authentication.
This recognition is noted on the recipients' WGU transcript, and they receive a Capstone Excellence Award certificate.  This achievement is also recognized in various University publications.  For aspiring students seeking future "Capstone Excellence Award" recognition, please review the submissions in the Capstone Excellence Archive and discuss criteria with your Student Mentor and Capstone Course Mentor to guide your capstone efforts.
Vicky Ashlock

BS Business - Accounting
Richard Logsdon
BS Business - IT Management
Don Flitton
Master of Business Administration
Regional Manager Succession Program

Catherine Richmond
Master of Business Administration - Healthcare Management
Strategies to Improve the Patient Experience of Care on a Critical Care Unit
Kimberly Chapman
Master of Business Administration - Information Technology
Supply Utilization and Revenue Capture Process Improvement (not archived)

William Gardner
Master of Business Administration - Management and Strategy
Hospital-ity

Lola Hall
Master of Business Administration - Management and Strategy
[Entity Name]: Improvements in Technology, Marketing, and Customer Service
Jehil Trivedi
Master of Business Administration - Management and Strategy
Strategy to Improve Profit Margins and Revenue for Company A (not archived)

Mark Huffman
MS - Management and Leadership
Lindsay Smith
MS - Management and Leadership
Victoria Kogan
BS Business - Accounting
[Entity Name] Business Plan (not archived)

Werner Mueller
BS Business - Sales Management
Donna Harkreader
Master of Business Administration - Healthcare Management
Primary Stroke Certification at [Hospital Name]

Eric Bennick
Master of Business Administration - Information Technology
Improving the use of IT in Medical Simulation (not archived)

Brian Dyck
Master of Business Administration - Management and Strategy
Inventory Management

David Georger
Master of Business Administration - Management and Strategy 
[Entity Name]: Increasing Efficiency through Automation

Danielle MacLean
Master of Business Administration - Management and Strategy
[Entity Name] Credit Union (not archived)

David Cook
MS - Management and Leadership
College of Health Professions
Lynda Seneff
M.Ed. - Instructional Design
MED, Instructional Design Capstone Written Project (not archived)

Jesse Kinkead
MA - Science Education (5-12), Biology
Tanisha Sommerville-Knight
MS - Curriculum and Instruction
Lori Lynch
MS - Educational Leadership
Luke Anderson
M.Ed. - Learning and Technology
Using Technology to Impact Students in Science Inquiry (not archived)

Johanna Kirkegaard-Blue
M.Ed. - Learning and Technology
Child Pedestrian Safety Education (not archived)

Juan Recinos
M.Ed. - Learning and Technology
Tracey Mikos
MS - Educational Leadership Creating a
College of Information Technology
Nathan Keeter
BS - Information Technology
Robert Lamb
BS - Information Technology
Dominic Ratcliff
BS - Information Technology
Russell Halfar
BS - IT Network Management
Jedidiah (Jed) Tanner
BS - IT Security
Mitigating Accreditation Risks with ACAS (not archived)

Joshua Jordan
MS - Information Security and Assurance (MS-ISA)