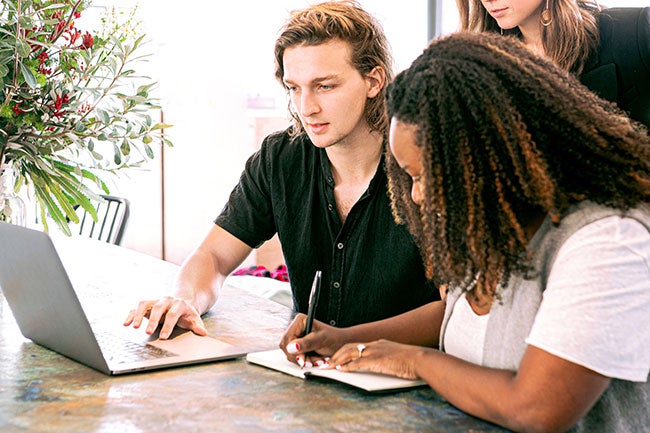 A learning management system (LMS) is like the frame of a house. But instead of providing shelter to a family and furniture, it acts as a home to every aspect of an organization's employee learning process.
Learning can be challenging and is always limited by time. Learning management systems make the process of learning more efficient. They're designed to optimize learning and hone the talents of an organization's employees or an educational institution's students. Companies who invest in an LMS understand that talented, educated employees have a rewarding impact on company success, driving revenue, and growth.  
With our increasingly digital world and the changing role of information technology in a post-pandemic society, learning management systems are a critical player in the evolution of teaching and learning. The future of digital learning is clear. The latest market research by Global Opportunity Analysis states that the LMS market will be valued at $28.1 billion by 2025.
No longer do traditional teaching, testing, and classroom settings make the cut for modern learning. Learning management systems provide an intelligent, remote, modern solution to an obsolete format. This article will provide a complete overview of LMS and instructions for those who want to learn more about how to use LMS in their career.
What Is a Learning Management System in Education?
A learning management system is a software-based solution that delivers third-party coursework and training for the personal and professional development of employees. These systems help companies offer customizable, digital courses for many different audiences using all kinds of tools to facilitate learning and meet training, management, retention, and sales needs. 
The Benefits: Why Learning Management Systems Exist
The benefits of LMSs are undeniable and touch every part of an organization—the company, its employees, and management. The major benefits include:
With person-to-person training, companies must incur the cost of travel, facilities, and human instructors—three massive expenditures. Software allows organizations to administer training and education courses remotely, meeting students wherever they are. That way, the organization simply pays the subscription price of the LMS, rather than all the pricey traditional training costs. In the process of saving money on training costs, a learning management system delivers a more modern, more effective, and more profitable solution for employee or student training. 
Especially for larger companies with tens of thousands of employees, standardizing training practices can be a major challenge as well as a nonnegotiable necessity. Unless training comes from a single voice and a single, agreed-upon source, there are bound to be discrepancies in trainee experiences. When processes are intended to be the same across many locations, LMS software is the only way to ensure standardization and that company policies for training are satisfied. LMSs can shrink the margin of error and reduce risk. This is the case even for small companies. That said, training and education through an LMS helps companies and professionals maintain the quality and consistency of teaching content.
Data is everything. With LMS software, teachers and managers can observe the performance of small or large teams with ease. By automatically tracking participant progress and performance, users can make informed decisions and conclusions based on numeric facts. Human observation simply cannot compare to the data reports a machine can produce—which allows organizations to efficiently make improvements.
Another benefit of the standardization of education and training practices is that it helps companies meet compliance standards, especially in industries with high compliance standards such as oil, gas, pharmaceuticals, and communications. By standardizing the training process using an LMS, organizations can meet goals, circumvent risks, and comply with enforced industry standards.
Features of Learning Management Systems
Learning management systems come with a host of features that enable companies to reduce costs, optimize employee performance, and boost profits. Many key features contribute to the learning management system's ability to ease the process of training and, in turn, certify large teams across enterprises.
Manage Courses, Users, and More
Learning management systems are organized to create structure and roles for participants. A major LMS feature is to help users navigate through coursework in a simple, user-friendly manner, with alerts and instructions to maintain the intended journey. Learning management systems also allow administrators to assign roles to users so that teachers, employers, and other leaders can control access and approve student work as needed. 
LMS software acts as a host for tests and quizzes as students complete their coursework. It also provides a way for managers and teachers to monitor scores and progress. All users can do this remotely through the LMS, rather than having to spend time and money on sanctioned testing times and locations.
Learning management systems depend on user feedback in order to become more effective, and create a better experience for users over time. That's why these systems prioritize a method for collecting feedback from students, educators, managers, and other parties. 
Everyone learns differently. Learning management systems create flexible, user-paced, remote learning environments empower students through the process. Using an LMS, companies and educators allow employees to access lessons conveniently while taking advantage of conferencing services to stay connected with peers and leaders.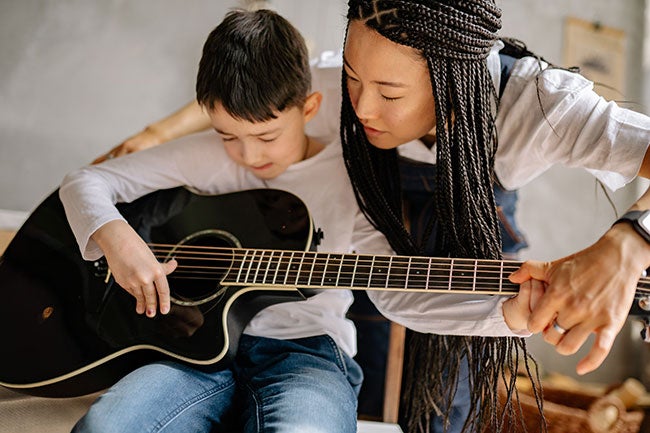 Popular Examples of Learning Management Systems
There are many different LMSs that organizations and educators can choose from. Each serves a unique niche. Because each software is differently useful, the best LMS for an organization depends on that organization's unique needs. Some popular types of LMS used in education as well as enterprise sectors include:
Moodle learning management system is commonly used for learning and training in businesses, corporations, hospitals, and nonprofits. Organizations find Moodle particularly useful for compliance training, onboarding, competency-based training and management, workplace safety training, online learning and continued education, hiring and interviewing, online course development, and product and service launches.
With Schoology, educators create and assign creative to-dos, which students can access through the web-based platform or iOS, Android, and Chrome applications. In addition to the enterprise-level subscription, there is a basic, free version of this LMS that teachers can use to post audio, track student progress, and get support. Schoology allows educators to use a virtual gradebook to track and assess students, and to grade by points or percentages. Educators can also track student mastery by aligning objectives with each question in the coursework. 
Blackboard is a customizable LMS that can act as a replacement to in-person learning or as a hybrid solution for any classroom structure. This LMS strives to replicate the benefits of face-to-face learning within a digital tool. With this online learning platform, teachers can assign coursework to students, communicate with students inside and outside of the class, and provide a digital discussion space in which students can collaborate. Blackboard hosts classroom essentials including syllabus, assignments, and message boards.
LearnUpon turns training from rigid to flexible and blended with intelligent, human-focused tools. With this digital tool, teachers can deliver highly effective training specifically designed to optimize business growth. Some of LearnUpon's best features include reporting and analytics, ease of use, industry-leading expertise, global 24/7 support, quick set-up, tailored experiences for learners, easy integration with other tools, automation, and ROI tracking.
Adobe Captivate Prime has mastered end-to-end standardization across employees, customers, and partners in the LMS industry. This learning management system focuses on creating an enhanced and enjoyable learning experience for students to close their skill gaps and engage in coursework remotely. It also offers an AI-based social learning feature to keep learning constant and encourage peers to learn from each other. With a community-forward approach to learning, Adobe provides user-generated content on discussion boards. 
Docebo is an LMS that provides end-to-end training tools, including online courses, exams, chatrooms, and forums. Docebo's strengths are its easy functionality and navigation, live and virtual instructor-led training, social learning, and experiential learning. All these features contribute to accelerating the learning and training processes. With this LMS, training top talent is both easy and engaging. The beauty of Docebo is that teachers can publish digital content in any format they choose. 
TalentLMS is a cloud based LMS that tailors its tools to suit the needs of organizations of any size. Some of TalentLMS's most useful features include course management, education delivery and gamification, multiple language support, enterprise-level learning initiatives, and total customization. Its more sophisticated capabilities include automation, a RESTful API for data retrieval, custom fields, a marketplace for classes, and security, such as encrypted communication channels and watermarked videos. 
TalentLMS helps companies' training processes become compliant, save time and money, and create greater administrator control.
Learning management systems should mirror the structure of each organization they serve. eFront is an LMS that does just that by evolving and changing as an organization grows. Through flexibility and security features, educators can focus on teaching and simplifying the learning process instead of wasting time on clerical details. As an enterprise-level LMS, eFront can cater to the most complex of learning environments to make sure users are as skilled as possible. 
From a single account, educators of B2B organizations can administer training to thousands of employees in-house, partner organizations, franchises., and even customers. This software was made for onboarding, compliance training, and ongoing learning development. 
iSpring is an LMS designed for students in corporate settings. With a focus on quick implementation and easy learning, iSpring has a friendly user experience. Some of iSprings most common uses include onboarding, product training, sales training, channel training, compliance training, certification, and 360-degree performance appraisal. 
Using a Learning Management System
LMS software has many use cases and a variety of capabilities that optimize the learning process, but they're only as useful as an administrator's ability to use them. Keep reading to learn about the different uses of learning management systems and the skills required to leverage them. 
Monitor User Progress or Performance
Learning management systems are effective at tracking and logging student progress and performance. As users move through coursework, the LMS will collect data that the administrator or teacher can use to improve the learning process and optimize the experience for students. However, this tool can't be used effectively unless the administrator or teacher understands how to interpret and draw conclusions from the metrics.
Deploy Content Globally with Accessibility
One of the major benefits of learning management systems is that they can reach students all over the world. With such widespread reach comes the need for meticulous attention to detail as well as the ability to scale content to meet all students' levels of ability. That said, teachers using LMSs to help students need to use critical thinking and keep a close, attentive eye on content to make sure that it's accessible to all students.
Personalize Online Training and Learning
Learning management systems offer the ability to personalize learning content to each organization. This feature allows organizations and administrators to tailor courses and associated content to their exact needs. In order to leverage this important feature, instructors must have excellent communication skills as well as the ability to collaborate with branding teams to personalize and optimize content and experiences.
Write and Update Learning Modules
As students complete the courses and learning materials in their LMS, teachers will learn ways to improve the process. This demands that teachers have a sharp command over communication, written language, and listening skills to know exactly what students need to learn more effectively.
Ensure Optimization of Learning Materials
No education course is perfect, which is why educators should stay open to making constant improvements. Luckily, editing is a major feature of LMSs. This feature is only as useful as the educator's ability to spot problems and areas needing improvement. Educators should bring problem-solving skills to this job as well as an eagerness to use all LMS resources to the fullest of their ability.
Automate Enrollment and Certification
With the invention of digital tools came the beauty of automation, and that's not lost on learning management systems. With an LMS, a teacher can set and forget processes so that students can move through coursework at their own pace and seek help as needed. Without needing to manually manage every step of the process, educators can use the LMS to protect their time and bring efficiency and innovation to their roles.
WGU can help aspiring teachers, educators, trainers, or administrators acquire the skills they need to succeed in sharpening their talents and sharing their knowledge.  
Teachers help shape young minds and influence people through a lifelong journey of learning. Teachers who are passionate, engaged, educated, and committed to helping people learn will always be in high demand. A major part of the job is staying up-to-date and skilled at using modern education tools, like LMS. If you want to begin a fulfilling and influential career in teaching, then take the first step by checking out WGU's teaching and learning experience design and educational technology degrees. Our online degrees are the perfect solution to finding a rewarding career. 
Frequently Asked Questions
Learning management systems, or LMSs, are digital, cloud-based software tools for publishing and learning educational content. LMSs allow teams to grow their talents and skills while enabling managers to track and promote personnel.
How much do corporate trainers and LMS users make?
There is a wide range of professions that use LMS in their role, but most can earn an average wage of $70,000 per year as a corporate trainer.