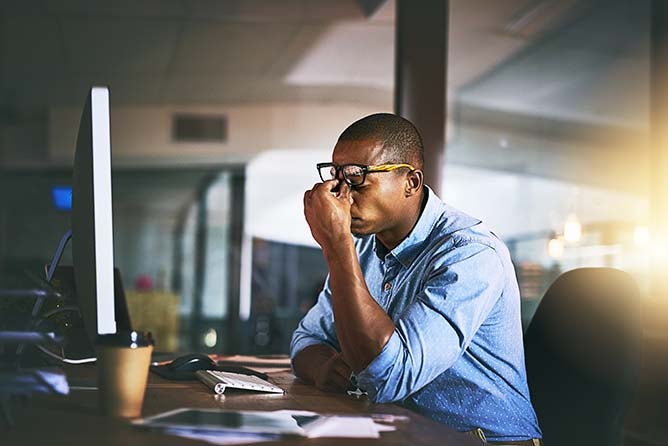 The coronavirus pandemic has forced companies to shutter their offices and send employees home. Before the COVID-19 outbreak, many professionals were working from home for a day or two a week, CNBC reports, so this transition has been easier for some than for others. But many organizations are working with a remote workforce for the first time.
Uncertain bandwidth, overwhelming tech suites, inconsistent internet connections, work-life balances out of equilibrium, interconnecting anxieties—these are just a few of the bumps in the road for companies and workers who weren't ready for a remote rollout. Navigating this rough new digital terrain means laying a smooth, consistent groundwork in your remote tools and policies.
Lay the foundation.
Right now, workers aren't feeling confident in their employers' responses to COVID-19 coronavirus, according to a Glassdoor survey. They're struggling to adapt to "extreme work-life integration," says Sacha Connor, founder and CEO of Virtual Work Insider. They're having a hard time managing daycare and homeschooling for their children, and they're having a hard time finding time and space to be productive.
Leaders can ease these anxieties, keep productivity high, and set their companies up for long-term success. To do that, Connor says that companies first need to focus on establishing virtual expectations and communication norms.
Managers need to establish specific availability and productivity expectations for their teams. Solicit input from employees on their availabilities, then set aside regular times—could be once a week or once a day, depending on your work—for meetings. This will give people structure and help them organize their time.
In the New York Times, consumer technology writer (and long-time telecommuter) Brian X. Chen writes that internet connectivity is the top tech issue at home. Buying a mesh Wi-Fi system (which usually start around $99) will solve many workers' spotty service problems, he writes. Upgrading to a more modern Wi-Fi system could make a difference, but there are often bigger bandwidth challenges that can slow people's speeds.
Managers can help alleviate some of these issues. Under normal circumstances, Connor would typically recommend that companies adopt a video-first culture in which meetings are conducted via videoconferencing tools such as Zoom, Microsoft Teams, or Google Hangouts and streamed in the highest quality. During the COVID-19 pandemic, she says, leaders should be flexible and consider reducing stream quality settings and encouraging employees to turn off their cameras when they're not needed.
Connor urges leaders to transfer their in-person facilitation skills so that every virtual meeting is an inclusive environment where everyone feels engaged and encouraged to share their thoughts. Here are a few specific tips:
Icebreakers. A good icebreaker at the beginning of a meeting gives everyone a chance to speak, and it sets the tone that people are encouraged to participate. "The best meetings," Connor says, "are the ones where you're able to get diverse points of view."
Avoid distance bias. Be mindful of who's participating and who isn't. Some people don't feel comfortable speaking up. When you ask a question or solicit feedback, give everyone time to gather their thoughts. This way, everyone—not just the loudest people in the room—can have a chance to be heard.
Use the tool. Master the tools you use. Videoconferencing platforms can be a lot more expressive and dynamic than a one-way presentation. On Twitter, PhD candidate Fay Lin suggests leaders and employees make the most of Zoom by using the chat features to solicit feedback, knowing how and when to mute yourself, and using emojis to respond without interrupting.
Tech tool terrors.
Whether you're a manager or employee, the last thing you want to do is waste time figuring out or troubleshooting new technologies. You'll need to devote some time to onboarding and training, but a good rule of thumb is to keep things simple.
Connor recommends starting with the basics and making sure that everyone knows how to use the video meeting platform. Don't worry about making everyone a tech-savvy power user. Get everyone up to speed on the basics, then gradually introduce tips and tricks to improve the remote experience.
Turning challenges into opportunities.
The conditions that predicated the current remote workforce boom are far from ideal, but there are some silver linings.
Fast Company notes that embracing work-from-home policies is a great way to recruit and retain a more diverse workforce. Connor calls the uptick in working from home an "incredible opportunity for next-level bonding among team members by providing a window into their personal lives." You can bring colleagues into your home, introduce them to your pets and family members, and provide a window into your personal life that you might not have been able to.