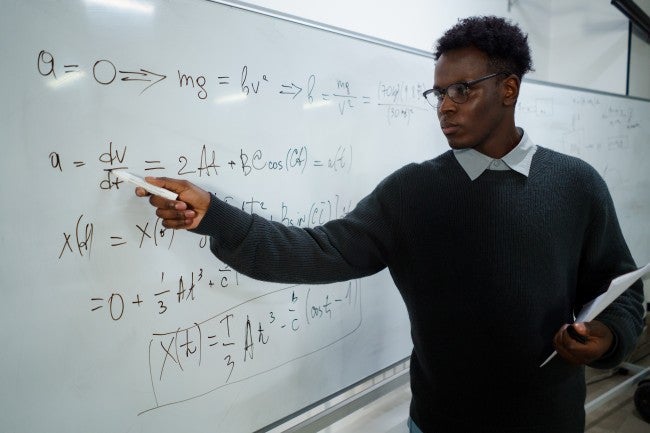 High school teachers are an important part of helping to shape young minds as they prepare for their next big step on their path as students. When you teach high school you have the opportunity to work with older students in a specialty of your choosing, supporting their educational pursuits as they start to think about college and make their plans for the future. Whether your area of interest is mathematics, science, English, history, or the creative arts, the passion you have for your specialization and for teaching will lend itself to shaping the next generation of architects, biochemists, novelists, and more.
Teaching is a big responsibility, and it's one that comes with a lot of hard work. Certainly you'll spend a lot of time in the classroom, expending energy on sharing lessons about your chosen specialty, but there's also all the effort you'll be expected to put in during your out-of-classroom hours. Learning doesn't just happen inside the walls of a high school classroom after all. Teaching and learning can happen in many places for high school students. In addition to planning your lessons as well as grading papers and tests, you may need to spend extra time with students who are struggling and could use extra support. Plus, you may be expected to engage in the planning and execution of off-campus educational activities such as field trips. And then, of course, you'll be collaborating with other educators and communicating with parents to ensure your students are getting the most out of their education. 
Teaching can require long hours and can be draining, but you'll beam with pride when you see your students walk across the stage at graduation, knowing all the things they've been learning in high school can prepare them for college or careers. And the key to helping them reach that milestone starts with you setting yourself up for success in your chosen role as an educator. 
What does a high school teacher do?
Though the focus of your role as a high school teacher is largely on teaching, there's a lot that goes into this position—and for preparing your students for success. As a high school teacher, you'll be:
Lesson planning: Depending on the day or class period, you'll be expected to work from a lesson plan that outlines what you'll be teaching your students each day. Your approach to lesson planning will be dependent on your specialty. For example, some math teachers may teach different levels of students on a given day, so you'll need to prepare different types of lessons based on your classes.
Mentoring and tutoring: Students who may need extra educational support can benefit from more personalized guidance. One-on-one lessons or small group tutoring can help students who are struggling, or aiming for a particular educational goal.

Student evaluations: This can take on many forms such as grading papers and tests, weekly, monthly or quarterly evaluations to gauge progress and course correct as needed, and in some cases, preparing students for state tests to help them achieve their academic goals. Progress reports can help students excel.

Parent interviews: It's important for parents to meet their student's teachers. This helps them gain more understanding of lesson plans and what's being taught, as well as how their child is responding in school, and what can be done to support their educational pursuits at home.

Managing events and trips: Depending on your area of specialty, you may work with other educators to facilitate class trips in support of certain lesson plans, or chaperone events that offer opportunities for students to learn outside of the classroom.

Effective communication skills are the key to success for any high school teacher, especially in dealing with a wide range of students and parents who all have their own vision for the goals they want to achieve. The more you can offer them a consistent, stable, and approachable learning environment, the better chance your students have of achieving those goals.
Once you've figured out what teaching specialty you'd like to focus on, you'll want to enroll in a bachelor's degree program in that field. A bachelor's degree will focus on your specialty, such as math or English, as well as learning strategies and skills to help you teach well. You can also take your college education to the next level by working toward a master's degree, but that's not always necessary when you're starting out in your teaching career. You can pursue a master's later in your career when you're prepared to advance your skill set. Relevant master's programs include educational leadership, curriculum and instruction, and more. MAT programs can also enhance your license and add another teaching specialty, such as special education or a different kind of science specialty, to your license.
Once you obtain your bachelor's degree, you'll need to take a state-mandated skills test, which can vary by state. Many states rely on the Praxis test to gauge your academic skills and in-depth knowledge of your area specialty. Another option is the National Evaluation Series, which also tests for academic skills and professional knowledge. These tests have an application fee that starts at $90, but again, it's important to review your state's test requirements to ensure you've complied with educator regulations and are qualified to teach. Once you've passed your test, you can apply for your teaching license. Each state's license application is different, so you'll want to make sure you follow your state's guidelines when you apply. Programs like WGU's offer support in knowing what to do to become licensed, offering you extra support in navigating this complex process.
After you're licensed to teach, you're ready to begin looking for your dream teaching job.
Whether you're switching careers to land your dream educator's job, just starting out on your professional path, or intent on expanding your skill set, pursuing your degree online can make all the difference in achieving your goal.
Benefits of an online teaching degree include: 
The ability to continue to work full-time while pursuing your degree. 
You can balance your life and work your school around your needs. 
Save money by moving faster through your program because you can work on your timeline. 
More affordable because you can be at home, tuition is typically lower than traditional universities, still can get financial aid and scholarships.
And while online universities can also be more cost effective, there are also scholarships available to help offset financial requirements if you need a little extra help.
As part of your high school teacher degree program, you'll be expected to participate in a student teaching program. This gives you the opportunity to get hands-on experience by working alongside a more experienced high school teacher at a local school. You'll get to see what it's like to work in education from a day-to-day perspective and learn how to apply course lessons in a real-time environment.
Under the guidance of a senior educator and a university supervisor, your role will start by shadowing your counterpart to learn about an actual classroom in real life. Over time, you'll move on to interacting more with the students by planning lessons, grading tests, and managing the classroom, taking on all the duties that you'll be expected to juggle in a full-time high school teacher role.
Student teaching will provide valuable experience—even though it doesn't pay. Not only will you get to work in an actual classroom environment, you'll gain invaluable experience that can help you see where you excel, where you might need a little more support, and renew your commitment to achieving your education goals. Logging time as a student teacher is a key component of completing your degree online and ensuring you're ready to move forward in your professional life as a high school teacher.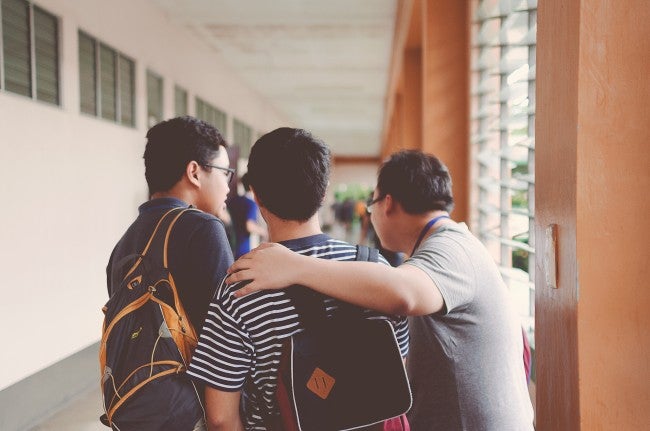 How much do high school teachers make?
According to Payscale.com, the average annual salary for a high school teacher is $50,329, with the range starting on the low end at $36,000 and going up to $78,000. However, there are many factors that can affect salary. Location can make a big difference, as locales such as New York and Los Angeles report up to a 30% higher difference in pay rate, while Miami and Phoenix offer pay rates up to 12% lower than the national average.
On average, entry-level high school teachers can expect to start at around $41,000 per year, while a high school teacher with up to nine years of experience can average an annual salary of $49,000. Once teachers hit the late career stage of 20 years of experience or more, the average salary can go up to $63,000.
Education, additional training, and experience can determine salary. Having STEM education or a background in molecular biology could raise your income as much as 20%, while skills such as fluency in American Sign Language, mentoring, and team leadership can affect your salary by raising it as much as 24%.
Some of the jobs available to qualified high school teachers include:
High school math teacher: A Bachelor of Science in Mathematics Education can give you the background you need to teach your class everything they need to know in high school math, preparing them for an eventual STEM-related career.


High school science teacher: Speaking of STEM, there are a number of different paths you can take in science education, including chemistry, physics, biology, and earth science, which will help you determine your specialty in this department. And that, in turn, will help your students discover their scientific areas of interest.


Assistant principal: Once you've amassed enough experience in teaching, you can start advancing into administrative roles. The first step is that of an assistant principal, which can lead into other administrative roles, such as principal (in high school or elementary school), and eventually even executive director or school superintendent positions.
What is the job outlook for high school teachers?
Good news: high school teachers are in demand, with a bright future bolstered by stable growth. The U.S. Bureau of Labor Statistics notes that employment for high school teachers is projected to grow 4% up to 2029, with increasing rates of student enrollment acting as a contributing factor to raising that rate even higher. This growth rate is on par with most occupations, but still points to an increasing need in the future—which means there will always be job opportunities in this field in both the public and private sectors.
There's no question that being a high school teacher can be a demanding job, but ask any teacher you know, and they'll tell you it's all worth it to see their students succeed. If you're ready to share your passion for education and help shape the minds of tomorrow, now is the time—and here's the place to start.