"My main role here at WGU is to change lives for the better," Emilia Valle says of her work as a program mentoring manager for the WGU College of Information Technology. For Emilia, helping students find their career path is more than a job, it's a true passion. She has personally experienced the benefits of earning advanced degrees and she's set her sights on empowering others like her to achieve the same. 
This isn't Emilia's first experience working in academia. She's held roles in higher education spanning three decades. After retiring as an academic director and executive leader at another institution, she felt she still had more to offer to the academic community. When she learned that WGU's virtual, self-paced education style allows students to earn their degrees without uprooting their lives, she instantly recognized her next calling.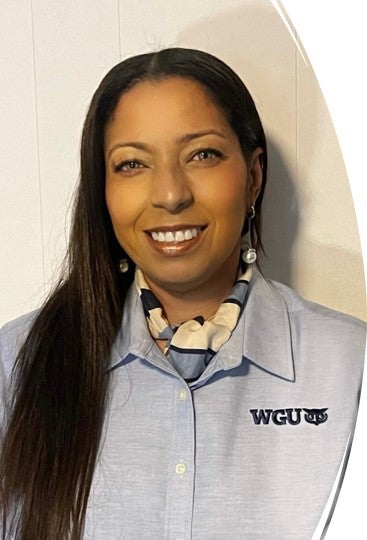 "I knew I had to continue my support to students in a virtual environment," she says. "Innovation of learning has always been my focus through my higher education roles." So began her career as a WGU Program Mentor. Since then, she has used her life, school, and work experience to help guide and encourage students to stay committed to their dreams. 
She wasn't looking for just any job in academia. Emilia was inspired by WGU's flexible student-first model that enables so many students to achieve their dreams. She explains that WGU has allowed the students she works with "to land new roles, be promoted, and venture on career paths that were only for a selected few due to affordability issues, access, or other constraints." "I have seen students start on academic journeys that wouldn't have been possible otherwise," she continues. "One of my last students was a grandmother pursuing her degree while being the childcare provider for her grandkids. You have no idea how proud I am to say I helped her in her academic journey."
Emilia is incredibly accomplished in her work. After spending the first part of her professional life in the corporate world, she started several businesses in various industries. "This helped to reignite my passion for learning about what else I could do to expand my reach and knowledge," she shares. This led her to pursue her first master's degree, which was half online and half on campus. "I always dreamed that there had to be a way for those like me that wanted to achieve their degree unconventionally and at a faster rate," she says. "If I had known about WGU at the time, I probably would've been able to complete my two-and-a-half-year program in six months." 
Emilia isn't just excellent at her job; she's also proven to be an impressive student. She also holds three master's degrees. She often advises her students to pursue a master's degree once they complete their undergraduate studies, and Emilia professes that WGU is the place to do it. "I have seen students start on academic journeys that would not have been possible [without WGU], and finish with an undergrad degree," she says. "Often, [they] take my advice of getting their master's here as well." 
What makes Emilia so inspiring is how she goes the extra mile in the workplace. She's not just a program mentoring manager; she's also the founder of the LatinX Owls Employee Resource Group (ERG). When she first founded the LatinX Owls, she was unsure of the need for a community like this. To her pleasure, the demand was there. Now, the LatinX Owls refer to themselves as the "Familia." For Emilia, the growing LatinX Owls ERG has provided her with "the opportunity to bring awareness of LatinX culture to our community, employees, and students and emphasize the importance of our contributions and vast support for our educational needs." Through this program, Emilia has built strong, lasting bonds with her peers. "Through LatinX Owls, I have not only been able to help my colleagues develop professionally, but also create an ERG Leadership Summit to help bring other ERG Leaders together to expand their DE&I (Diversity, Equity, and Inclusion) awareness and how we can collaborate in supporting a diverse student population," she says 
This Hispanic Heritage Month, Emilia wants to remind all of us that LatinX pride is a daily, year-round celebration. In her work and personal life, she strives to nurture appreciation of LatinX culture, heritage, and its diverse fabric of identities, and to perpetuate the universal truth that when united, we are stronger. "We come from the four corners of the earth," she says, "and we strive each day to make our parents, family, and communities proud. We serve as local and national leaders and have had a role in almost every industry you can imagine. We are innovators, entrepreneurs, and your next-door neighbors. We come from all walks of life."