If you are thinking about a career in teaching English as a second language, you may be wondering if the requirements differ from traditional education degrees in any way. While ESL teachers certainly have to deal with a variety of challenges that other educators may not, such as addressing cultural and language barriers, being an ESL teacher can be a rewarding career.

What is an ESL teacher?
ESL educators teach non-English speaking students how to read, write and speak in English. They can work with students from kindergarten through adulthood, and must be able to adapt their teaching to accommodate students from a wide variety of cultural backgrounds and experiences. Many ESL students are recent immigrants, and as their teacher it is also your responsibility to help them adjust to life in America by teaching them about the culture, customs and traditions of this country.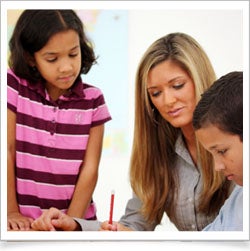 What education will I need?

At a minimum, all ESL teachers are required to earn a bachelor's degree, although earning a master's degree could increase your employment opportunities. The prerequisites for becoming an ESL teacher vary from state to state, but gaining experience through student teaching positions or internships will increase your chances of finding employment directly after graduation. Although ESL teachers are not necessarily required to know a second language, it may help them to better understand where their students are coming from.
Should I have additional certifications?
All ESL instructors must receive their teaching certification after earning their degree. Again, requirements vary by state, so aspiring ESL teachers will need to research the certification requirements that pertain to their preferred geographic area.
What is the employment outlook?
According to the Bureau of Labor Statistics, ESL and adult literacy teachers are expected to experience job growth of 15 percent between 2010 and 2020, which is average. However, the demand for ESL teachers is expected to increase a great deal in states that are experiencing large influxes of immigrants, such as Texas and California. The average pay for ESL teachers varies from state to state. It is highest in New Jersey, at $70,210 per year, and lowest in South Dakota, where ESL instructors make, on average, $30,890 per year.
---
Western Governors University is a nonprofit, accredited, online university. WGU's Teachers College offers multiple online degree programs for current teachers or those looking to become teachers. Find out more about WGU's Teachers College!