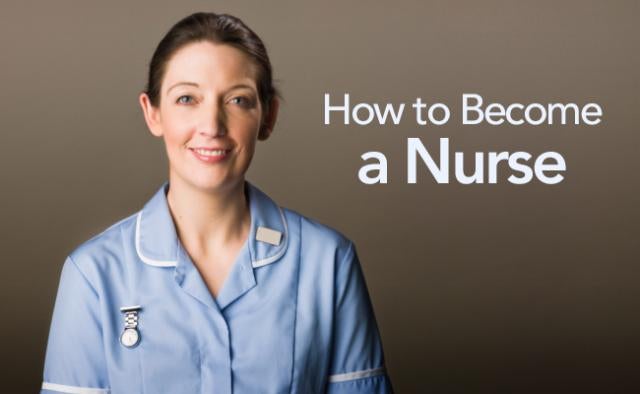 Nurses are a vital part of any healthcare facility, providing physician support and patient care on a daily basis. As the demand for skilled nurses rises, so does the need for a college degree. Last year, the Chicago Tribune cited a study conducted by the American Association of Colleges of Nursing. The study reported that 3,367 nurses with an associate's degree enrolled in a baccalaureate program in Illinois, a 75 percent increase compared with 2008 statistics. The study also reported an 88 percent national increase in nursing students seeking a bachelor's degree in the past five years. If you're interested in beginning or enhancing your nursing career, follow the steps below to help you get started. The job market is competitive, and now is the time to distinguish yourself amongst your peers.
Decide how to earn your Registered Nurse (RN) license.
There are two ways to earn your RN license:
Pursue an associate's degree. Many nursing students have chosen this option in the past because it was the fastest and most affordable way to enter the healthcare profession. Although earning an associate's degree is still a valid option, it may leave you out of the running for many of today's highly desirable nursing positions.
Pursue a bachelor's degree. As we mentioned earlier, aspiring nurses and already-licensed RNs alike are returning to the classroom to earn their bachelor's degree in nursing. BSNs are among the prime candidates considered to work at a magnet-status hospital—a national credential that recognizes healthcare excellence. Magnet hospitals meet a set of criteria that studies have shown improve efficiency and patient care. Many hospitals in the United States are looking to maintain magnet status and are only hiring nurses that have obtained their BSN.
Regardless of your degree path, all nursing students must complete supervised clinical training in addition to regular coursework. This requirement allows students to hone their skills in a healthcare setting with the help of trained mentors.
Choose a program of study that fits your schedule and budget.
Not all nursing programs are created equal. Choosing the right one means finding a university that allows you to work around your existing schedule and provides a budget-friendly method of payment. Inspect your options carefully before making your choice. Don't allow your career aspirations to become a burden.
Complete your degree and pass your NCLEX exam.
Unlicensed students must take the National Council Licensure Examination (NCLEX)-RN after completing their degree program. Passing this exam allows you to practice nursing in you state. Visit the National Council of State Boards of Nursing to learn more about the requirements.
Once you've secured your degree and RN license, it's time to step into the job market. Nursing is among the top fields in the United States, and the Bureau of Labor Statistics predicts a steady increase of employment in the future. Look closely at the regional and national trends before applying for new jobs. What you find could lead to a stable position.
Nursing is a rewarding and demanding profession. Prepare yourself for the challenges in the workforce by pursuing a college degree from a reputable university. The future of healthcare demands qualified practitioners.
---