After several years with a successful career in nursing, you may be contemplating the pros and cons of going back to school. Earning a master's degree is an excellent way to further your career: It can boost your salary, make you more employable or allow you to take your career in a new direction, such as becoming a teacher. For many nurses pursuing a master's degree, going back to school means simultaneously working full time. While earning an online nursing degree makes this possible, use these tips to avoid becoming overwhelmed: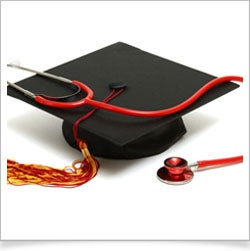 1. Talk to your employer
Going back to school without first speaking with your employer is a good way to ensure that you will become overworked. Instead, let your supervisor know that you plan on pursuing a master's degree while continuing to work full time. Many hospitals and health care clinics offer financial assistance for continuing education, which can take off some of the pressure and help you focus on earning your online nursing degree.
2. Set goals
Before you begin pursuing your master's degree, carefully evaluate your goals. Do you hope to earn a promotion? Are you looking to change the direction of your nursing career? You will be much more likely to be successful if you have a clear goal that you're working toward as you study. Nursing school is a big investment, both in terms of money and time, but it is well worth it if you have a plan for how it will help further your career in nursing.
3. Get organized
Once you've signed up for classes, it's time to get organized. You'll have to be careful about budgeting your time if you want to balance school, work and home, so create a calendar of important dates. Include your nursing schedule, notes of when assignments are due, and designated times to spend with your family and friends. Stick to the schedule and you'll reduce your stress load considerably.
4. Create a support network
You can't do it all on your own! Let your family and friends know of your intention to pursue a master's degree, and ask if they would be willing to help you as you take on this larger work load. With a support network available to step in when you're in a pinch, you'll be able to put more focus on your studies and your career in nursing.
---